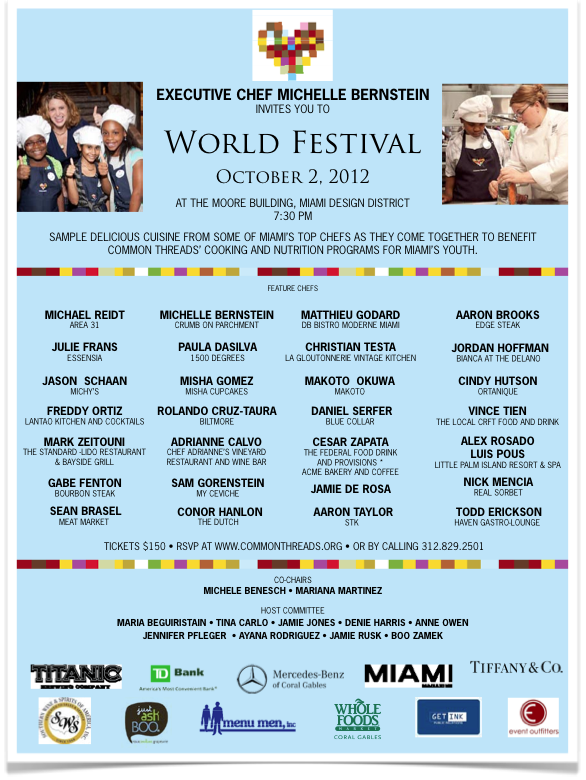 Miami Celebrity Chefs host – Third Annual World Festival Fundraiser
**UPDATE** We have been told by the event organizers that the total amount raised for Common Threads at the event was $42,000 !! CONGRATULATIONS to everyone involved! Definitely a successful event for a great cause.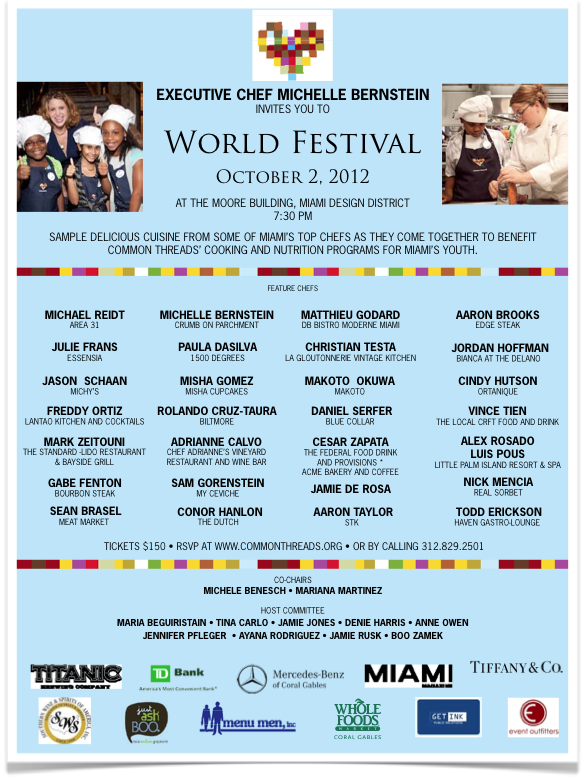 The Third Annual World Festival, with some of Miami's top chefs is this coming Tuesday, October 2nd in Miami's Design District.
WHAT
A Fundraiser for non-profit organization Common Threads which teaches low-income children to cook wholesome and affordable meals through hands-on cooking classes.  the organization is dedicated to preventing childhood obesity.
The evening will feature top local chefs from restaurants across Miami.  Guests will sample delicious cuisine.  Cocktails courtesy of Southern Wine and Spirits as well as tastings courtesy of Miami Culinary Institute will kick off the evening. There will also be a Silent and Live Auction featuring luxurious items from sponsors.
WHO
Join Common Threads Team, Executive Chef Michelle Bernstein and over 20 top chefs from restaurants across Miami:
Biltmore – Rolando Cruz-Taura
Blue Collar – Daniel Serfer
Bourbon Steak – Gabe Fenton
Essensia – Julie Frans
My Ceviche – Sam Gorenstein
Ortanique – Cindy Hutson
The Federal Food Drink and Provisions – Cesar Zapata
1500 Degrees – Paula DaSilva
Area 31 – Michael Reidt
Bianca at the Delano – Executive Chef Jordan Hoffman
Chef Adrianne's Vineyard Restaurant and Wine Bar – Chef Adrianne Calvo
Crumb on Parchment – Michelle Bernstein
Db Bistro Moderne Miami – Chef Matthieu Godard
Edge Steak and Bar – Aaron Brooks
La Gloutonnerie Vintage Kitchen – Christian Testa
Lantao Kitchen and Cocktails – Ferdinand Ortiz Jr.
The Dining Room at Little Palm Island – Alex Rosado
The Dining Room at Little Palm Island – Luis Pous
Makoto – Makoto Okuwa
Meat Market – Chef Sean Brasel
Michy's – Jason Schaan
Misha's Cupcakes – Misha Kuryla-Gomez
Real Sorbet – Nick Mencia
The Dutch – Conor Hanlon
The Local Craft Food and Drink – Vince Tien
Lido Restaurant at The Standard Spa – Chef Mark Zeitouni
STK – Chef Aaron Taylor
Tudor House Restaurant – Executive Chef Jamie DeRosa
HaVen Gastro-Lounge – Todd Erickson
WHEN
Tuesday, October 2, 2012
7:30 PM – 10:30 PM
WHERE
The Moore Building in Miami's Design District – 4040 NE 2nd Ave – Miami, FL 33137
TICKETS
Event tickets are $150/person – For additional information on Common Threads, or to purchase tickets for this year's World Festival, visit www.commonthreads.org.
EVENT PHOTOS
Small vignette from Chef Alex Rosado from The Dining Room at Little Island in The Keys – he tells us about his Foie Gras Toast and our mouth waters before we even taste it.