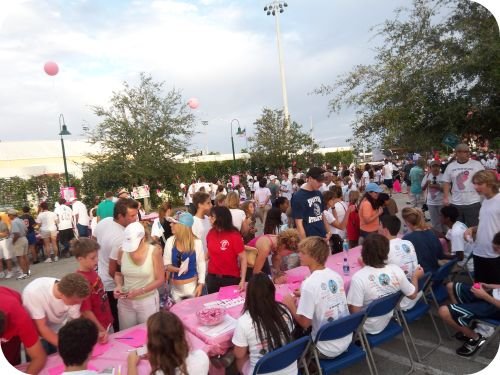 Miami Country Day Walk for Cancer Update
The goal for this year's walk  was $50,000.  As of the preliminary tally, Miami Country Day School had raised over
$112,000!!!
Can we say wow!  I was helping The Heidi Hewes Woman's Cancer Association with the counting of the money and we all had goose bumps!
Those kids worked so hard and everyone should be so proud!  You could hear the kids cheering in the loud-speaker "Do it for Harry!"
To think that all that money will go towards cancer research and to the efforts of finding the cure.  My hat goes off to everyone involved.
CONGRATULATIONS
MIAMI COUNTRY DAY!!
Here you can see the students hard at work filling out sponsor sheets and collecting money.
Heidi Hewes' members counting money for preliminary tally
The Head of Miami Country Day, Dr. John Davies, promised to shave his head if the students met their $50,000 goal.
Not only did they meet their goal, but they more than doubled it!
CONGRATULATIONS ONCE AGAIN
MIAMI COUNTRY DAY!