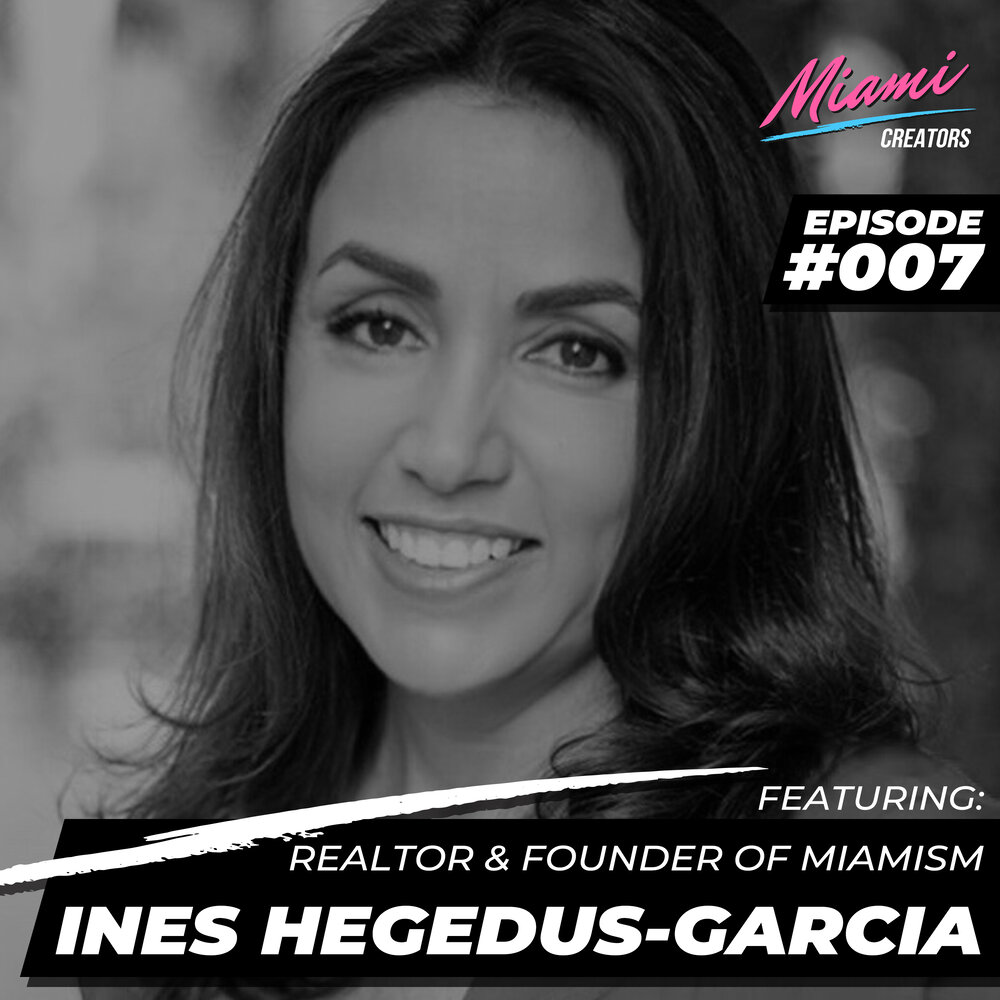 Miami Creators Podcast – Episode #007 with Ines Hegedus-Garcia
Beyond humbled to have been interviewed by Miami Creators for their new podcast:
A SHOW ABOUT MIAMI'S MOST INFLUENTIAL BUSINESSES, INDIVIDUALS, ENTREPRENEURS AND MORE.
Thank you Corrado for being genuine and heartfelt and most of all, for being REAL!
Miami is bursting at the seams with talent and amazing stories waiting to be told and I am excited to get started.

If you live in Miami, I hope this podcast serves as a reminder of the incredible city we call home. If you are from out of town, I hope this gives you a sneak peak into our city and serves as a guide of the best places to go, people to meet and the things to do next time you visit.
Episode #007 with Ines Hegedus-Garcia – A Different Approach to Real Estate
Ines Hegedus-Garcia wears many hats but above all, she is an agent of change for her industry. Through local and national leadership roles, Ines is bringing much-needed changes to the real estate industry and on today's episode Ines shares what it has been like to launch and write 3-5 articles per week for 14 years for her blog Miamism.com and the impact that has had on her business, her experience transitioning back into a professional role after being a stay-at-home mom for several years and much more.
Outline of This Episode
01:31 – Ines' background as an architect and transition to real estate

05:46 – Transitioning from architecture to real estate how her blog led to real estate leadership roles

07:07 – Approaching real estate differently and the story of how Miamism got started

08:35 – The evolution and business impact of Miamism

09:38 – How Ines has managed to come out on top through the ups and downs of the real estate market

11:52 – How is social media impacting the real estate industry?

17:28 – Ines' "why" and her approach to marriage and parenting

19:48 – Putting her career on hold to become a stay-at-home mom and the transition back into professional life

23:24 – Ines' relationship with mediocrity

25:20 – Stories of how her grandfather, dad, mom and other mentors shaped Ines' personality

30:55 – ines' sources of inspiration and creativity

33:12 – What does success mean for Ines?

38:56 – Miami rapid fire segment

42:53 – The story of how mojito reviews helped Ines grow her business
Books Mentioned
The Unbearable Lightness of Being: A Novel (Harper Perennial Modern Classics)
By Milan Kundera
The Alchemist, 25th Anniversary: A Fable About Following Your Dream
By Paulo Coelho
Realty Blogging: Build Your Brand and Out-Smart Your Competition
By Richard Nacht, Paul Chaney
Other Resources & People Mentioned
Connect with Ines Hegedus-Garcia