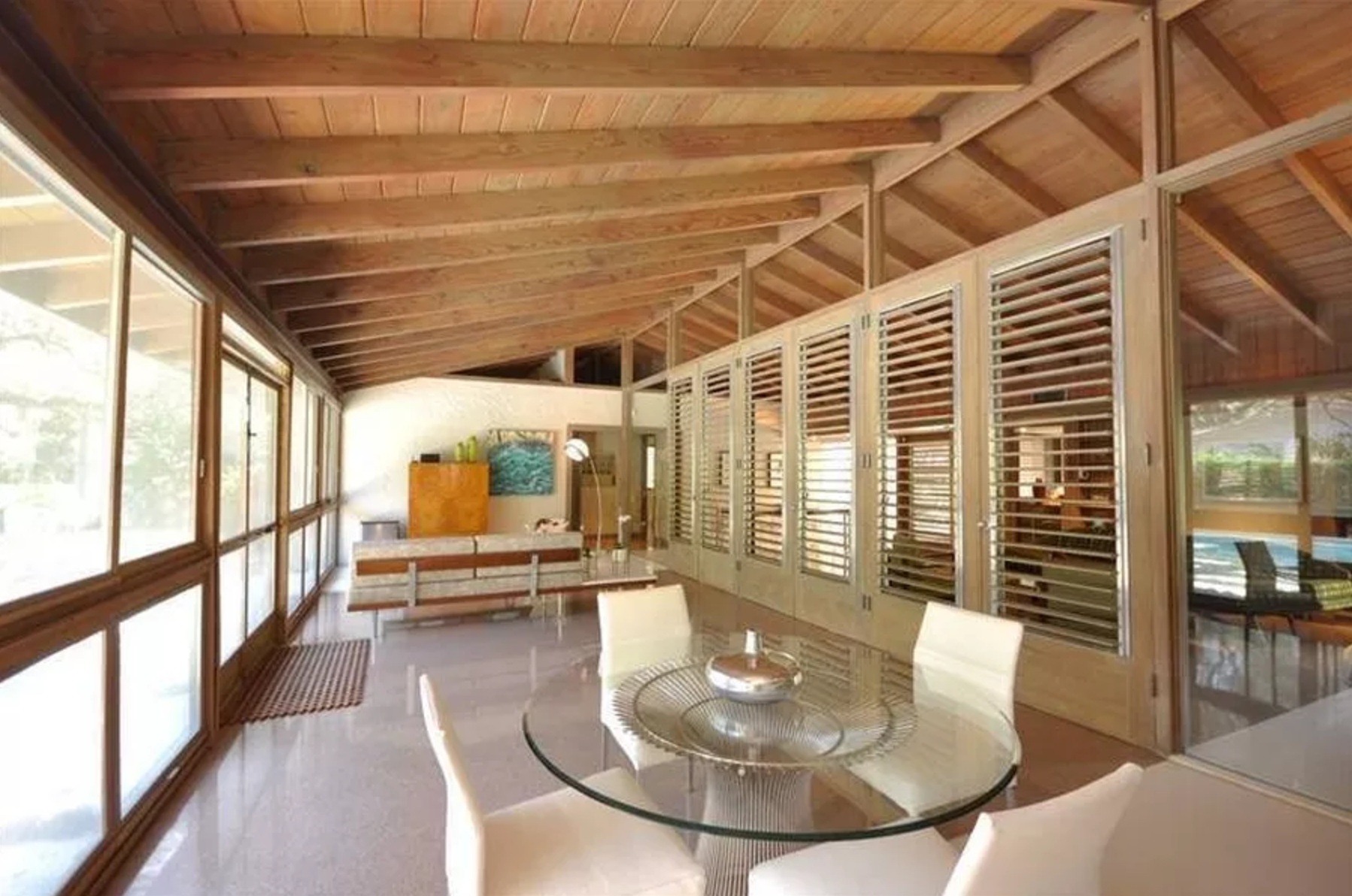 Miami Green Houses from the past
To say that mid-century architects were more practical is an understatement.  Yes we've seen a sudden "Green Movement" taking over, and NO, I don't think this is bad, quite the contrary, its something everyone should be aware of.  But looking at Miami's architecture, I have to admit that I have a soft spot for those buildings of the 50's and 60's.  I have a special soft spot for certain architects like Wahl Snyder, Marion Manley and Alfred Browning Parker.
When I walk into a house designed by either three, I feel it!  My heart starts racing and there's an unquestionable passion felt throughout the home, passion transmitted by the designer through the construction and details of the space.
I walked into a small Alfred Browning Parker home with a client not long ago and instantly knew it was his – I asked the agent, "Was this home designed by BP? And they said…who????" OK …let me not go there.
Alfred Browning Parker was the master of utilizing space, wide overhangs, clerestory windows and massing to take advantage of our climate without air conditioning.  Frank Lloyd Wright's influence is obvious in his work, because of the organic nature and use of local materials.
Wahl Snyder's signature was to bring exterior spaces into the living areas; he would work with cross ventilation and create seamless transitions between the inside and outside of his spaces.  Materials were key and clerestory lighting was a must.  Take a look at his Miami Shores Residence. (sadly demolished)
Marion Manley was Florida's first licensed woman architect and at 75 she was still busy designing good quality homes.  She used local materials, high ceilings, cross ventilation and never ignored our tropical climate.
These three architects are the epitome of the green movement without today's technology, without air conditioning and without the hype.  Georgia Taske of The Miami Herald wrote a beautiful article about 2 homes designed in the 60's by Manley and Browning Parker.  Both homes are open to their surroundings, and both are models for green living today.  Georgia Taske also tells us about Alfred Browning Parker's visit to Miami a few months ago (he's 90) and how he teaches his University of Florida architecture students about 5 basic principles:
"Build Simply – Build as directly as possible with no complications – Use the materials at hand and keep these sparse –  Let your building love its site and glorify its climate – Design for use; make it beautiful."
I will end this article with a quote by Janet McIlvane, a research analyst with the Florida Solar Energy Center because it really defines the shift in housing and design that is evident in current times.
"After World War II, there was a move away from individually crafted homes"
"We began to produce homes with a subdivision production mind-set.  We were going to build 30 houses, not one, and build them all alike.  And in that transition, we started looking at how to make things easier, how to build more easily and quickly. That's how the industrial revolution transitioned into the housing market. So we jettisoned the front porch, made the windows smaller and sealed up our houses.  In Florida, those were the very components that allowed us to survive in the hot, humid climate."
*photos by Nuri Vallbona / Miami Herald Staff* **This article was originally written and posted on September 5th, 2007.  Since then, we have seen a huge shift in architecture and design here in Miami towards "sustainable design" – makes me happy to see that big architecture firms are finally getting it and government agencies are hiring those that take the environment into consideration**