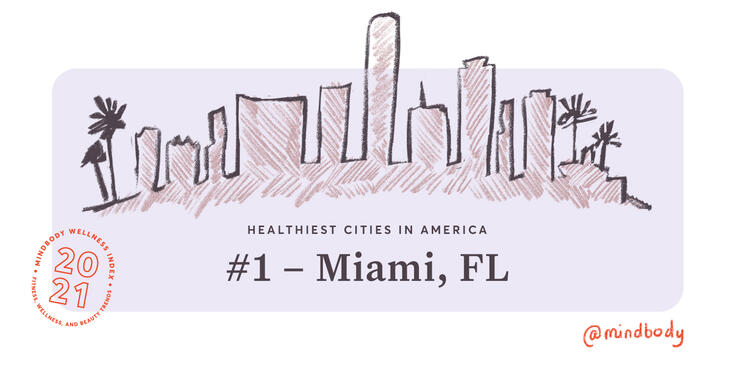 Miami is the Healthiest City in America in 2021
According to Mindbody's Wellness Index, which explores what wellness means and looks like across the U.S., Miami is #1!!  This year, they dug into what wellness looks like during COVID-19. They looked into how much locals prioritize wellness and ultimately invest in it, including fitness, beauty/grooming, integrative health services, as well as their health habits. The Wellness Index has 7 dimensions: physical, emotional, intellectual spiritual, environmental, social and occupational. Here's what they have to say:
The way we connect to wellness has changed—but that doesn't mean that it's become any less important. In fact, almost 60% of Americans say they're more focused on their health and wellness since COVID. Americans are realizing that they need to take greater care of themselves to better withstand illness. That's precisely why this year's Mindbody Wellness index is one of the most important deep dives we've done.
They ranked the most populous 50 U.S. cities from most to least healthy. Ranking were based on the 7 dimensions of wellness and they factored in how much city residents exercise, and their body mass index.  They also looked at how close residents are with friends and family and how connected they feel to their communities AND…if they feel spiritually fulfilled.
OK – Miami has made wellness lists before and I have not been surprised – we do have tons of pretty people.  I never, however, considered Miamians to be "spiritual" … so this was a pleasant surprise.
Miami is #1 Healthiest City
For the second year in a row, Miami earns the title of the healthiest city in America. Since the pandemic started, over three quarters of residents say they're more focused on their health and wellness—more than any other US city. Miami is continuing to make fitness a priority; 87% of residents are working out at least once a week—taking the top slot here, too. Miami residents have also been quickest to adopt virtual workouts; 75% of residents are joining live stream or pre-recorded workouts on a weekly basis. Miami isn't afraid to invest in its wellness: the city is the top spender at salons and spas, fitness studios and gyms, and wellness businesses. Social wellness is key, too. Miami beats the other 49 cities across many categories. The Florida city reports the closest relationships with friends and family, is the most well-rested, and is the happiest.
Here are top 10 – Full Mindbody Wellness Index rankings:
Miami, FL
Atlanta, GA
San Francisco, CA
New York, NY
Washington, DC
San Jose, CA
Los Angeles, CA
San Diego, CA
Houston, TX
Seattle, WA