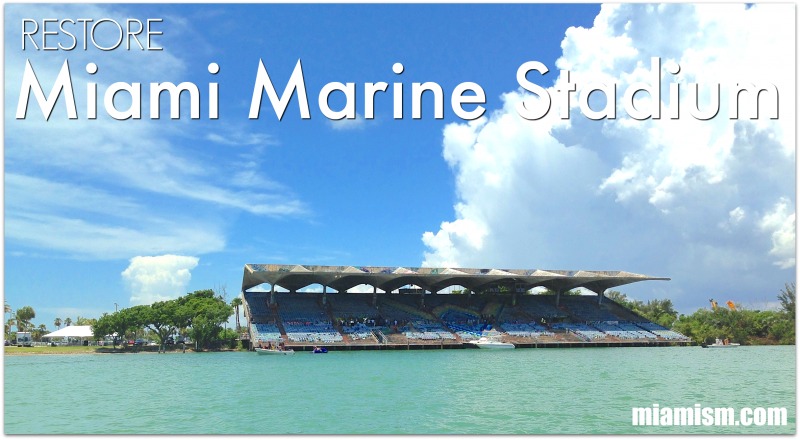 Miami Marine Stadium Restoration Efforts are BACK!
Restoration efforts for the Miami Marine Stadium are still in full force! Back in 2013, we gave you a little history behind the Marine Stadium and explained the restoration efforts. Since then, a lot has transpired and there are a lot of questions by a lot of people.
Miami Marine Stadium Timeline
Here's a very brief, oversimplified sequence of events to put you up to date – my apologies if I missed anything important on the way:
1963 – Marine Stadium built
1992 – City of Miami got tired of managing the venue, claimed stadium was unsafe structure
1992 – engineering study came back negative to demolish it and it was abandoned
2008 – Friends of Marine Stadium organization was formed to start awareness and saving efforts
2009 – Marine Stadium made National Trust for Historic Preservation – top 11 endangered structures list
2009 – Marine Stadium added to Worlds Monuments Fund Watch List
2010 – Miami-Dade County Commissioners allocated $3 Million to the stadium to start its historical preservation and return it as a venue for water sports and major concerts.
2010 – Miami City Commission approved the Virginia Key Master Plan, including the stadium.
2012 – Miami City Commission gave Friends of Marine Stadium 6 months to come up with comprehensive plan and 2 year to come up with funding
2013 – Plan was presented with help of Gloria Stefan and unanimously approved by Miami City Commission
2014 – Friends of The Marine Stadium implodes!
2014 – City of Miami takes Marine Stadium restoration efforts back under their wing
2015 – Boat show approved at Marine Stadium
Miami Marine Stadium Restoration efforts today
So what exactly is going on now? Although City of Miami has agreed to restore the Miami Marine Stadium, it is not a priority in their "to-do" list and the restoration efforts are moving painfully slow. Now that the boat show has moved from the Miami Beach convention center to Miami Marine Stadium Park and Basin, it's the perfect time to remind our city commissioners, that we want the stadium restored.
Sign Petition to restore Miami Marine Stadium
The National Trust For Historic Preservation is asking us to sign a petition to show our support and contact our City Commission. The current restoration efforts are under the wing of The National Trust For Historic Preservation as well as Dade Heritage Trust, with support from the Boat Show.
Miami Boat Show at Marine Stadium
There will be a RESTORE THE MIAMI MARINE STADIUM kiosk during the boat show. The kiosk will be located in the central courtyard of the Boat Show campus just outside the entrance to the stadium. The National Trust is working with local visual performance artists to illuminate the structure using projections of vintage stadium footage so that attendees are able to fully appreciate its history and one-of-a-kind architecture. The light installation will take place on Friday, February 12, through Sunday, February 14, beginning at 4:00 PM and running until 8:00 PM each evening. Miami Boat Show – February 11-15th
We need to bombard our City Commissioners with emails letting them know how important this project is for us and for the city. We need the project to be moved from the bottom of their priority list to the top! PLEASE SIGN THE PETITION HERE and spread the word and encourage others to sign. For more info visit the following: