Miami Mod Homes – July 2012 Edition
This month's Miami Mod Homes edition is located in gated Normandy Island, with direct bay views and over 95 feet of water frontage. The North side of Normandy Island has been a local secret which can buy you open bay views for very reasonable prices.  This home is the perfect example.
Miami Beach Mod Home at 1001 N Shore Dr
listed for $2,950,000

Let me start by telling you that Normandy Island is known for one of the lowest real estate prices in all of Miami Beach.    This usually doesn't sit well with our clients interested in buying luxury homes, why would they buy in the cheapest area of Miami Beach?  Well…all I can tell you is to hold back the judgement until you have seen it.  The North side of the island is the more "desirable" area with a golf-course and private guard-gate.  In addition to that, the open bay views are spectacular!! and if you are a boater, no boring idle speeds to the ocean.
This particular house caught my attention the first time I saw it because it is a true, mid-century modern beauty.  It has square footage, sits on a really big piece of property and has been tastefully remodeled.  It's a 5 bedroom, 5.5 bathroom home with 2-car garage, 4,675 square feet of living space (that's almost 500 square meters), a 16,318 sf lot ( 95′ X 170′), and was totally rebuilt in 2012.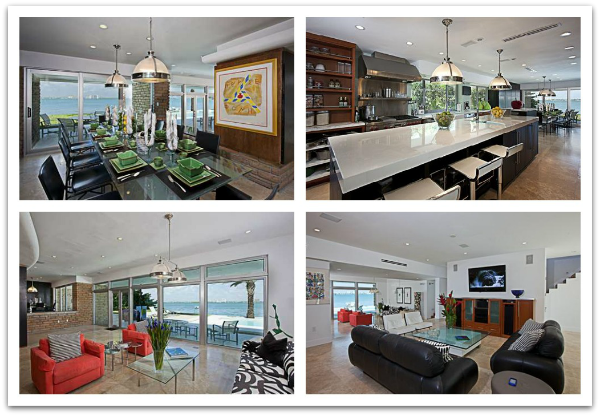 What exactly are we looking at here?  The typical bi-level mid-century modern home in Miami has a lot of white stucco,  open areas, the famous "great room", a lot of light and simple finishes.  This home offers just that, with a few changes through the years, like the marble floors and modern kitchen and bathrooms.  As much as I love those original 50's homes, I do like current modern comforts of today's appliances and kitchen design.
What I love is that the owners kept the interior brick details and the original window and door openings which is a key design feature of these homes.   The air conditioning system was redone with minimalist vent diffusers which is a sign that the home owner did a quality remodeling job, with no expense spared.  And did you see the aluminum doors and windows? This is so refreshing, since everything contemporary has gone to white. LOVE THEM!
There are a few ceiling soffits that look like a 70's upgrade, but that needs to be verified.  I'm not a huge fan of flourescent up-lighting from that period.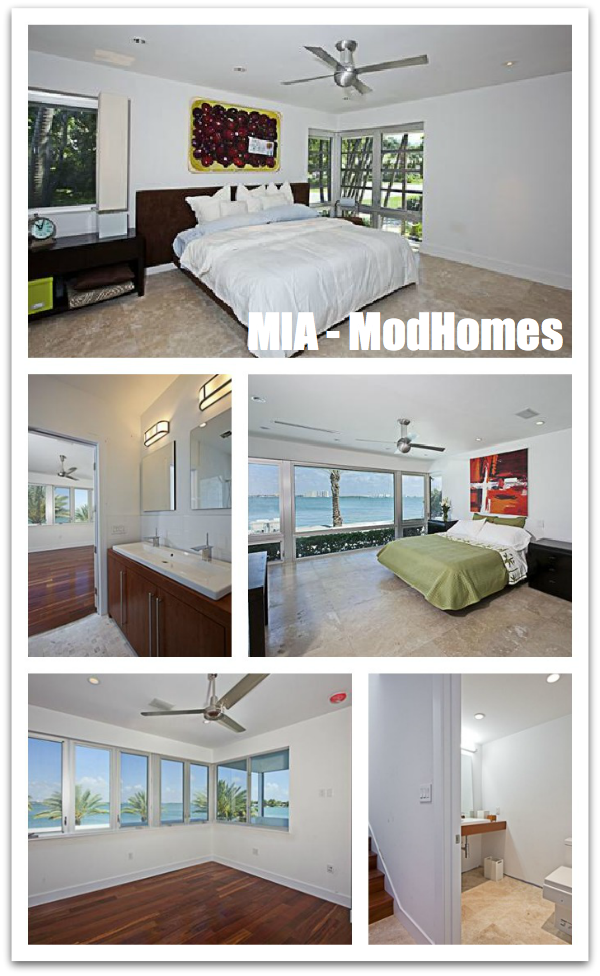 And then we get a peek of the bedrooms and bathrooms with great use of natural woods and contemporary fixtures.  The fans are minimalist and can't get over the aluminum finish on the windows which is the perfect touch for this home.  The views are outstanding but what's missing?  Window coverings!  I have never seen a good solution for corner windows to this day.  This doesn't mean it can't be done, I just have not seen anything that wows me and I live in a mid-century with corner windows, so please enlighten me!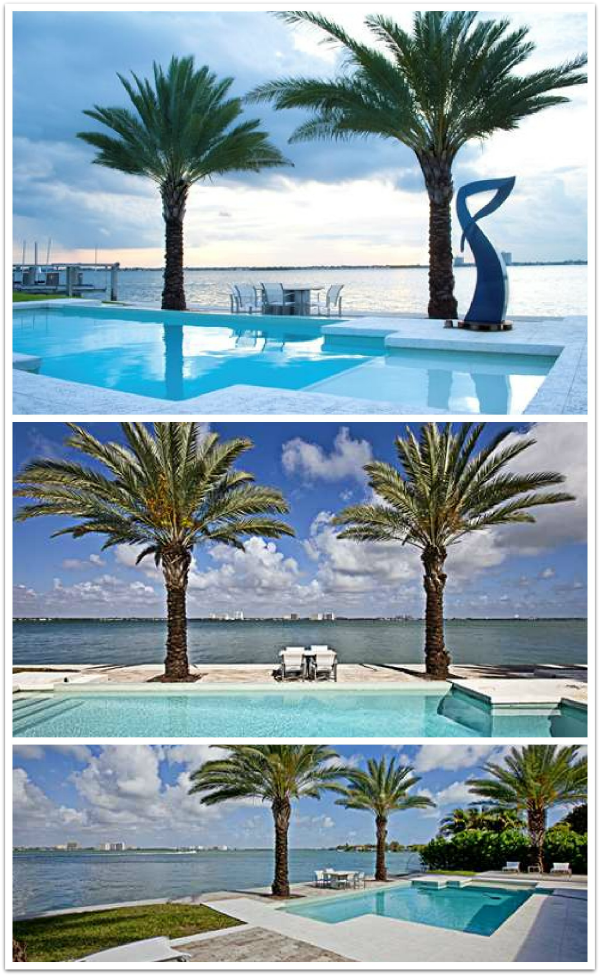 The back of the house could use a bit more shade, I would love to see some sails incorporated around the pool area.  Everyone knows I'm a tree hugger, and although I do like the minimalist landscaping, a big tree would make this house perfect.  I do love the geometry of the pool and finishes, as well as the fact that getting out to the ocean is just a skip away.
The major negative of this home is the floor choice but at least it is neutral.  I would have loved to see terrazzo or polished concrete, but a quick solution would be to buff down the marble to a matte finish to make the floors disappear. In my humble opinion, this property is listed at $631 per sf which is a steal for condition and location.