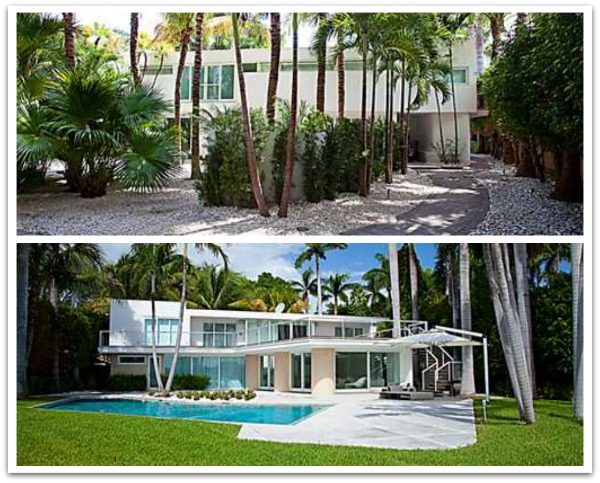 Miami Mod Homes – October 2011 edition
Thank you for the great feedback on our MIAmodHomes editions. Needless to say, architecturally significant homes are my forte and I truly enjoy turning them around and looking into their hearts. This month's edition is in Palm Island, in Miami Beach, right off the McArthur expressway (or cruise-ship alley). The home was built in 1954, with pool, dock, and all the bells and whistles.
Miami Beach Mod Home at 7 Palm Avenue
listed for $5,500,000 – SOLD FOR $5.2 Million (on 4/16/12)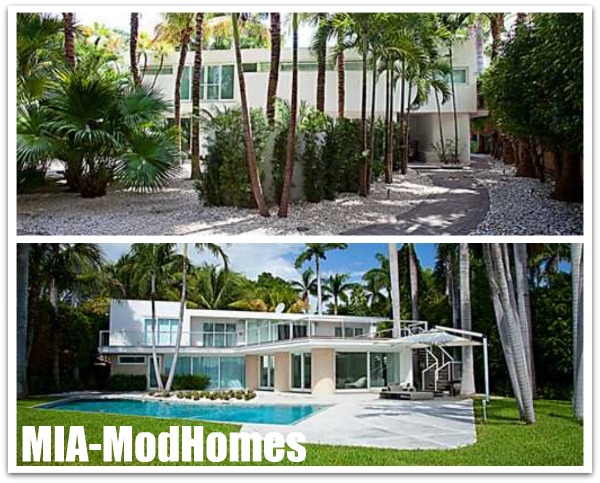 Talk about an incredible Mid-century Modern home on Palm Island.  The massing of the facade elements and the proportions of the spaces are delicious (yes….I would eat good architecture, if I could).  It's rare to find a 50's home in Miami Beach that has been respected through the years, and this is one of them.  What I find even more incredible is the transition of interior and exterior spaces with large panoramic windows and a fabulous second floor terrace.
The perfect home for entertaining and it faces East with views of Star Island and South Beach….talk about ideal location.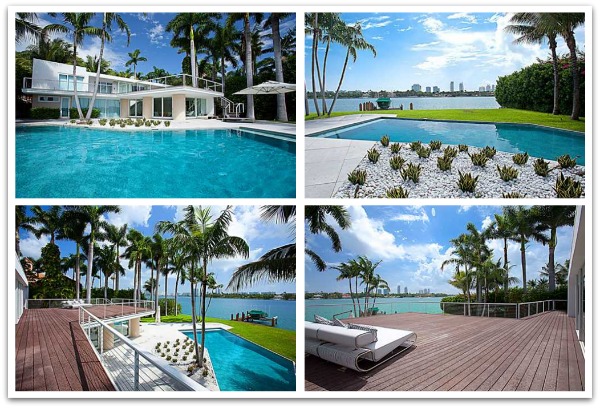 The yard is full of mature palm trees and minimalist landscaping that lets you enjoy the view and feels like Miami.  It's one of those typical Miami Vice homes where you can imagine perfect bodies enjoying the pool while sipping mimosas.  The railing choice for the terrace is perfect – with horizontal features that don't take away from the view.  The use of decking material is OK….I'm sure anyone buying this beauty will rethink it.  The actual lot is 17,674 with 110′ of water frontage and of course, private dock.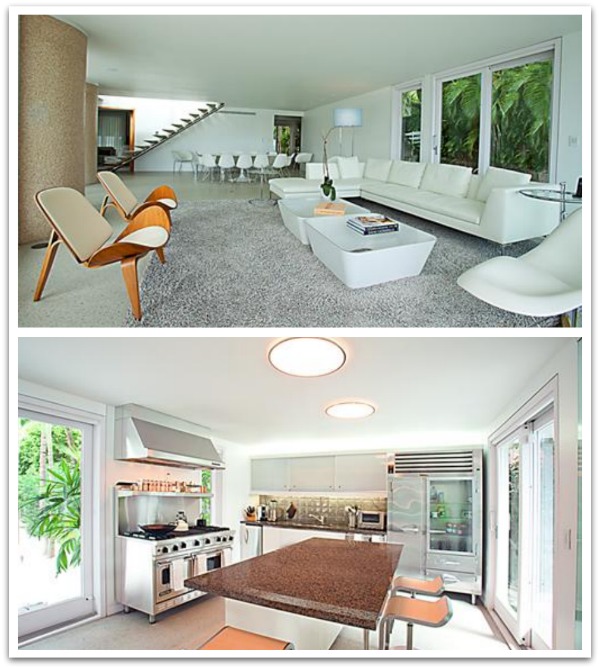 I really love the informal use of the kitchen space, with the industrial appliances. But unfortunately, hate… I mean HATE the granite island – seriously??  with such simple and austere finishes throughout, they couldn't do a glass top, or polished concrete?  At least it's an easy fix.
The Terrazzo floors are perfect…I just don't know about the curved elements on the inside which seem to be a recurring theme.  I'm sure anyone not interested in these standing out, could plaster them white for them to disappear.  The furniture is not staying with the sale, but I would like to take this time to commend the owners on a magnificent choice of modern classics to compliment the home's architecture.  Hats off!!
The stairs to the second floors are beyond gorgeous….no railings, just simple and did I mention gorgeous?  Downside is that this house would not be good for toddlers or clumsy pets, and modifying the steps would be cruel.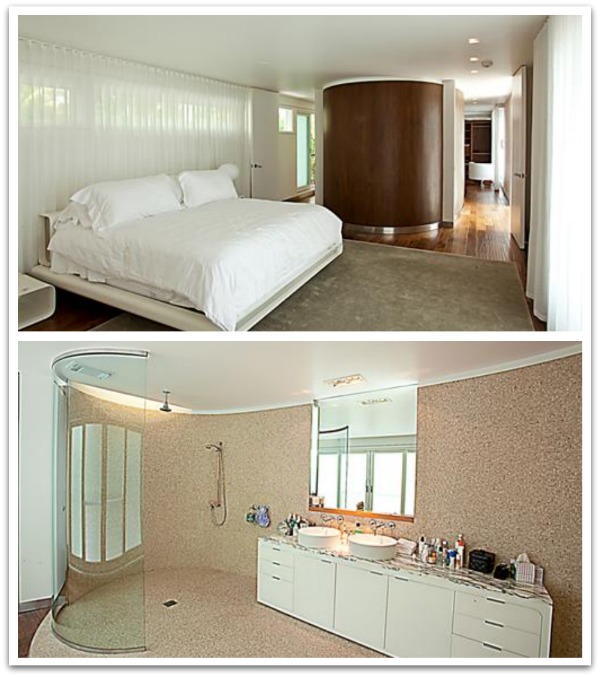 The whole second floor happens to be the Master Bedroom.  Finishes here are a bit tired, but still very retro and nothing a little imagination can't fix.  They had the right idea with the open shower area and framing of the bay views.  My thought is that the house is almost 3,000 square feet and has only 2 bedrooms … never an easy sale.  I'm also thinking that the right buyer will be discerning and will appreciate the home's architectural design for what it is.   Homes like this one give me goose-bumps when I walk in and I always wonder if the buyers will respect the home or will have to completely modify it.  Hopefully they will work with the right designer to make this Miami Mod Home even more spectacular than it already is.
Oh…and the price….I'm thinking it's negotiable (but what isn't?).