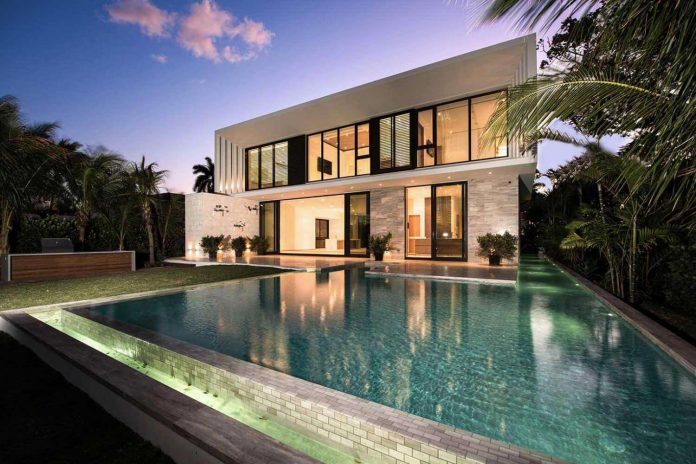 Miami Mod Homes – Todd Michael Glaser Edition
If you are a Todd Michael Glaser fan, do we have a treat for you! We are talking 4 unbelievable contemporary homes in prime areas of Miami Beach. Your choice of Star Island, Pine Tree Drive, Sunset Islands or Venetian Islands – in the Todd Glaser, top-of-the-line finishes and style he has acquired an unblemished reputation for.
So who in the world is Todd M. Glaser? He is a developer and builder that has acquired an incredible reputation for building contemporary Miami Beach homes. Todd started off as an engineer for a fire sprinkler company which taught him the ins and outs of construction. He then bought homes to renovate and flip and that's when his reputation began for quality construction and management. He later started building million dollar homes which sold in record time. He has remodeled and built homes for celebrities and don't forget about the recently sold $47 Million Indian Creek home which broke all kinds of Miami Beach real estate records. correction: 3 Indian Creek was built by Felix Cohen and Shlomy Alexander (not Todd Glaser).
If you are looking for contemporary homes in Miami Beach, here are 4 amazing choices depending on your price range. And it goes unsaid that we would love to walk you through these projects and represent you in the purchase.
Miami Beach Mod Home at 30 Star Island Drive
Listed for $32,000,000
Here we have a 16,000 square foot home (1,600 square meters) with 11 bedrooms, 11 bathrooms and 4 half-baths. It has 100 feet of water frontage, sits on a 40,000 sf lot, and is yet to be built. Yes the house will be magnificent, but for "Star Island" standards, it sits on a very narrow lot. The lot is 100′ x 400′ in depth which is huge for Miami Beach, but not really for Star Island. If you look at the above aerial view of the island, most homes are built on lots double the size. This is my only major criticism of the project. The marketing description reads:
Brand new Todd Michael Glaser masterpiece to be built on exclusive Star Island. Reminiscent of Richard Neutra modernist design built to today's highest standards. From the sculpted hillside driveway to the floating entryway over a flowing pond, this house will scream Wow! Features include soaring ceilings, elevator, theater, a library with wet bar, gourmet modern kitchen with dumb-waiter to master suite. Master is 1,800 square feet with separate private second floor, pool and garden, separate gym, spa and rooftop deck.
Because it is yet to be built, I'm sure any buyer would have a choice of finishes prior to construction.
Miami Beach Mod Home at 4647 Pine Tree Drive
Listed for $14,000,000
This will be an 8 bedroom 8.5 bathroom home with over 11,000 square feet of living space (1,100 square meters). It sits on a 43,900 sf lot with 90 feet of water frontage. Unlike Star Island, Pine Tree Drive has plenty of homes built on 100′ lots, so this one will fit right in. What I love about it is the location. I'm not a huge fan of those Pine Tree homes that have high-rises across the water way. Instead, this one is across Indian Beach Park just North of The Eden Roc….so that fish-tank sensation, where you get the feeling that everyone and their mother is staring down your back yard, is eliminated!! This property is also yet to be built, so flexibility in finish choices is still possible. The marketing description reads:
Incredible new modern masterpiece by developer Todd Glaser. Over 11,000 square feet of luxury interiors with soaring ceilings, loads of glass, two swimming pools and spa, elevator, guest house, palatial master suite and roof top entertainment area all situated on over an acre on prestigious Pine Tree Drive. Dockage for up to 90′ boat.
Miami Beach Mod Home at 2305 Lake Avenue
Listed for $13.9 Million
This home will be built on the Southeast side of Sunset 3 on a pie shaped lot. Pie shaped lots are extremely difficult to design because their approach is very narrow. Although I would love to look at the renderings more in-depth to see the facade of the house, I have no doubts that the approach is "out of the box" just based on the top right image above. This is an 8 bedroom home with 9 bathrooms and 3 half-baths. It has over 8,500 square feet of living space and faces Sunset Lake. Most people say that the most desirable homes face due West and have direct bay views, but true boaters like the inside location of this property because their vessels are more protected from increment weather. Either way, there are no fixed bridges from this property to the open sea from its 160 feet of water frontage. The property description reads:
Incredible modern showplace being built by developer Todd Glaser on oversized pie shaped lot facing East on Sunset Lake. Home will have over 8,700 square feet of living space with soaring ceilings, finest finishes and rooftop entertainment deck to see all of South Beach. Lot has 160′ on the water to accommodate large boats. Two swimming pools, 2 reflecting ponds, 2-car garage, covered BBQ area and guest cottage all add to the value.
Miami Mod Home at 861 N Venetian Drive
Listed for $9,500,000
Here we have the most modest of the 4 homes with over 6,400 square feet of living space and sitting on a 15,000 square foot lot. It has 5 bedrooms, 7.5 baths with 100′ of open bay frontage. Out of all the lots, this is the one that makes the most sense with dimensions of 100′ x 150′. The location is Biscayne Island which is the western most island of The Venetians and technically located in Miami and not Miami Beach. The selling description is as follows:
Incredible new modern masterpiece by Todd Michael Glaser on extra large Venetian Island wide bay front lot. 100 feet on wide bay with direct North exposure minutes from downtown and South Beach. 5 bedrooms, 7.5 baths, soaring ceilings, loads of glass, gourmet kitchen, the finest finishes throughout. Completion in Summer of 2013.
So there you have them – 4 Miami Mod Homes by known developer Todd Glaser in Star Island for $32 Million, Pine Tree Drive for $14 Million, Sunset Island III for $13.9 Million or Venetian Islands for $9.5 Million. One thing is for sure, you can count on timely construction the utmost attention to detail. We have seen people acquire reputations, but Mr. Glaser's is well deserved. Call us to schedule an appointment to check out floor plans and details.