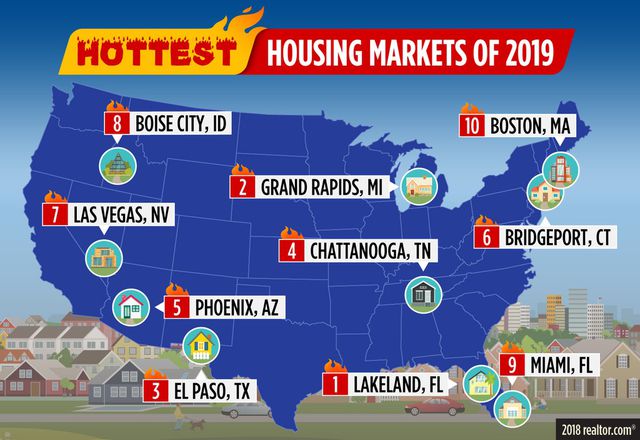 Miami named one of the hottest U.S. markets of 2019 by Realtor.com
Media reports all over the nation that real estate is slowing down. There is more inventory, less demand, more competition, yada yada yada. But guess what? Miami remains a hot market, no matter what's happening in the rest of the country.
We can bore you with the many why's: amazing, sunny destination, no state income tax, tech and cultural hub, our amazing port and airports …we've done it again and again! But now, Realtor.com reports that not all markets are "slamming into reverse".
There are still housing markets expected to be white-hot in 2019—and realtor.com®'s economic team found them. These are the 10 top superstar metropolitan areas* where both the number of sales and prices are expected to jump in 2019, bucking the national slowdown trend. And many of these are not the places you'd expect to go gangbusters.
R.com predicts a 2% general home sales decrease, nationally. It also attributes strong economies and growing population to the "hot markets" that are going against the norm. To determine the best real estate markets of 2019, they looked at number of sales of existing homes and their prices, amount of new construction, local economies, population trends, unemployment rates, median household incomes and other factors.
Miami, FL – No. 9 Hottest Market in the US in 2019
Forecasted median home price: $266,586
Predicted sales growth: 3.3%
Predicted price growth: 5%
Retirees are swarming Miami like seagulls prowling for beach snacks. Its 6,000-square-mile metro, stretching from northernmost West Palm Beach to the Florida Keys, sees lots of folks looking to trade high taxes and freezing temperatures for zero income tax and leisurely rounds of golf.

A new influx of snowbirds migrating south has helped the Magic City get back on its feet.
As always, if you are looking to buy or sell in Miami, please contact us. We specialize in historic and architectural properties and have vetted partners all over South Florida that can help you with all types of properties and price ranges.