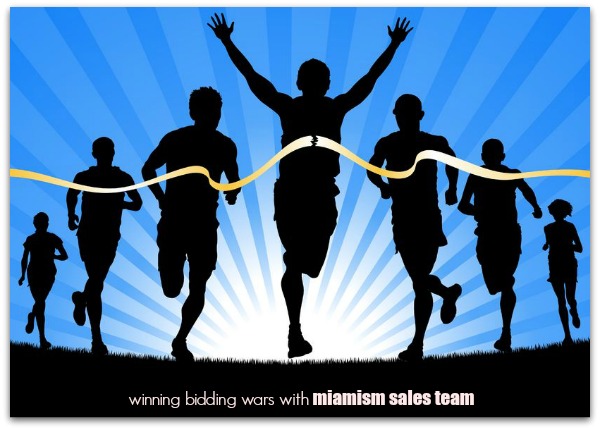 Miami Real Estate Bidding Wars
Bidding wars are common in today's Miami Real Estate Market. Certain cities within Miami, including Miami Shores, Surfside and The Roads are seeing multiple offer scenarios. Learn how to strategize during bidding wars whether you are a buyer or seller with the help of The Miamism Sales Team.
I wrote this article 5 years ago and it should be helpful today since BIDDING WARS are Back!! And now we have the power of our 3D Market Analyzer reports to really help you identify hot markets in order to give you a bidding advantage.
Multiple offer scenarios have become common in many areas of Miami and can be frustrating to all parties involved. It's part of being in a Seller's market where inventory is scarce and demand is high. It is important to be able to gauge a multiple offer scenario before it happens and it is key to have a strategy, whether you are a buyer or a seller of Miami real estate.
We have been on both sides of the spectrum when it comes to bidding wars and it can be trying and stressful. Some areas of Miami where we are seeing saw Bidding Wars (back in 2015) are Surfside, The Roads, Miami Shores, and Miami Beach. But what all these have in common is that you need the right representation to achieve your goals – someone who will make you feel comfortable throughout the process and someone who you know is maximizing your chances of getting the best results for you. T
these markets are seeing multiple-offer scenarios because, as we said before, there are few properties for sale and high demand. The law of supply and demand comes to play yet again! There are buyers that get consistently outbid and this makes the market seem extremely aggressive and at times caustic. And there are sellers that don't take full advantage of the situation and end up losing potentially higher sales with better terms.
Here are some tips to consider if you find yourself in one of these situations.
How to position yourself on top of a bidding war if you are a Miami home buyer
Remember that price is not the only determining factor in winning a bidding war on a home. A seller will look at several factors when choosing a winning offer and of course this depends on the Seller's goals, but you need to know what they are to be able to get the best chance depending on your own limitations. And even if you don't know anything about the seller or their goals, make sure you write the strongest offer possible.
PRICE – know your market and recognize when properties are selling above asking prices – analyze whether or not you can or want to do that.
CLOSING DATE – short closings are the most popular, but also make sure you are flexible depending on seller's needs.
CASH OR LOAN – cash is always king but if you are financing, make sure your type of loan and terms are clear at the time the offer is made.
SUBMIT COMPLETE OFFERS – not just purchase contract, but loan pre-approval, proof of funds and any other relevant documents.
IF FINANCING – WATCH TERMS! – who is the lender, loan commitment date, type of loan depending on property. Dropping appraisal contingencies will also place you on top of cash offers, but you need to be careful and very specific at offer time.
ESCROW / DEPOSITS – putting $1000 down on a $600,000 property will not do the trick. Show the seller you are serious by including considerable deposits and make sure your agent explains how these will be protected.
INSPECTION PERIOD – the current AS-IS contract has a standard 15 calendar day inspection period, shortening this will also strengthen your contract, but make sure you have enough time to schedule inspections so you don't get stuck with a questionable inspection report you can do nothing with. You will not be able to negotiate inspection findings AFTER inspection period expires!
HAVING A CLEAN AND CLEAR CONTRACT – please go digital, faxed and illegible hand-written contracts is so 1990! Technology is the new BLACK.
LETTER to owner – you will be surprised how much this helps, it gives an emotional quality to a very frigid process.
GOOD COMMUNICATION – ask questions: when will offers be reviewed, will you have a chance to submit highest and best, what is important to the seller.
DROP THE CONDESCENDING ATTITUDE – it's a Seller's market, telling seller what's wrong with their house will not give you any advantages. If the house is that bad, why are there multiple offers and why are you interested?
**Remember it is not always about the highest price and you should have several plans in place depending on the type of property.
**Don't assume that by going directly to the selling agent will give you an advantage because they can reduce their commission. Commissions have been pre-determined by seller contract with their listing agent – assuming that having no agent will automatically get you a 50% reduction on commissions is completely false and naive on your part.
How to get the most of a multiple-offer scenario if you are a Miami home seller
EXPOSURE – before placing for sale sign on your property, discuss with your agent, when to begin marketing and when to start showings.
TIME FOR BUYERS TO SUBMIT OFFERS – have a clear plan on how long you will give people to submit offers and communicate with them and their agents. A lot of buyers will assume that first offers will get a better chance but seeing all offers at the same time in order to compare them, will make a huge difference.
KEEP IT CLEAN AND PROFESSIONAL – don't disclose terms of other offers with potential buyers but you can be honest about what's important to you: Example, be out of house by a particular date, having a tenant which will determine type of loan buyer will need to get, or simply getting the highest offer without specifying amount.
CHANCE TO RESUBMIT HIGHEST AND BEST – many buyers don't like to submit the highest offer at first because they are unaware of the interest on the home. It may be a good idea to contact all interested parties and give them the option of re-submitting highest and best before a specific deadline.
KEEP TERMS CONFIDENTIAL – this is not about poker faces, it's about protecting your best interest. Do not disclose contract terms unless you do it will all parties involved.
EMOTIONAL COMPONENT – you need to decide if there is an emotional component that will make you pick a buyer or if you want the highest and best terms that fit your needs. This is key in identifying the right buyer. Example: investor that will flip property for a buck, or an end user that loves the house and will make it a home.
KEEP BACKUP PARTIES INFORMED – this will not just keep friendly tones with secondary offers, but will keep you in close touch in case your picked deal falls through.
DON'T BE GREEDY – yes it's a seller's market, but don't go overboard, more times than none, this will kick you in the behind.
**not always about the highest price, but about the strongest contract that will make it to a closing date. Accepting an offer quickly will usually be a disservice unless you have an offer that clearly sits above the rest.
** A seller's market with multiple-offer scenarios doesn't mean you should overprice your home – that will surely bump you out of a chance to negotiate offers and may even make you sit on an unsold property.
---
So there you have it, although every purchase and sale of Miami homes is different, it will give you a general idea what you could be up against in certain areas of Miami. The most important factor is for you to work with a Miami Realtor with experience and one that will have your best interest at hand. If you've experienced any of the above, we want to hear from you! The Miamism Sales Team is ready to list or to help you buy your Miami home today!
**originally published on 2/12/2015