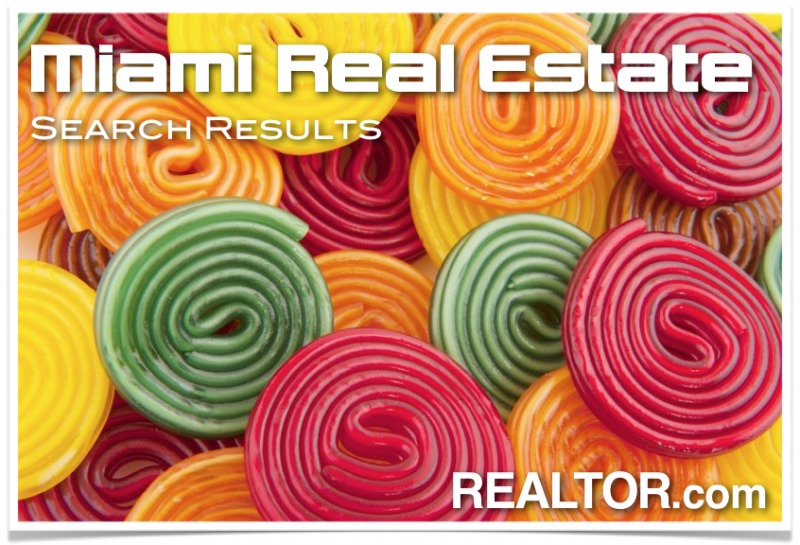 Miami Real Estate Search Porn by Realtor.com – October 2011
More positive data about Miami from Realtor.com!
Miami, FL was the #19 most searched market in the country in October 2011
Median list prices for homes in Miami, FL hit $249,999 in October 2011, a 25.06% increase from one year ago this month, and 0.00% increase from September 2011. The national median list price in October 2011 was $189,900, a 2.65% increase compared to October 2010.
Active for sale inventory of homes in Miami, FL in October 2011 leveled out at 13,457, a -49.23% decrease compared to October 2010. National inventory counts for October 2011 were 2,116,794, a -20.77% decrease as compared to a year ago.
The median age of inventory in Miami, FL in October was 90 days, a -5.26% decrease compared to September 2011. Nationally, the median age of inventory was 110 days, a 2.80% increase compared to September.
I also asked them to break down those numbers by zip code, based on the fact that I don't like generalized data. Just look at my housing report for Miami Shores, Bay Harbor Islands, Surfside and Fisher Island for October, and you'll see that the data above does not apply to those areas.
For zip code 33138 which includes most of Miami Shores, but goes beyond to Miami's Upper East Side as well as Davis Harbor and Shorecrest, The Median List Price is $289,000 with a 28.44% increase from a year ago, and a 40.03% decrease in inventory from one year ago.
For zip code 33154 which includes Bay Harbor Islands, Surfside and Bal Harbor, the Median List Price was reported at $520,000 with a 13.29% increase from one year ago, and 43.48% decrease in inventory.
Zip code 33109, which is Fisher Island, reports a Median list price of $2,290,000 with a 9.05% increase from a year ago, and 30.63% decrease in inventory.
In my opinion, it is crucial to pull areas away from the generalized data if you are scrutinizing the local housing market. Remember that an appraiser will use comparable properties in the proximity of the subject property and will only go back a certain amount of time and never more than 6 months. And to know how Realtor.com arrives at its numbers:
Each month, Realtor.com surveys up to 250 Metro Service Areas (MSA) throughout the nation and monitors real estate trends including consumer search behavior, median list prices on for sale homes, active inventory counts and median age of inventory. The information is released to local markets to help consumers and real estate professionals as they work together to successfully navigate their local market.
And to top off the good news,Dr. Lawrence Yun, chief economist and senior VP of research for the National Association of REALTORS, reported at The NAR Annual Convention that Florida is one of the markets to watch in 2012, with regards to recovery. No surprise that when you hit rock bottom, the only direction to go is up!