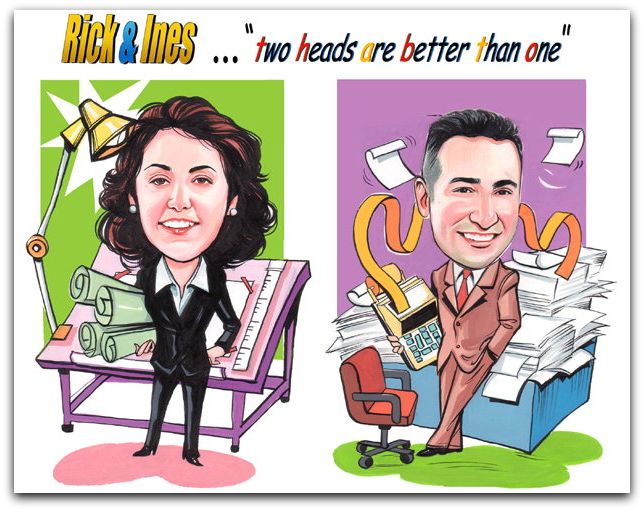 Miami Realtors – behind Rick and Ines
Wow! bringing back a old article we wrote back in March of 2008 – talk about a rant!! haha! anyway….just glad we've come a long way. Enjoy the laugh!
——
Every so often, when dealing with other Miami Realtors, I am reminded of the reason why Rick and I got into Real Estate. To think that we are surrounded by a lack of professionalism, total disrespect and disregard for people's time is disheartening, to say the least.
Rick and I recognized this flaw in the Miami Real Estate Industry years ago and because we both have professional backgrounds and experience in the corporate world, we thought it would make a huge difference when dealing with people – since real estate IS a people business.
Take a look at one of our first marketing pieces…..yes, you are allowed to laugh.
Professionals First – REALTORS Second
So yes I have a bachelors of Architecture and Rick has a BS in Business Administration and a Masters in Accounting – all this brings an amazing added value to any transaction. But what we have found through the years is that our Real Estate Business and customers benefited most because of our honesty and ethics. We tell the truth, go out of our way, and we are willing to lose a commission because we do what is right for our clients. As smart business people we know that if we foster relationships, we will have clients for life.
Out-of-the-box Service and Marketing
In 2006, Rick and I had an epiphany – we were odd balls in this business of sharks, so why provide the same service than those that were so different from us? Why market your properties in the same boring publications and the same print ads as our competitors when these were not even getting YOU results? How could we go above and beyond to get your properties sold?
We started going in depth into the Internet to understand how Real Estate was changing because you, the modern real estate consumer, have all kinds of tools and access to listing and property information. Our role as Realtors has changed and it's not just about providing information, it's about providing a whole package of services, information and results. It's about understanding technology and how we can use it to benefit you.
On Top of Technology
I had a meeting yesterday with 2 executives from a New York Company called Street Easy (which by the way is coming to Miami…..hope I'm not ruining a secret), and discussed how Real Estate Marketing has changed, from social networking to blogging, to all the services that are available on-line. Only 2% of real estate agents are taking advantage of today's technology and Rick and I happen to be in that small percentage. [StreetEasy not only came to Miami, but was sold to Zillow.com for a nice profit]
Network of Professionals locally and around the country
A dear colleague of ours, Monika McGuillicuddy, who happens to be a pro with many years of experience also wrote her perspective of this change. Take a look at our blogroll on the top menu bar, with other real estate blogs around the nation. We have an extensive network of professionals not just locally and nationally, but internationally as well.
Google your REALTOR
Please research the real estate professional you are working with, Google them, see what they are doing differently, see if they are adapting to changes in the industry, if they can think outside the box to get you results. Read their real estate blog which will help you know them before you do business with them. But most of all, make sure you feel comfortable and trust that they are working in your best interest.
Rick and I are down to earth and love good conversation. Don't be afraid to comment on any of our blog articles or call us, we would love to hear from you.