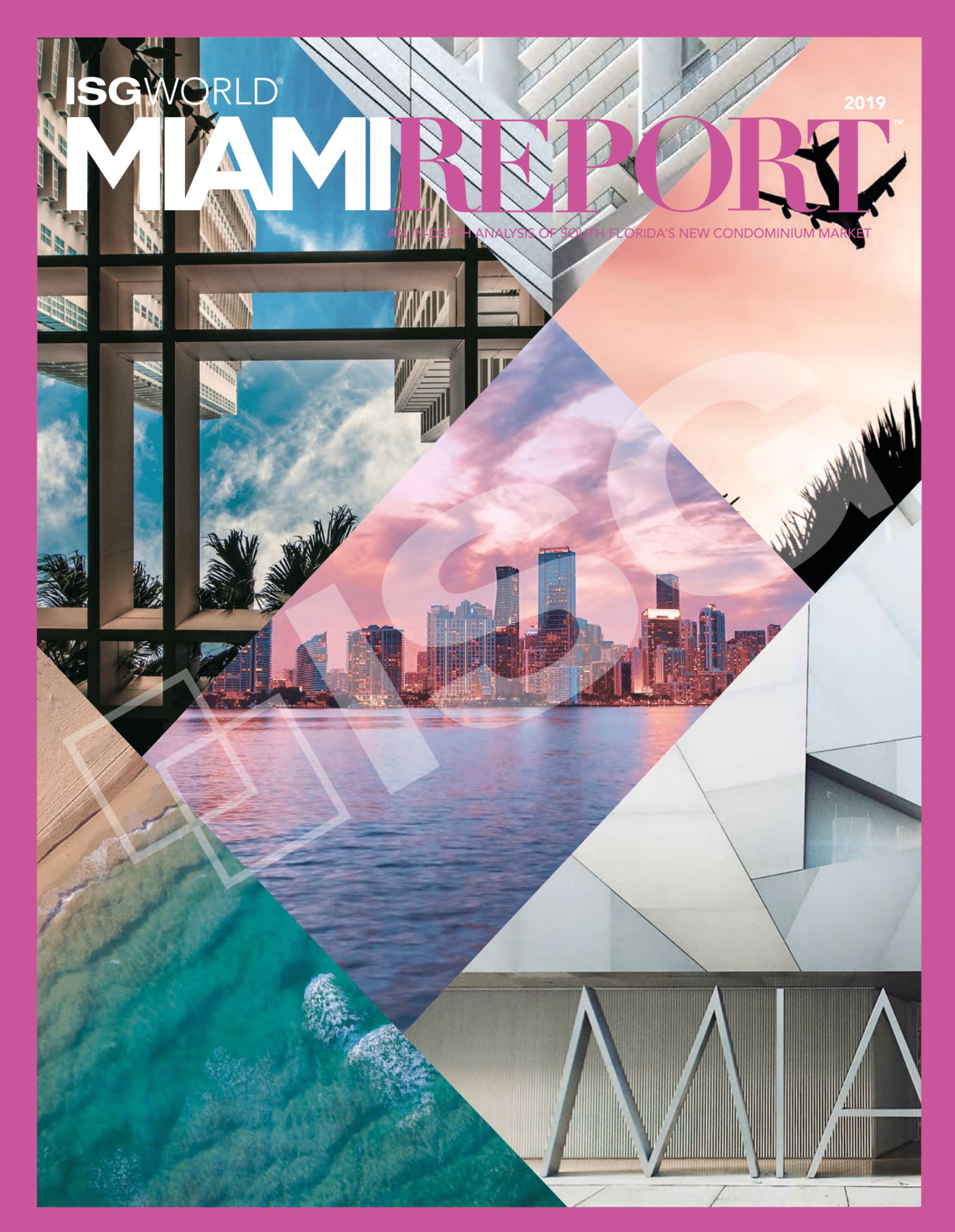 The Miami Report 2019 – Supply Shock
It seems like all of Miami's real estate industry is on pins and needles until the latest issue of The Miami Report comes out. We attended the launch yesterday at Brickell City Centre and Craig Studnicky, ISG's CEO extraordinaire, did not disappoint. He gave us the low down on the report with his amazing storytelling angle. My favorite Craig quote from the event was:
Miami is a metaphor – It makes you feel alive!
Supply Shock – The accelerated decline of new developer condo inventory
The dwindling of new developer condo inventory paired with increasing demand for South Florida condo living has resulted in a shocking shortage of new condo inventory that the market has never seen before.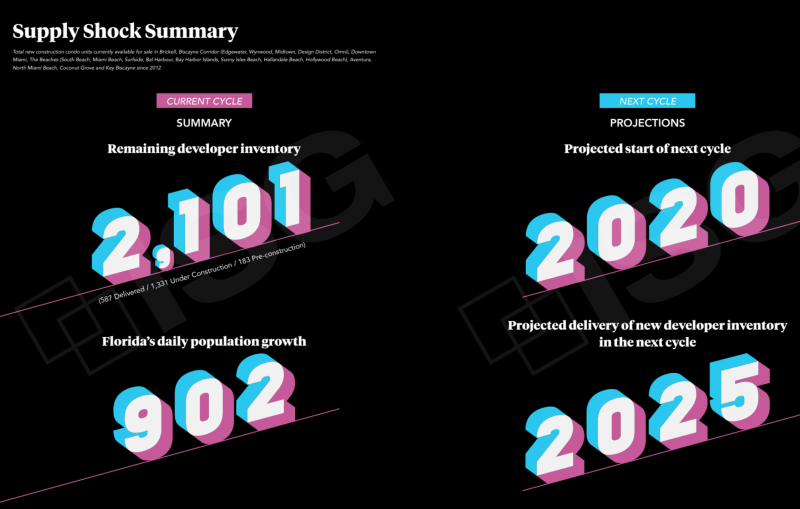 There were 4 stats stressed in the presentation that clarify Miami's real estate story
Low remaining Developer Inventory: 2,101 (based on current absorption rate, this remaining developer inventory is projected to be absorbed by 2021)
There were 19,868 units developed in the current condo cycle and since 2012. 89% has been sold, leaving 2,101 new developer units available across South Florida, from Coconut Grove to Fort Lauderdale, east of I-95.
Florida's Daily Population Growth per day: 902
Florida is #2 in the United states in population growth and 45% of the daily 902 people that move to Florida, move to South Florida (25% is Dade-county). This growth results in an ever-increasing demand for real estate.
New Condo Development Cycle to start in 2020 (year developers plan to launch new condo developments.
The lack of condo groundbreakings over the years is daunting compared to Florida's history. Major real estate developers expect to launch pre-sale programs for their next projects in 2020.
Projected delivery of new developer inventory in the next cycle: 2025
Kicking off the next developer cycle in 2020 would mean that the majority of those would be delivered in 2024 or 2015 at the earliest.
MLS / Resale Market & Rental Trends
The total housing inventory in Miami-Dade County (all types of inventory) is a bit over a million units (1,024,211) which is 3.31 % of the total inventory <<—-seller's market under 5%
The total housing inventory in Broward County is 823,602 which is 2.3% of total inventory <<—- seller's market under 5%
Other stats included total condos in Miami-Dade at 21,000 with average sales of 24,800/year = 12 months of inventory
Total homes in Miami-Dade at 13,000 units with average of 32,00/year = 5 years of inventory.
The storyline was clear: We are out of inventory hence the supply shock!
But what exactly fuels our real estate market?
In addition to the exponential population growth pointed above. Miami ranked a top global city for its prime residential property, according to Knight Frank's Wealth Report. Miami is #1 fastest-growing luxury real estate market in the U.S. and #5 fastest-growing luxury market in the world.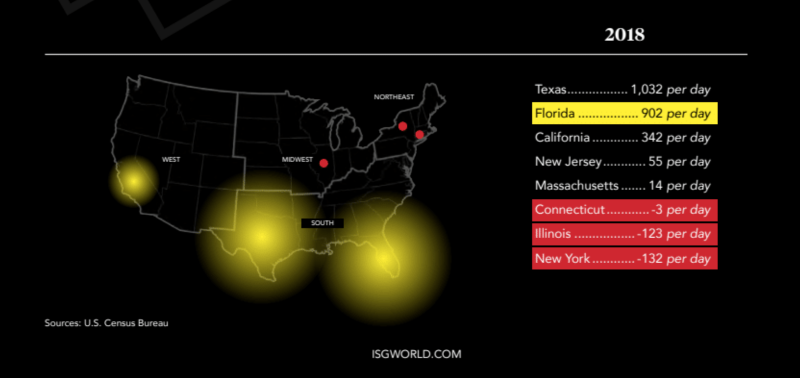 International
The desire from international buyers, specifically from Latin America, have always fueled the Miami real estate market. The high U.S. dollar and political uncertainty in many countries over the last real estate cycle, have had an impact on our condo market. Florida continues to be #1 in U.S. foreign buyer sales.
Top countries include: Colombia, Mexico, Brazil and Argentina
Transportation
Virgin Trains (Brightline) – at the forefront of innovation
Port of Miami – the busiest cruise ship port in the world
MIA – Miami International Airport (and Fort Lauderdale-Hollywood International Airport) are among the busiest in the U.S. in terms of international passengers and flight options
Cultural & Economic Growth
Florida's economy is the 4th largest in the U.S.
Florida is #3 in best taxpayer ROI
Florida is #4 in business climate index
Tech Scene
Miami #1 in the U.S. for startups with tech job growth at 40%
Hospitality
Top 10 hotel markets in the U.S. with Miami at #4
Miami is getting its first Waldorf Astoria Hotel and Residences – and it will change the city's skyline
Arts & Culture
16 Million + annual visitors to Miami-Dade cultural events and venues
$158 Million – local and state revenue
Knight Foundation invests an additional $37 million in Miami Arts
Sports
4 major professional teams including Miami Dolphins, Miami Heat, Miami Marlins and Florida Panthers
Miami is now home to the future Major League Soccer team Inter Miami CF (led by David Beckham)
Supper Bowl LIV (100th Season with estimated $500 Million in economic impact)
Education
New Schools coming to Miami's urban core: Southside Elementary, Mater Brickell Prep Academy, Avenues: The World School
Miami tops country in certified national magnet schools
U.S. News and World Report recently ranked Florida the #1 state for higher education for the second year in a row.
For a digital copy of the Miami Report 2019, please contact us.