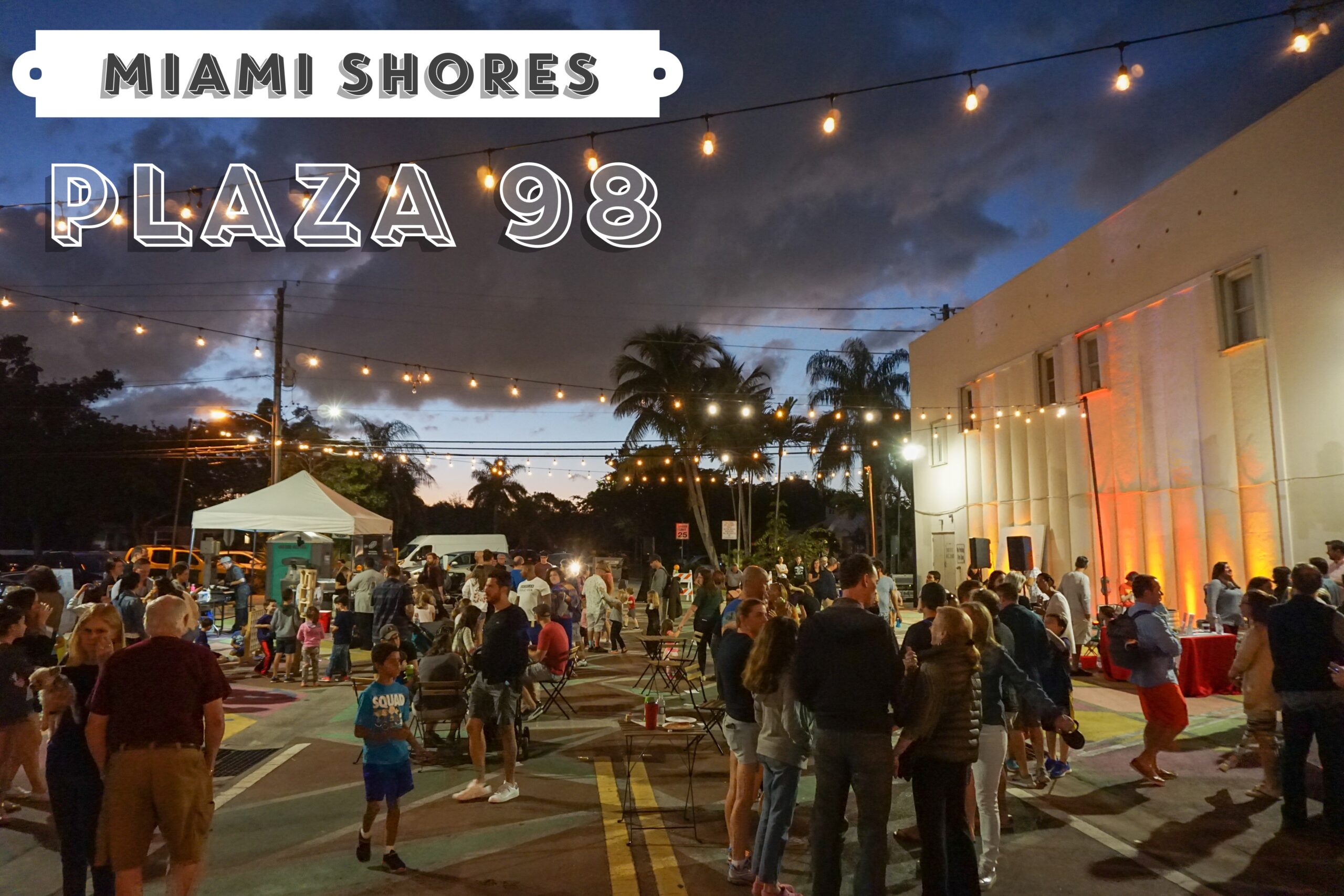 We are so excited to be able to continue this amazing community event on the second Saturday of every month. We had so many requests to bring Plaza 98, that we were happy to make this a reality with the help of generous grants from local organizations.
What is Plaza 98?
Plaza 98 is a pedestrian-friendly plaza, that includes an asphalt mural, used for periodic programming and activities for Miami Shores village residents of all ages. It was conceptualized in 2017 by a few members of The Miami Shores Downtown Advisory Committee and came to fruition at the end of 2017 with the help of a big grant from Miami REALTORS, Miami-Dade Transportation Quick Build Challenge and The Miami Shores Community Alliance.
The original Plaza 98 Launch Party was on November 2017 and the events lasted until March of 2018 with the culminating event being Taste of The Shores with activation of NE 2nd Avenue and participation of a lot of downtown Miami Shores businesses.
Relaunch of Plaza 98
The community feedback was so amazing that the same group of passionate residents, got to work and obtained grant money from different organizations, in order to do a second round of events. The relaunch happened in December 2018 with an Art Week theme. January followed with a "New Year, New You" theme and this Saturday, February 9th, will be the third event with a "Caribbean Night" theme.
There are so many great businesses involved and so many caring residents that have invested time and sweat into this community event, but we have to mention the sponsors, because Plaza 98 would not be possible without them:
Miami REALTORS
Miami Shores Community Alliance
Miami Shores Village
Miami-Dade County Cultural Affairs
Greater Miami Shores Chamber of Commerce
Barry University
North Shore Medical Center – Chamber of Trustees
McLaney + Butler REALTORS
Miamism Sales Team REALTORS
Please mark your calendars for February 9th, March 9th and April 13th.
February's PLAZA 98 events features Miamism Mojitos
Nope, that's not a typo and you read correctly. This coming Saturday, The Miamism Sales Team will be preparing mojitos with all proceeds going to our local Heidi Hewes WCA Chapter (Woman's Cancer Association of The University of Miami).
Rick and I will personally prepare our famous Miamism Mojitos for Plaza 98!!
The theme is Caribbean Night, so our mojitos fit in perfectly and we hope to see you there!
Plaza 98 – Caribbean Night
Join us for this month's Plaza 98 event for our Caribbean Night where guests will enjoy a live cooking demo and tasting by Cote Gourmet!
This month's event will feature Miami's finest mojitos provided by Miamism.com, live Caribbean music, an opportunity to participate in a limbo competition and a music performance by Barry University.
Event begins at 5:00 PM with the cooking demo and tasting at 5:30.
Proceeds from the Mojito bar will be donated to the Heidi Hewes Chapter (WCA) of Woman's Cancer Association.
Don't miss out on the fun!
Sounds by: Don't Look Down Productions
Featured Businesses: