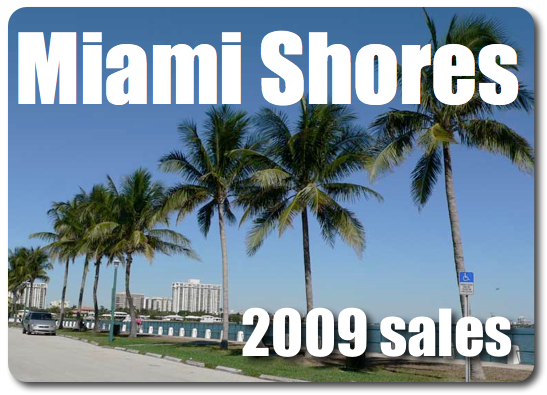 Miami Shores Real Estate Market Report for 2009
Always remaining loyal to my neighborhood, Miami Shores, where I've lived for the past 27 years, I have to do a real estate market report for the area for friends, family and clients that want to know the inside scoop.  The market is a bit grim considering the average price per square foot keeps dropping – from the $350's at the height of the market to $205 in 2008 and $153 in 2009.
I would love to give you better news, but numbers are numbers.  Keep in mind that $153 per square foot is the average, but homes have sold up to $277 per foot and as low as $26 per foot (that was a moldy foreclosure tear down….but still).  As you can see below, a lot of the sales were distressed and that will change this year because that inventory has changed.  What blows my mind are those houses currently listed in the high $300's per square foot….I really would like to know the thought process behind those sellers – deals would have to be cash only and the homes would have to be drop-dead perfect! (which I can attest they are not).
Here are the general figures for 2009:
There were 117 Miami Shores Homes sold in 2009 – The average priced listing was $360,640 but the average price sold was $326,200.
The highest sale in Miami Shores in 2009 was $850,000 for the property located at 1294 NE 96th Street – a short sale originally listed for $1,985,000 and although not on the water, was being advertised as "waterfront" because of its location on the Miami Shores Boardwalk with direct bay views.  There were no sales over $1,000,000 in Miami Shores.
The lowest sale was $40,450 for the property located at 186 NW 108th Street which was a foreclosure with mold (disclosure in MLS remarks) and originally listed for $222,000 in March of 2008 with several pending sales that fell through.
The majority of the properties sold in Miami Shores (60% of all properties sold) were in the price range between $200,000 and $500,000 – this figure is important for any seller in that price range, not only will they have more competition, but they should also see more movement in showings since there are more buyers in that price range
There were only 18 sales above $500,000 in 2009 which should start changing this year because in the drop of inventory of short sale and foreclosure properties – 47% of the homes sold in Miami  Shores in 2009 were considered distress sales (either short sales or foreclosures).
To see all sales in Miami Shores in 2009, click thumbnail: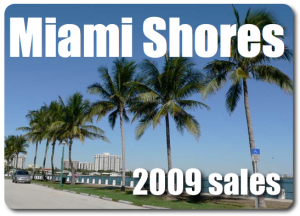 **Data obtained from SEF MLS**
Search for Miami Shores Homes