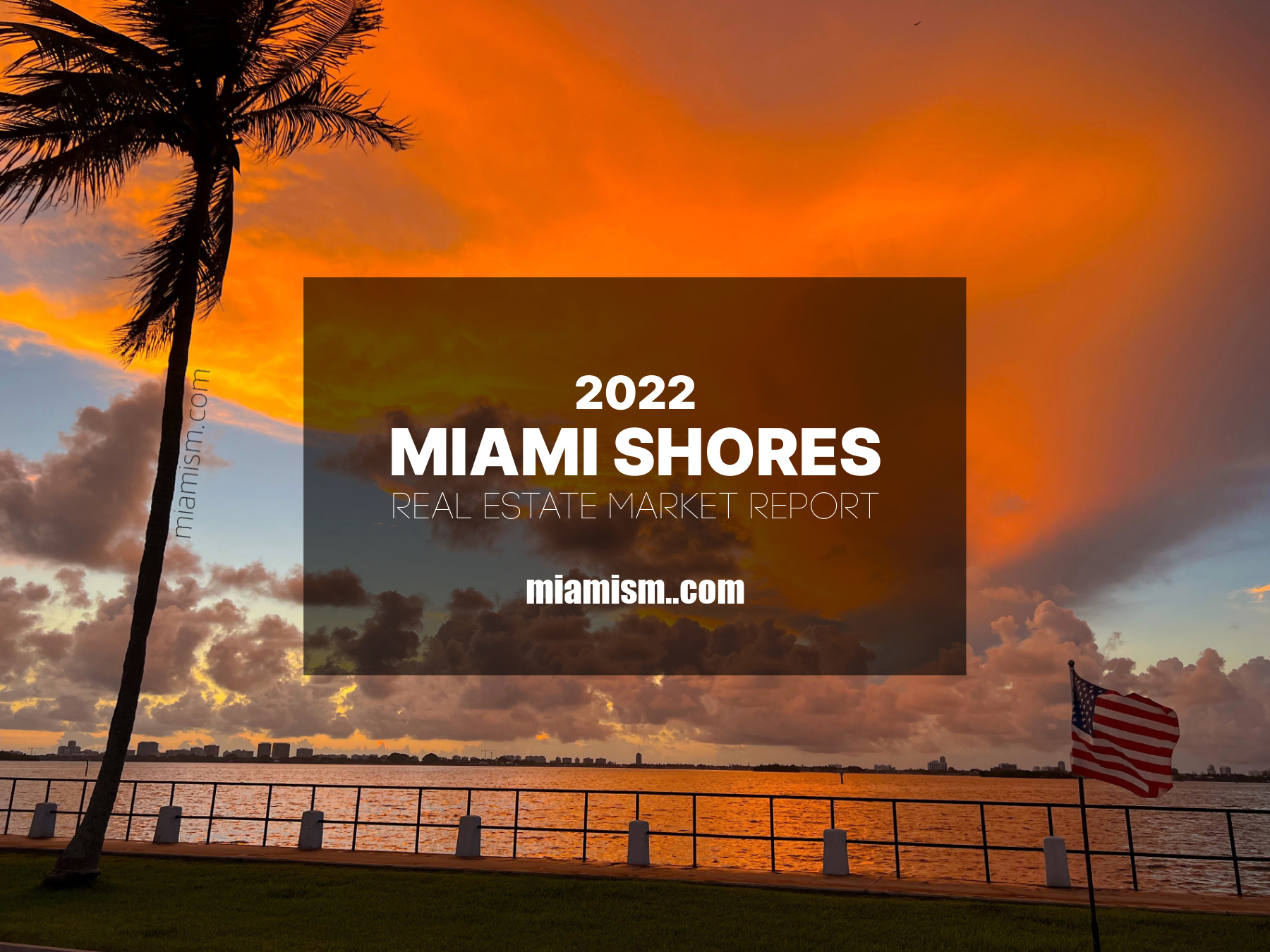 Miami Shores Real Estate Market Report for 2022
An abrupt change to Miami Shores market has everyone a bit confused.  Going from multiple offers and bidding wars where houses would sell in just hours, so homes sitting on the market without offers!!  Wowsa!  But prices are surprisingly still increasing, so what in the world is going on?
It all started with the increase in mortgage rates, going from the 2's% to almost 7% is a lot of fun, said no one ever!!  Those buyers that had been frustrated, looking for months and getting beaten by multiple offers dozens of times, just gave up!! In addition to being able to afford a lot less house now.   Some think that seller's should reduce prices so they can't afford the same price range, but that's not happening.   Although inventory is increasing a bit, because demand has decreased, prices are staying strong and it's because there's still low inventory.
Is there a correction in the future?  My answer is a clear yes but we need to define "correction".  A real estate correction is a minor drop in the market as opposed to a market crash which is what most buyers are hoping for.  Logic tells you that if demand drops and inventory increases, there's bound to be a correction – but this will depend on mortgage rates.
Miami REALTOR's Chief economist reports that,
30-Year Mortgage Rate Drops for Fifth Consecutive Week to 6.31% Resulting in More Mortgage Applications. The sustained decline in the 30-year mortgage rate is starting to revive homebuying. Moreover, South Florida continues to attract people from high cost and high tax markets like New York and California. About 1 in 3 people who moved to Miami Dade County, Broward, Palm Beach and Martin County, and who exchanged their out-of-state licenses for a Florida license in 2021 came from California or New York, according to Florida Highway and Safety Motor Vehicles data compiled by Florida REALTORS®. 
If mortgage rates continue to drop, demand will increase and there goes your correction.  So hang on! This will be a bumpy ride. But the data does not lie, the fact that median price continues to rise as does average price per square foot, tell us that Miami Shores will remain as strong as ever!
Miami Shores Homes – Price per Square Foot
For those saying that 2022 was not as good at 2021, look at these numbers.  The increase in price/sq.ft. from 2020 to 2021 was $93 and the increase from 2021 to 2022 was $158 !! Any questions on appreciation?
| Year | Price per SF |
| --- | --- |
| 2022 | $589/SF |
| 2021 | $431/SF |
| 2020 | $338/SF |
| 2019 | $324/SF |
| 2018 | $317/SF |
| 2017 | $293/SF |
| 2016 | $278/SF |
| 2015 | $264/SF |
| 2014 | $236/SF |
| 2013 | $215/SF |
| 2012 | $181/SF |
| 2011 | $166/SF |
We pulled the average price since October in the Shores and it was at $633 per sq.ft. So yes, many are confused because they expect a crash or major correction, but we are not seeing any of that.  We are however, seeing sellers that are more flexible with terms.  Meaning longer inspection periods, maybe some concessions, longer closings but not, at any point, reducing their prices because buyers can afford less home.
Take a look at the benchmark for Miami Shores in the last 12 months:

The average closed price went from $687,000 in 2020 to $958,000 in 2021 and $1.2 Million in 2022.  We continue to be in a seller's market with 4 months of inventory, compared to only 1 month in January of last year.   The micro-stats is what I find really interesting:
Most sales in Miami Shores are 3-bedroom homes and those average $586/Sq.Ft.
4-bedroom homes average $694/Sq.Ft.
5-bedroom homes (if you find any) average $789/Sq.Ft.
47.1% of all deals were cash
86.8% of occupants are primary owners, meaning the buy to live in the home
Most popular architecture continues to be mid-century modern (built between 1948-1969) and that sells at an average of $628/SF
The price range that is most popular is between $1-$1.5 Million
We offer Miami Shores market reports on a monthly basis, on the first week of every month,for you to stay on top of the pulse of the market.  These reports help you identify the best time to buy or sell. Download our latest 3-D Market Analyzer HERE.
Miami Shores Real Estate Market Report for 2022
The general figures for Miami Shores homes in 2021 are the following:  (click HERE to see 2021 figures)
There were  169 Miami Shores homes sold in 2022, compared to 239 in 2021. The median sales price was $1.1 Million compared to $825,000  in 2021, $680,000 in 2020, and $575,000 in 2019.
The highest sale in Miami Shores in 2022 was for the mid-century home on the bay known as the "Robie House" at 1301 NE 100th Street.  A 4 bedroom / 4 bathroom architectural gem with 3,672 Sq.Ft., 24,394 Sq.Ft. lot with 110′ of open bay views. It sold for $6,155,000 ($1,676/Sq.Ft.)
The highest dry lot sale (not waterfront) in Miami Shores in 2022 was an impeccable Mediterranean Revival from 1927 located at 379 NE 94th St with 6 bedrooms / 5 bathrooms / 2 half-bathrooms, 5,941 Sq.Ft. on 19,200 Sq.Ft. lot.  This home was listed for $4.2 Million and sold for $3.7 Million ($623/Sq.Ft)
The highest price per square foot for a non-waterfront home in 2022 was a record-breaking $994 for the remodeled, golf-front home at 652 NE 105th St with 5 bedrooms/ 5.5 bathrooms, 3,117 Sq.Ft. on 14,600 Sq.Ft. lot.  The home was listed for $3.375 Million and sold for $3.1 Million.
The lowest Miami Shores home sold in 2022 was located on the latest annexation area of the city known as West Shores by Barry University.  The 2 bedroom / 2 bathroom home at 578 NW 112th St, was listed for $275,000 and sold for $285,0.00 ($318/Sq.Ft.)
Download our latest 3-D Market Analyzer HERE.
List of Miami Shores Homes Sold in 2022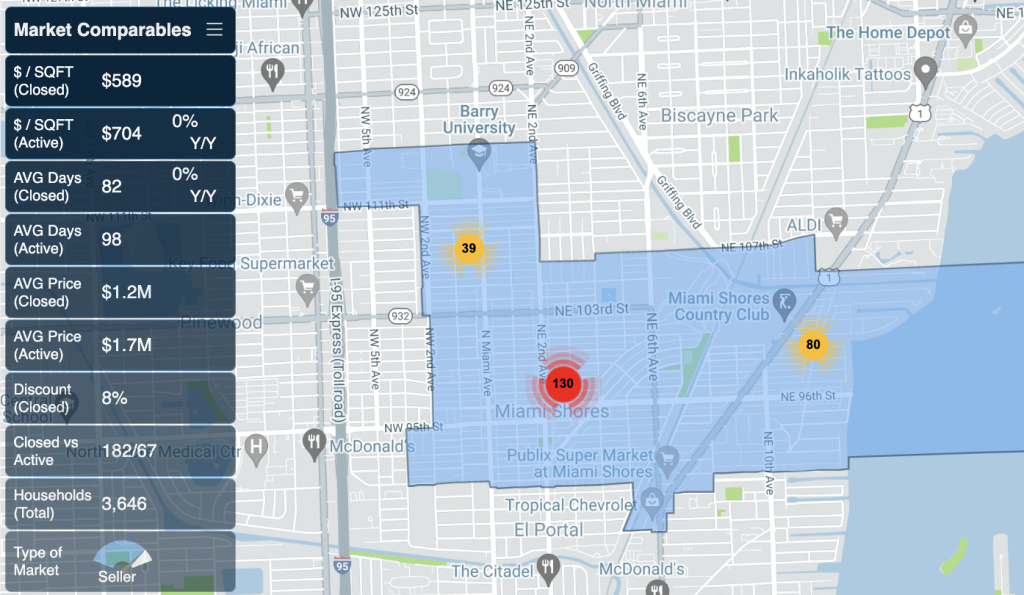 To get a list of all Miami Shores homes sold in 2022, please contact us.