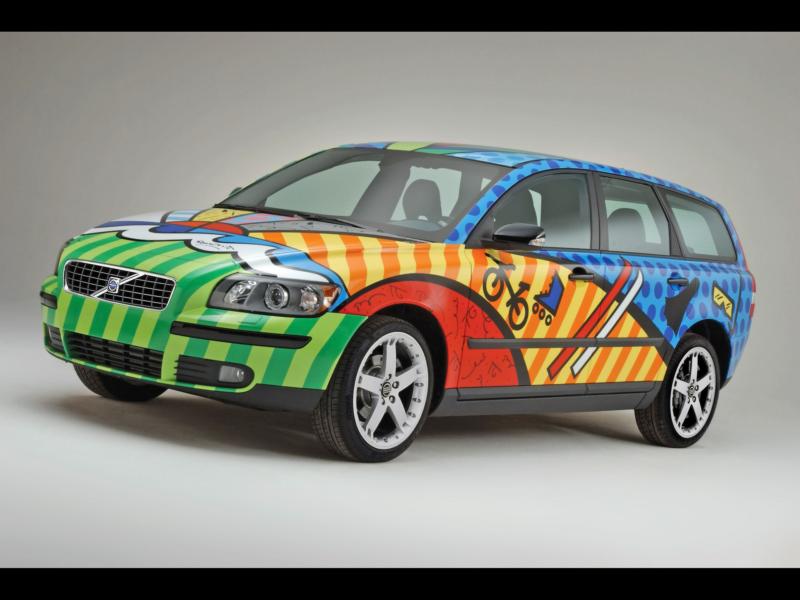 Today I started thinking about art in Miami and the first name that came to mind was Romero Britto.  Its very difficult to drive around Miami without seeing one of his works.  So who is this guy anyway?  Romero Britto is an extremely talented pop artist born in Brazil in 1963 who now lives in Miami.
His "talent" is a controversial topic in Miami because the art industry considers Britto to be too commercialized.  The question here becomes whether it is acceptable to commercialize your art or not – I personally love the naive nature of it and this Britto is an extremely intelligent man for being able to make money from his art (not something a lot of current artists can do).
One of the best articles I found is by Alex Williams of the New York Times, who describes how Brittos work is found everywhere, including Gloria Estefans home in Star Island, Fort Lauderdale Buses, Miami Childrens Museum, housing complexes, parks, and Metro-Rail stations, to name a few.  (I even have a signed lithograph in my dining room! – but Alex doesnt mention that in his article).
OctoberGallery.com makes great mention of Britto including his numerous charitable donations "marked by his experiences amongst the Brazilian poor".
Chosen by the Division of Cultural Affairs to celebrate Hispanic Heritage Month, Secretary of State Sue M. Cobb announces "Romero Britto is a wonderfully talented artist and a state treasure. We are very fortunate to have the opportunity to exhibit his work in our Capitol."
Britto has designed murals for buildings, posters for events, Absolute Vodka bottles, the Hurricane Katrina Logo Advertisement, Disney Posters, Beaujolais Nouveau wine labels, and even a VOLVO paint job.
South Florida CEO had a great article indentifying different power figures, in which Brittos art is described to "project an image of South Florida to the world".
And lastly¦.dont miss THIS video by CBS-4s Lisa Petrillo about Brittos design for The Superbowls backstage and pre-game show, including the set and costumes for Cirque du Soleil.
I guarantee that the next time you are driving in Miami, you will see Brittos work, all you have to do is open your eyes, Britto is everywhere!