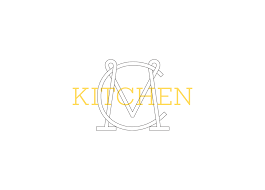 Miamism Best Brunch – MC Kitchen
When I think of brunch, I think of Mimosas, creative pancakes, eggs, desserts and bacon – you can't forget the bacon. The place needs to be pretty and so does the atmosphere. Miami has some delicious brunches where palate's are supplemented by amazing and unforgettable views. To make a Miamism Best List, the place needs to not just be good, but excellent in our eyes. We are constantly asked for recommendations from tourists and locals and if we recommend it, it's because it's outstanding, not just so so.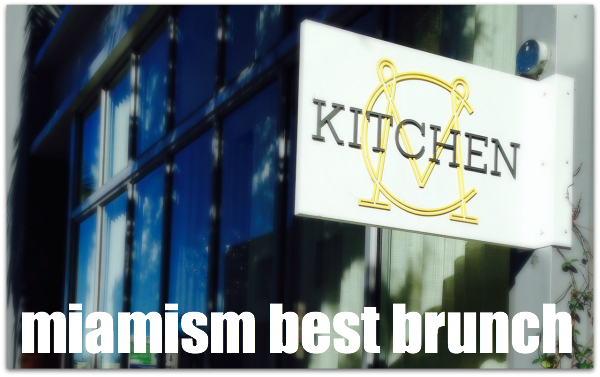 Miamism Best Brunch
MC Kitchen surprised us with amazing food and service. Although it lacks an accompanying view that we like so much, our taste buds were so happy that it made the Miamism Best List. It's located in Miami's Design District and surrounded by chic shopping: from DWR, Luminaire, Louboutin, Prada, Cartier …just to name a few. But if you go Sunday AM, expect those stores to be closed. The menu included Antipasti like Fig Pizzeta, Braised Beef and Umbrian Farro, Tonno Tartare and Cobia Crudo(with hearts of palm and shaved baby artichokes)….YUM! There were some salad choices for the less adventurous and then the part that made my mouth water, "Colazione" (aka Breakfast). Breakfast choices included Steak and Eggs, Dawson Bay Omelet with Chilean Smoked Salmon, Poached Eggs Benedetto, Whole Grain and Oat Pancakes, Black Truffle Bruschetta and Sunny Side Up Farm Egg Pizza!! Thankfully they were flexible and allowed additions like house made maple sausage patty, veggies and Eden Farms Applewood Smoked Bacon << guess which one I picked?? For the non-breakfast inclined, they also offered A Harris Ranch Angus Burger or Pulled Short Rib, Egg and Cheese Panino with a choice of truffled or parsley fries.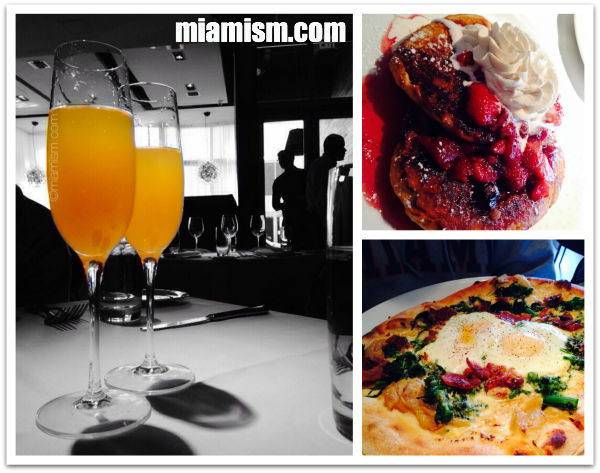 Add perfect Mimosas to the equation and MMM MMM MMM! MCKitchen 4141 Ne 2nd Avenue Suite 101A Miami, Fl 33137 305-456-9948 MCKitchenMiami.com