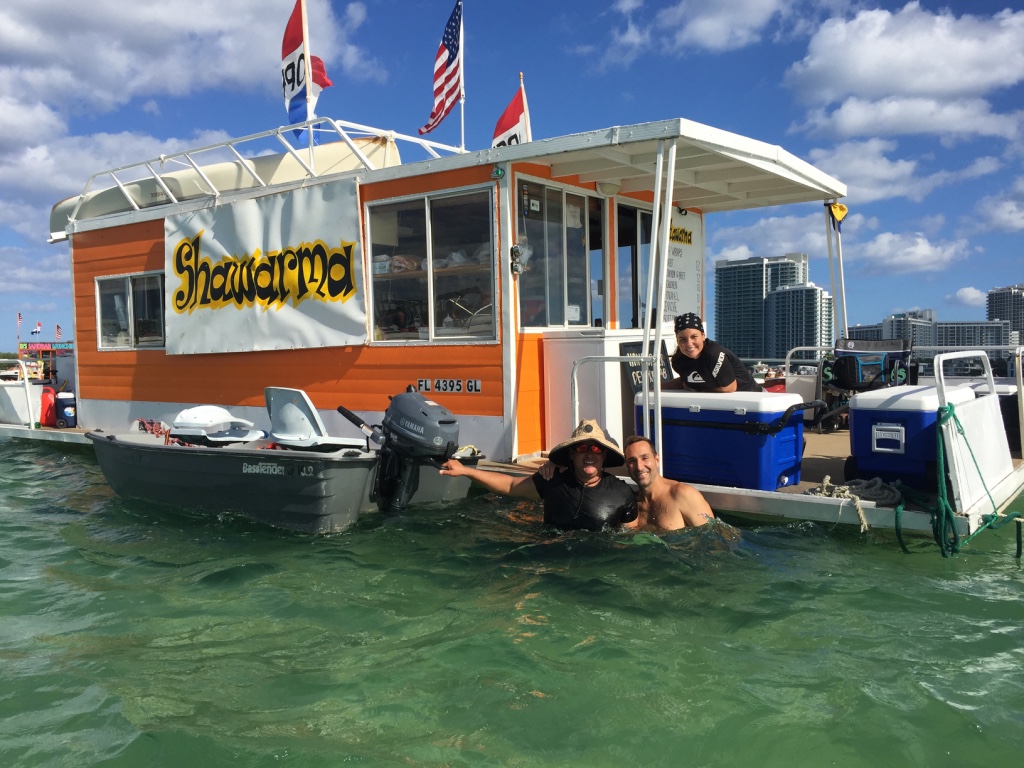 Miamism Best Food Boat – Shawarma at Haulover
Did I say Food Boat? Whaaaat?
What exactly is a Food Boat?
A Food Boat is like a Food Truck but on the water! Yes…boaters eat and going to a restaurant on the water, as much fun as it can be, is not often conducive – it takes too long, it's not on your way, it takes away from being out in the sun and water, sometimes you get there and there's no docking…you get the picture.
Miamism Best Food Boat
When we go out on the boat, we tend to go at a moment's notice without making plans and food becomes an issue. We had tried food boats from the Haulover Sandbar but they left a lot to be desired and were not even an option for emergencies – food was always gross, greasy and fatty. And then Shawarma at Haulover Food Boat magically appeared one day! Rick felt adventurous and decided to give the orange and white food boat a try. Holy Moly, our prayers were answered!! Not only were the owners super nice, but they were also Venezuelan, and to top it off the food was delicious and healthy! So they made the Miamism Best List! We're talking fresh ceviche, pita wraps, falafel!! All fresh, all home cooked and all served with a smile. I love their beef Shawarma (pita wrap) and Rick likes the chicken. We always have to have ceviche and their tequeños are to die for, and they also have smoothies, burgers, hotdogs, fries…and regular stuff. You will find the food truck at The Haulover Sandbar every weekend during boating season, it never fails. So Shawarma at Haulover is the healthy food alternative at the sandbar. But warning, they do have one major negative … they are addictive! Let Jose and Maria Alejandra know we sent you, and they may give you a special treat 🙂 And check out their Facebook Page which, as I understand, is a work in progress. Shawarma at Haulover Haulover Sandbar 15000 Collins Ave Miami Beach, FL 33154 (786)617-5012 Shawarma At Haulover Official Facebook Page