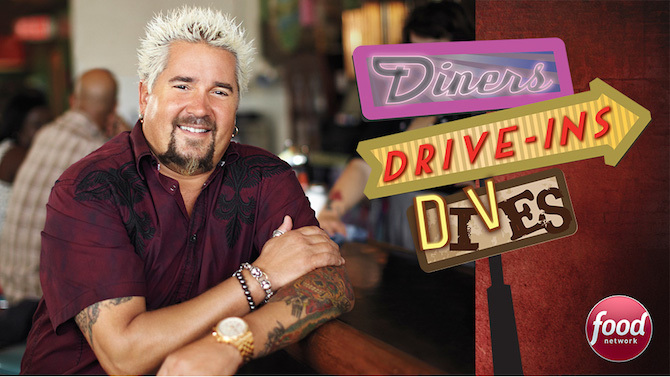 Miamism on Diners, Drive-Ins, and Dives – featuring Blue Collar Restaurant
Throwback post from 2018! If you are not familiar with Triple D Nation and Guy Fieri's Diners, Drive-Ins, and Dives, then let us introduce you to a show that will not only show you cool places in different cities around the US, but one that will make you laugh for days.
Of course it's a Food Network show, and a "reality TV" show at that. The premise behind Diners, Drive-Ins and Dives is host Guy Fieri, taking a cross-country road trip to visit some of America's classic "greasy spoon" restaurants that have been doing it right for decades.
Triple D visits Blue Collar in Miami in 2014
Back in 2014, Guy visited Blue Collar Restaurant and chef extraordinary, Danny Serfer, who introduced Guy to his unreal menu that included Spicy Ox tail and The Big Ragout Sandwich. Guy said that Danny "was serving up flavors that locals loved" and that statement could not have been more true.
Triple D revisits Blue Collar in Miami in 2018
Fast forward 4 years later, and Guy comes back to see if the Big Ragout is still around and surprise, surprise!! Mr Miamism himself, makes a guest appearance!
Before I let you know how awesome Blue Collar is and its sister restaurant, Mignonette, I need to make some things right. Guy, please stick to food and I promise to stick to mojitos, architecture and real estate. When you said "I'm in Miami in a very historic Art Deco area, 10 minutes from South Beach", you were in Miami's MiMO District!! That's Miami Modern, not Art Deco …but we'll forgive you, since you have an impeccable palate for "greasy spoon" dives!
CONGRATULATIONS to Danny Serfer and his 2nd appearance on Diners, Drive-Ins and Dives!! We are huge fans and it was an honor to help out and endorse your awesomeness!
Make sure you visit both locations:
Blue Collar – 6730 Biscayne Blvd, Miami, FL 33138 (305) 756-0366
Mignonette: Seafood/Oyster Bar – 210 NE 18th St, Miami, FL 33132 (305) 374-4635
#DDDnation #tripleDnation #guyfieri #foodnetwork #miamirestaurants
**originally published in October of 2018