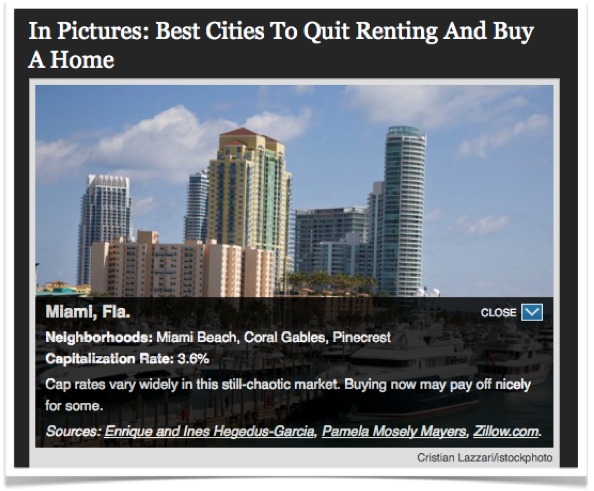 Miamism in Forbes – Best Cities To Quit Renting And Buy A Home
Forbes recently reached out to us to learn how renting compares with buying in the Miami Beach luxury real estate market. A question often asked by investors looking to buy a Miami Beach home or condo and an answer that is studied regularly and in depth by our in-house accountant and numbers specialist, Rick Garcia.
Best Cities to Rent And Own – was aimed at learning how numbers add up in 10 big U.S. cities and although we are not going in depth about the rest of the country, this is what Forbes has to say after Miamism's research:
Is it smarter in your town to buy or rent? In markets where homes cost more than around 18 times annual rents, it's smarter to lease. To gauge the economics of buying vs. renting in upscale areas of 10 big cities, we developed the Forbes Luxury Residence Rental Index, or Flurry. Data is provided by local agents specializing in high-end rentals. We will update the figures periodically, courtesy of data provided by Zillow.com. Neighborhoods: Miami Beach, Coral Gables, Pinecrest Average rent: $12,760 per month Average fair-market value: $2.8 million Conclusion: Prices are down but still 19 times annual rents. Advantage tenants. For beleaguered Miami the news is mixed. Hardest hit of all the big housing markets in the U.S., logic would have it that Miami is a buyer's paradise. In truth, it's often cushier to be a renter there. Condo investors have dumped their homes onto the rental market, creating a glut. That has constrained the supply of for-sale homes, and the cost of buying a luxury home in Miami Beach can still top 20 times annual rent. In other cases, rents remain stubbornly high. The two agents we're working with in Miami each report that some homes can be purchased for as little as 12 times annual rent–a bummer if you're renting.
For those of you that keep calling us expecting a 15% cap rate on your investment – think again!!! Bottom line is that the rental market is saturated and you do run the risk of having a vacant investment.
*originally posted on April 21, 2010*