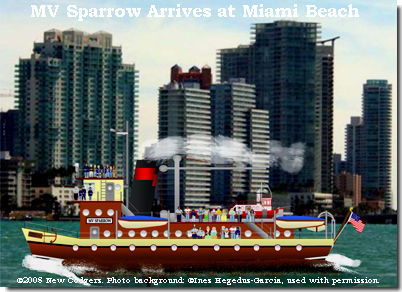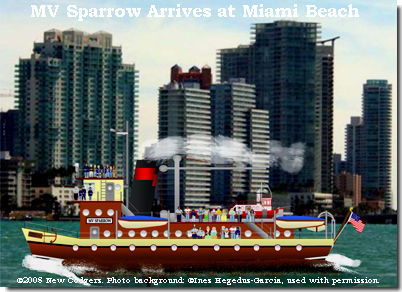 This week's Miamism is totally different and you need to check it out for yourselves. We have been honored with the inclusion in a cybertale entitled "Danger Bay" – "Voyage of the Motor Vessel Sparrow" series inspired by Bob Carney. written by Boomer Jack Boardman – here's the description:
Danger Bay is in its entirety, a wholly fictional series of melodramatic stories. The stories take place in and around the small village of Danger Bay on the Big Lake. Both the village and Big Lake (based on Lake Superiors Minnesota North Shore) exist only in Cyberspace.
The voyage of the Motor Vessel Sparrow actually ends in Miami Beach– and I have been granted the priviledge of taking you through a tour of 2 architecturally relevant Miami homes as well as some additional fun where mojitos are involved.

So what do you think? ….another MIAMISM ?!
You be the judge, check it out!
Danger Bay – Episode 79 – The Tour
**you will even see cartoon  renderings of Rick and Ines – our regularly scheduled Miamism Fridays will resume next Friday – send us your pictures! **