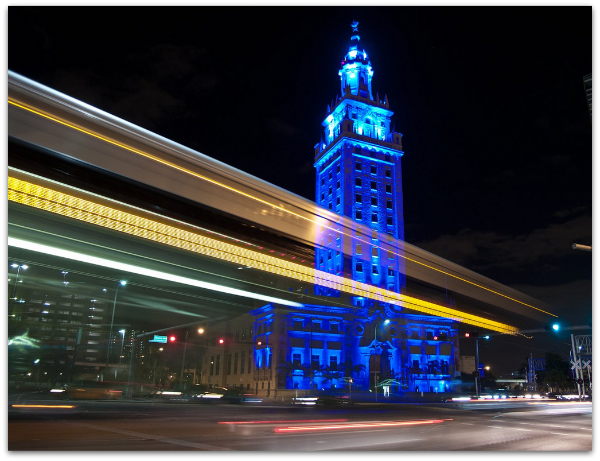 Miamism Fridays – Freedom Tower
Talk about a Miami building with history and one of our loved landmarks.  This time captured brilliantly like no other photo I've seen before, by Emilio Portuondo (aka Emilio74).  This Mediterranean Revival building was built in 1925 and designed by Schultze and Weaver  for The Miami News headquarters and printing facility.
It has served as place to process Cuban refugees who fled from Fidel Castro's communism in the 60's, later restored and designated historic.  Then became a topic of debate with preservationists when bought by known developer who ended up donating it to Miami Dade Community College which now hosts major exhibitions and events.  It's iconic and we can't negate its significance  within Miami's history.  I like this photo because the moving lights around the tower to me represent the movement of time: both reminiscing and glancing ahead at our future. Thank you Emilio for such an amazing photo!
….another Miamism !!
** Share your MIAMISMS and we will feature them!! send them to us via email (info@miamism.com), Facebook, Twitter (@ines), or post them on Flickr in the Miamism Group **
NOTE: this and other miamism photos are copyrighted© – contact owner for permission