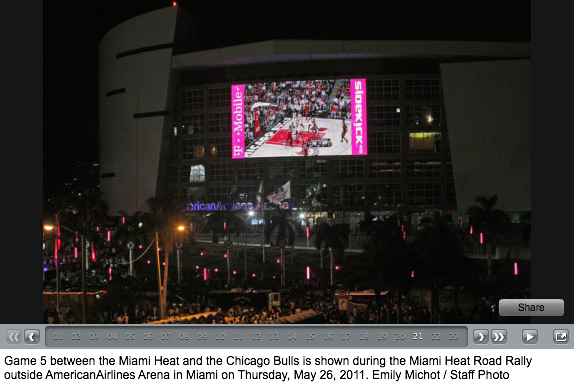 Miamism Fridays – Miami Heat Road Rally
What a great ending for this unusual and amazing Miami Heat Event!! Biscayne Boulevard was closed for Game 5 of the NBA Semi-Finals, being shown on the huge screen TV on The Miami Airlines Arena (since the game took place in Chicago).
Not surprising that the Miami Heat Road Rally turned into a huge street party after the Heat's victory against the Bulls, securing them a place in the finals! Needless to say, CONGRATULATIONS TO THE HEAT!
….another Miamism !!
The photo above was taken by Emily Michot for The Miami Herald, if you click on the image. We would also love to share your photos, so let us know in the comment section of this post, if you have photos to share or want to share something about the experience. You can also email your photos to ines@miamism.com