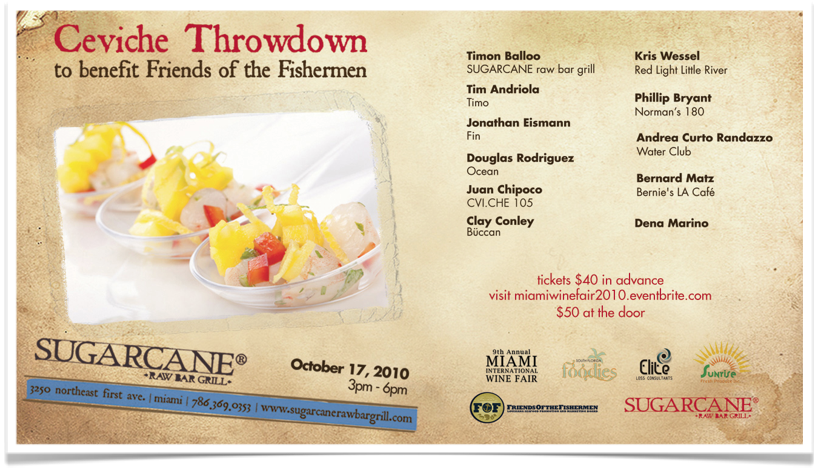 Miamism Fridays – Midtown fundraiser
Not your usual "Miamism Fridays", I know.  But couldn't pass this opportunity to let you know about this amazing fundraising event that will be hosted by Sugarcane Raw Bar and Grill this coming Sunday.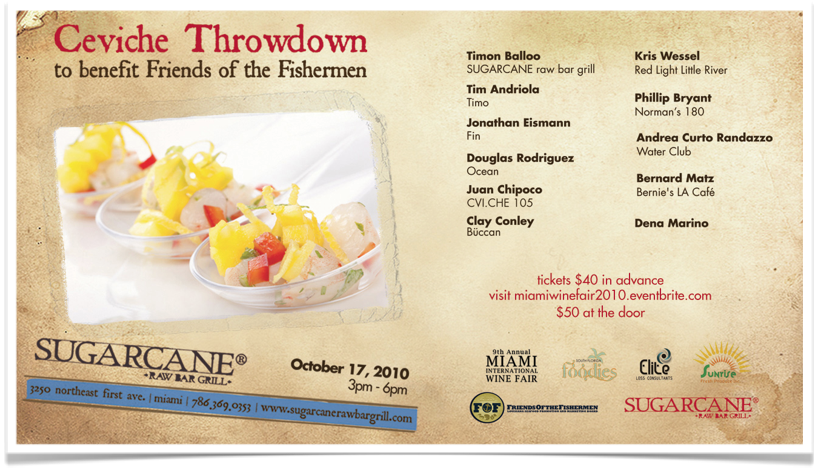 Ceviche Throwdown will benefit Friends of the Fishermen (a non-profit associated with Louisiana Seafood Promotion and Marketing Board), and is the official closing event of The Miami International Wine Fair.  It will be packed with great food made by our dearest Miami celebrity chefs.
WHERE?
At Sugarcane Raw Bar and Grill – 3250 NE First Avenue in Midtown Miami
WHEN?
Sunday, October 17th between 3:00 – 6:00 PM
DETAILS:
There will be 11 chefs competing
You will be one of 5 judges for "People's Choice" award
Dishes will be judged out of  a total of 100 points.  Breakdown is as follows

25 points – Plating appearance
25 points – Ability to create a dish that complements the wine given to you by MIWF
25 points – Flavor profile
25 points – Uniqueness of the dish

music by Team Acme Production
Tickets will cost $40 and are available online at miamiwinefair2010.eventbrite.com as well as at the Miami Beach Convention Center during the Miami International Wine Fair (October 15-16, 2010).  Tickets will also be available for purchase at the door for $50 per person.
DAY OF:
All judges are asked to have sampled all dishes no later than 5 p.m.
Judges will gather in a separate room at 5:30 p.m. and will have 30 minutes to determine who they felt was the best-in-show as well as a 2nd and 3rd place winner
Will award three (3) winners and judges will be asked to announce the winner at 6 p.m.
WHOSE CEVICHE WILL REIGN SUPREME? Make history at the first annual Sunday Ceviche Throwdown, Miami International Wine Fairs' official closing event. You be the judge; taste and evaluate eleven local star chefs as they compete against each other to win the title of Ceviche Throwdown Champion. Contestants will be judged on: Their ability to pair ceviche dish with wine, Their dish presentation, The uniqueness of their ceviche, Overall taste. Participating Chefs Include: · Timon Balloo of SUGARCANE raw bar grill · Douglas Rodriguez of Ocean · Jonathan Eismann of Pizza Volante and Fin · Kris Wessel of Red Light · Andrea Randazoo of The Water Club · Phillip Bryant of Norman's 180 · Juan Chipoco of Ceviche 105 · Tim Andriola of Timo  ·  Clay Conley of Buccan  · Bernard Matz of Books & Books Cafe and Dena Marino
…AND THE WINNER IS!
There were actually 2 winners: A Judges' Choice Award for Best Ceviche and a People's Choice Award.
The Judge's Award went to Chef Juan Chipoco from Cvi.che105 (the only Peruvian Chef in the group and a well deserved award).
The People's Choice Award went to Chef Andrea Curto-Randazzo (formerly from Talula's and now at The Water Club)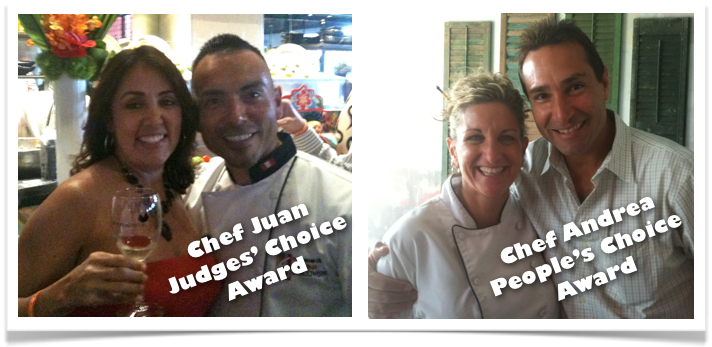 CONGRATULATIONS to Sugarcane for putting together such an amazing event!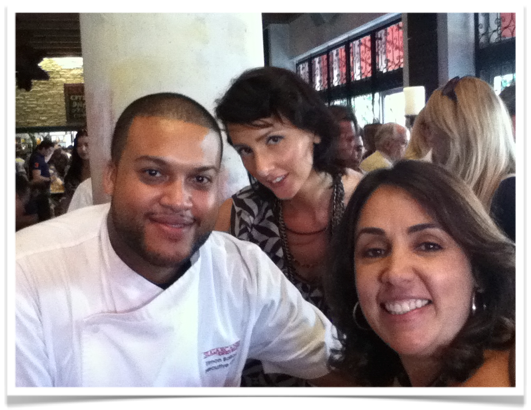 here are some photos from the event