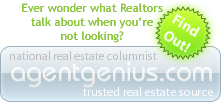 Miamism joins Agent Genius
I would like to announce that I have been invited to blog at Agent Genius so I have to brag a little……I know, I know. It's an honor to be included with such great minds around the country, minds that think outside-the-box and have a common goal to improve the industry.
What's Agent Genius????
"Agent Genius is not about any one particular person or brokerage, it's about the Genius of Realtors. The goal of the Agent Genius Project is to point out and highlight those in the RE Industry that are on the cutting edge of this new age of technology– the Internet reloaded as Web2.o. As more Realtors come online, the box will be ever-expanding- no longer is it acceptable to be normal or standard. In this new and inventive time, Realtors will reinvent their own business and we'll be here to show them off."
So it is a blog about Realtors' talking to other Realtors about the industry. The goal is not to write consumer articles, but to point out how the business is changing and what we are doing to set a new standard. If you are curious about what Realtors talk about, come visit. We welcome the consumer perspective.