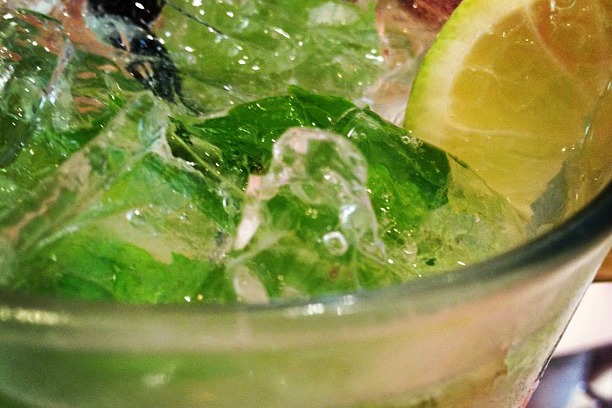 Miamism Mojito 411- new and improved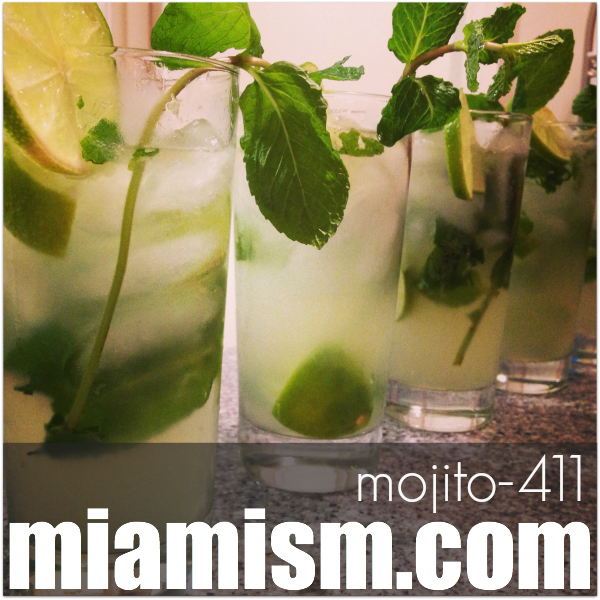 You asked and we delivered! Our "how-to mojito" video was a bit outdated, granted….it was done in 2007. So we changed some minor things and streamlined the process to be able to make more mojitos at a time. And more mojitos means more smiles! 🙂
Miamism Mojito-411
Mojito Ingredients
fresh mint
fresh limes – whole and in quarters
rum
simple syrup (instead of sugar)
soda
Mojito Instructions
In 12-oz highball glasses (or something similar), squeeze one whole lime, place 2 lime quarters, and 1-shot glass of simple syrup – muddle gently but firmly.
fill glass to the top with ice (not a fan of crushed ice….use whole cubes)
add rum (almost to the top of the glass)
shake with either plastic or stainless glass
add a squirt of soda and stir with long spoon
garnish if you are into that
Drink up!!
Mojito Instructions for our OCD Fans who need actual measurements (added upon request)
Cut lime into 8 pieces and place 2 of those (1/8) in 12-oz highball glass
Add 6 large mint leaves with stems
Add 1 oz. simple sugar
Add 1 oz. freshly squeezed lime juice (no fake stuff please)
Muddle
Fill glass with ice
Add 3 oz. of rum
Shake
Top off with Sprite and Stir with long spoon
DRINK UP!
We, here at Miamism, remind you to DRINK RESPONSIBLY!! . Please Don't drink and drive.
**published November 15, 2013 and modified May 22, 2018.