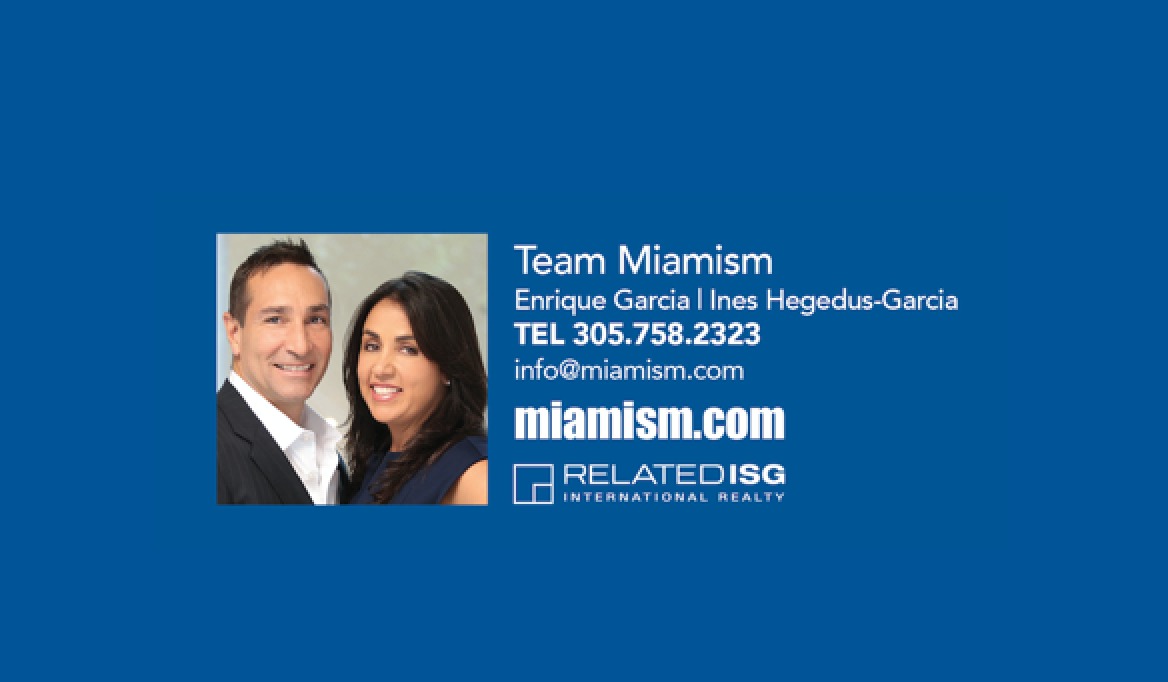 Miamism Sales Team joins RelatedISG International Realty
We are happy to announce that we have joined the powerful team at RelatedISG International Realty. We take great pride in choosing what best works for our business and benefits our clients the most. RelatedISG has proven to be the right choice for so many reasons. Real estate is personal and our services go above and beyond standard real estate services – the firm that stands behinds us needs to be on the same page with everything we offer you: from our brand to our blog, to the way we communicate with you and most importantly, it needs to understand that it's about YOU and not us or the brokerage. We're always happy to meet with you in person and show you the advantages of this collaboration. Or simply call us – we are at your service and our new reach is guaranteed to impress you!
Who is RelatedISG International Realty?
In 2011, Jorge Perez, Chairman and CEO of The Related Group and ISG principals Philip J. Spiegelman and Craig Studnicky came together to form a top General Realty firm, RelatedISG International Realty. The two companies represent some of the strongest reputations and track records in residential real estate history. The partnership has produced the widest reaching and connected international network, with a large concentration in Latin America and new regional offices in Asia and Europe. Related ISG has become central to the "New Miami" as the paramount voice for today's residential culture and trajectory of a renewed global market place. RelatedISG International Realty has grown quickly, now encompassing five offices across Broward and Miami and hundreds of millions of dollars in sales. In addition to unparalleled sales expertise, Related ISG delivers superior marketing research and analysis, with the most comprehensive regional real estate reports that effectively track absorption, trends, demand and market data. Talk about a power house! The Related Group and ISG coming together to form a general real estate company – that's what I call marketing on steroids! And the best part, with very personalized service and all kinds of incentives for you, who ultimately are the business. It's not about us patting ourselves on the back about all of our accomplishments. It's about bringing tools, service, technology, expertise and experience to our clients.
Related ISG International Realty welcomes Team Miamism
RelatedISG International Realty is proud to welcome our newest team members Ines Hegedus-Garcia and Enrique (Rick) Garcia . This dynamic duo displays an exceptional level of expertise, professional knowledge and world-class service. Since 1994, they have offered customers commercial and residential real estate guidance through buying and selling, and have shared their knowledge through their award-winning lifestyle and real estate blog – recognized as one of the best strategic marketing examples across the industry. The husband and wife team specializes in selling luxury homes and through their expertise in digital marketing, social media and content management, have welcomed a growing number of international buyers and clients to their network. Ines and Rick specialize in multiple neighborhoods, from Fisher Island to Aventura, and possess in-depth knowledge of what each community has to offer. In fact, the Miami Shores residents know so much about these other neighborhoods they might as well call them home too. Bi-lingual and credentialed, Rick obtained his Bachelors Degree from the University of Central Florida and then a Masters in Accounting from Nova Southeastern University, while Ines received her Bachelors Degree in Architecture from the University of Miami. They are the proud parents of three boys.