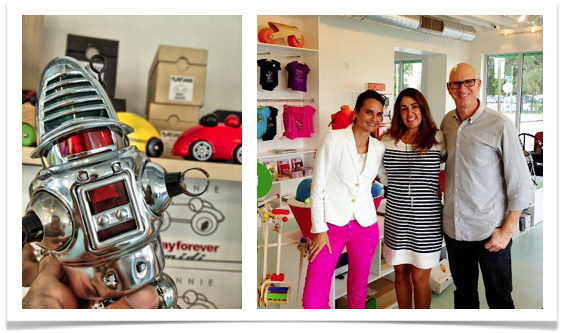 Miamism SHOWCASES: Genius Jones
At Miamism we showcase businesses that we believe in and offer products that match our readers' needs, that would be you.  As a full upfront disclosure, we don't get paid for this or get any type of benefit, other than the gratification of helping fellow business owners.  Now let's get to the focus of this showcase.
Genius Jones is a children's store that is family owned and operated  by Daniel Kron and Geane Brito. It is celebrating its fifth year in business and as Daniel and Geane put it,
It all started with a simple idea: Just because you're now a parent doesn't mean you should have to immediately abandon your love of design.
Located in The Wynwood Arts District, you will find anything from children's furniture, toys, strollers, clothing and all kinds of well-thought out and designed children's accessories.  I had the pleasure of interviewing Daniel and Geane at their new store, it's a bit long, but worth the time.
Genius Jones has consolidated their 2 stores previously in The Design District and South Beach, to one mega store in Wynwood with easy access and plenty of parking.
geniusjones.com
WYNWOOD ARTS DISTRICT
2800 NE 2nd Avenue
Miami, FL 33137
305.571.2000
You need to visit the store to really get a grasp of what you can buy.  What I love about this place is that the owners are true curator's of great quality children's stuff and you will always find the latest and best educational toys and baby accessories.  I hope the video shows the passion Daniel and Geane have for their establishment and it doesn't hurt that celebrities like the Kardashians are regular clients.
Make sure you visit the Genius Jones Facebook page!