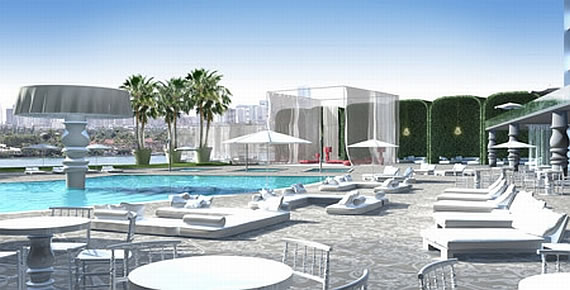 Mondrian South Beach – Condo Hotel
Did you even know that The Mondrian has condos for sale? The Morgans Hotel Group, responsible for The Delano and The Shoreclub in South Beach, decided there was a need for short term rentals as well as a Condo-Hotel in South Beach, and instead of referring out the business, they would keep it in-house. Of course their reputable concierge service and celebrated design would remain, that's how the Mondrian concept materialized. The Mondrian has a marina, meeting rooms and sits on the bay side in South Beach at 1100 West Ave with spectacular panoramic views of the Miami Beach islands, Monument Island, The Port of Miami and The Miami skyline. The interiors were done by Marcel Wanders, known for his theatrical use of space. Some people may find the place to be "OUT THERE", meaning it's a bit weird and overdone, but the truth is that The Mondrian takes you away to a fantasy world that fits South Beach so well and becomes the perfect getaway. Here's the marketing pitch for The Mondrian Condo Hotel:
FULL CONDOMINIUM OWNERSHIP WITH HOTEL SERVICES BUILT AROUND YOUR LIFESTYLE. Owners enjoy all the privileges of this exclusive Hotel, 5 Star Asia de Cuba dining, Sunset Bar, 2 swimming pools, fitness center, Agua Spa, 24-hour room service, maid service, marina and full access to Delano Hotel Beach Club. Interiors feature glamorous living areas, spacious bedrooms, modern bathrooms, fully furnished and designed by Dutch designer Marcel Wanders. Enjoy breathtaking views of Biscayne Bay from your private balcony.
Once you enter and go through the Sleeping-Beauty-castle-type interiors, you'll find the suites and apartments to be whimsical and unconventional with amazing views and backdrop of Biscayne Bay and South Beach. We visited one of the Tower Suites and took some photos.
This Tower Suite is offered at $2,950,000 with a $1,759.45/month maintenance fee which includes all amenities, cable, water, electric, WiFi). Features include:
Unique residence – one of only 4 total units
2 bedrooms / 2.5 bathrooms
1,680 square feet of living space
791 square foot terrace/balcony
Wine Cooler, Washer/Dryer, Flat screen TVs in every room
Access to exclusive Tower Suite Lounge
Complimentary valet
We also visited a 2-bedroom (1,190 square feet with bay views at $900,000); a 1-bedroom (740 square feet with city views in the $500k's); and studio unit (534 square feet with bay views starting in the high $200k's) to get a feel of size and views. The interiors are all very similar and very Marcel Wanders, and the kitchens are small (as can be expected from a condo-hotel).
The consensus is that the prices are still high. The project was opened during Art Basel in December of 2006 and was 80% sold, but like the rest of the projects in Miami, only closed the cash buyers and now have 140 units available. Pricing has gone from the $1000's per square foot to the $600's – studio apartments start in the $290,000 range and 2-bedroom apartments in the $900,000 range. The Hotel program is optional and buyers can of rent their residences on their own. The sales team did disclose that they are renting at an average of $4.70 per square foot and their studios rent for approximately $2,500/month for a six month rental period. They also claim that the rental demand is higher than the supply. (This is enough to merit the high prices, knowing you will have your unit rented and can benefit from rental income). There's currently financing available by the developer, which is not easy with condo hotels. They have a 5 year balloon for Domestic clients as well as foreign nationals. They require 40% down for foreign nationals with a 7.5% APR and 3 credit reference letters and 80% down for domestic clients with APR from 7% to 8.75% (1.5 points and 30 day closings – Full Doc but no dept-to-income ratios which is good for multiple property owners). I shouldn't even comment on price gouging anymore because it's sometimes so difficult to obtain financing and the risk is so high for lenders…..that they can ask whatever they want.
An interesting and exclusive amenity is the future use of Monument Island for a private beach club. The Mondrian was instrumental in the restoration of the island and will now have rights to its use by it's residents and hotel clients. Residents also get 10% off spa treatments, they have 1 parking space with complimentary valet parking and a private entrance if you want to avoid the busy lobby. All in all, it's an interesting project with a creative solution to the short term rental need in South Beach… AND …"everything is very negotiable" according to the sales staff <<< ya think? Remember our team is ready to help you with your Mondrian South Beach Condo Purchase or sale and of course surrounding condos as well. Call us for details 305.758.2323 or mondrian@miamism.com
Condo Name: Mondrian Condo Hotel
Interior Design: Marcel Wanders
Neighborhood: West Ave Corridor – South Beach
Location: 1100 West Av – Miami Beach
Contact: mondrian@miamism.com *original article april 24th, 2010