New World Symphony Kicks off their new Season
Just when I thought that there was nothing new The New World Symphony could offer, to someone that's un-classical-music-inclined like me, they totally blow it out of the park.
The season kickoff was this past Saturday and was complemented with a simultaneous Wallcast in the park (SoundScape). It was a bit wet outside and I decided to experience the night inside the concert hall, but it didn't keep people from listening to the concert outside.
They say to expect the unexpected, but I really didn't know what I was in for. After the NWS played the first Bedric Smetana piece (Overture to The Bartered Bride), they moved Michael Tilson Thomas' (MTT) platform out of the way and brought out a big concert piano to the middle of the stage. I knew that a Spanish Pianist had been invited, but what followed was something my words will undoubtedly sell short.
Javier Perianes, the pianist, came out and then the whole NWS accompanied by MTT – the piece was Schumann's Concerto in A minor. The concert hall went dead silent when Javier sat down in front of the piano, and as soon as his hands hit the keys, tears started flowing from my eyes. Rick turned around and looked at me like I was crazy and personally, I have no idea what came over me. All I can tell you is that the feeling this brilliant man puts into music is powerful beyond words. Memories of my grandfather playing Schumann when I was only 4 years old filled my whole being. Javier played the piano with his eyes closed and you could tell that the piano was only a tool to convey his love and passion for music.
If you've ever heard this piece, you know it's a long one and he played it all by heart and with heart.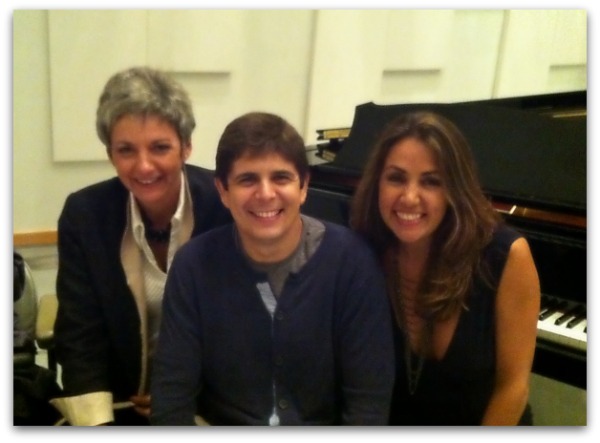 Recently, when asked for final advice for the public by artist and classical music critic, Sebastian Spreng, Javier said:
To enjoy, and to fall in love with music, the rational sense of life, to enrich their culture and to be, above all things: curious. And when they go to a concert, to open their hearts, for it not to go so much through their head. You see, I'm passionate about music because it's not a profession, it's a way of living, a way of understanding life.
It is truly rare to meet an individual that is so passionate about something, so brilliant about an art, and at the same time so humble. They say that humility is the real path to our hearts, and Javier Perianes is the epitome of just that. If you have a chance of hearing him play, please do, you will not regret it, and you will never forget it. [and it doesn't hurt that he said I was prettier than my sister, pictured above] 😉
So what's the moral of this story? For me it is not about the music, it's about the experience – from the first time I caressed the wood finish at Frank Gehry's New world Center, to the time I danced to Sergio Carreno's percussions, even learning more about Matt Roitstein's flute, and now tears from Javier Periane's soft key strokes.
There are a lot of people responsible for The New World Symphony, including gracious donors, friends of the symphony and the back brains of it all…. all carefully orchestrated for the love of music and how it reminds you that we are alive.
So grab some tickets or go to a WALLCAST, we are lucky to have The New World Symphony in our back yard.