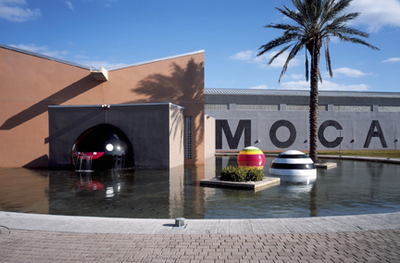 North Miami's MoCa – Museum of Contemporary Art
There is a place in North Miami worth making mention and it does not get enough credit or recognition,  The Museum of Contemporary Art which opened its doors in February 1996.  The structure was designed by Charles Gwathmey in collaboration with the Miami firm of Gelabert-Navia. It's great to say that we have an amazing museum of contemporary art near Miami Shores Real Estate and Miami Real Estate.

The purpose of the museum was to create an incredible space for exhibiting the work of contemporary masters, discovering new artists, and learning about art and its heritage.  The museum is known for its innovative exhibitions and maintains an active schedule which can be seen in their website.
Photo credit:  S
teven Brooke
"The mission of the Museum of Contemporary Art is to make contemporary art accessible to diverse audiences–especially under-served populations–by exploring the art of our time and its relationship to a broader cultural context. The museum is particularly interested in providing a forum for young and emerging artists and in presenting and collecting the works by local as well as internationally recognized artists. The Museum carries out this mission through exhibitions and acquiring works for its permanent collection as well as related symposia, publications, films, lectures, performances, and educational outreach activities, thereby providing a forum for dialogue about contemporary art in the community."
The museum is now complimented by its satellite branch MOCA at Goldman Warehouse located in the Wynwood Arts and Entertainment district of Miami which doubles the museum's current gallery space and adds 4,000 square feet of art storage.
There are many ways to support MoCa, you can join as a member or become a patron of its many benefit events, collections or educational programs.  MoCa also sponsors many social events which not only encourages people to experience art, but also provides the perfect setting.