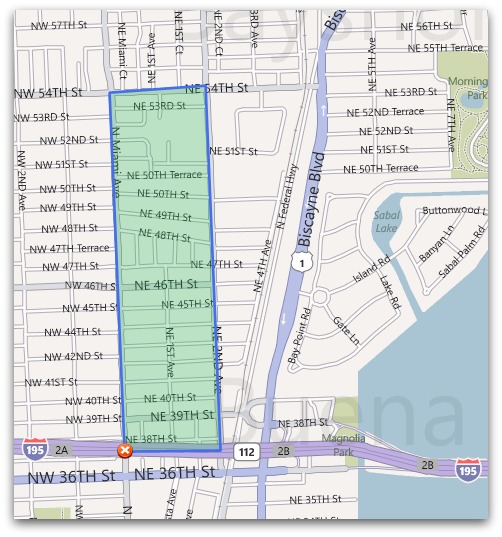 November 2011 – Miami Design District Housing Report
Another request granted to our loyal readers and one of the areas in The Miami Real Estate Market that has kept us busy this year.  Miami's Design District boundaries are not at all big and often confused by appraisers.  Within the boundaries, you will find the previously known Biltmore and Shadowland Districts, currently known as Buena Vista East Historic District, as well as designer showrooms and restaurants that include Christian Louboutin, Kartell, Casa Fendi and Luminaire, to mention a few.  For clarity's sake, here's a map of the boundaries we use: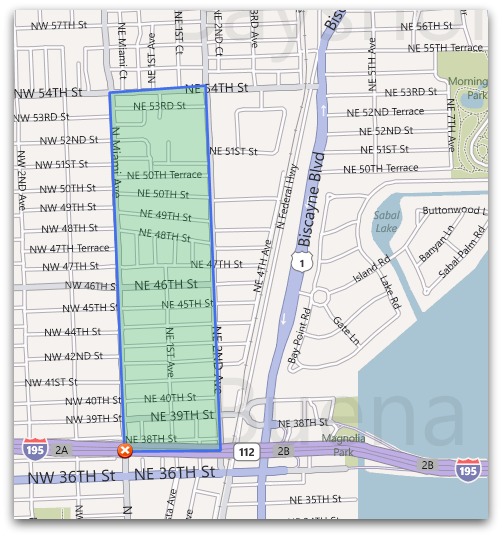 There are currently 4 Design District homes for sale in the Multiple Listing Service (MLS):
The highest priced listing is the historic home at 111 NE 43 Street, priced at $625,000.
The lowest priced listing is the foreclosure at 80 NE 50th Street, priced at $184,900.
Pending sales (properties under contract):  7
Closed sales in November 2011:  0
Miami's Design District is still considered a neighborhood in "transition", and this has nothing to do with race or minorities, since that would be a complete violation of Fair Housing Laws coming from us.  It has to do with pricing as well as amount of renovated homes in the area.  You can find a magnificent and completely restored 2-story historic home next to a dilapidated non-descript tear down.  This obviously affects the property values in general.
On a positive note, it's a great neighborhood to buy into NOW, knowing that property prices will not be this low forever.   We have found that it's a great place for first time home buyers that cannot afford areas like Miami Shores, Belle Meade or Morningside in Miami's Upper East Side.
In 2011, there have been 15 Design District homes sold with a median sales price of $176,500 and an average price per square foot of $123.  I can tell you that a lot of these homes are selling for cash, at much higher prices than appraisal value, since pricing is so reasonable compared to other desirable residential areas in Miami.  We know this from personal experience, being on both the listing side as well as buying side of transactions.  Prices in the Design District will not be this low forever and the lack of inventory is proof of that.