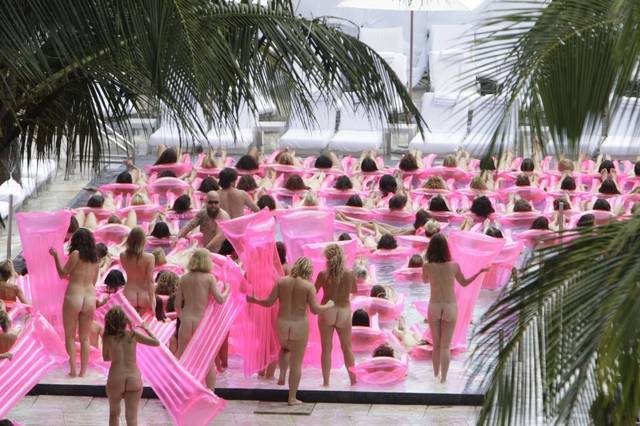 Nude in South Beach for Spencer Tunick
There are pretty incredible artists out there in the world, but today we were fortunate to have Spencer Tunick's creative genius in action at The Sagamore Hotel in South Beach. Talk about Miami Beach Real Estate getting a piece of the "action". Some people may think this is a bit "out there", but whatever your opinion, you cant take away the fact that it is creative. Tunick is known for shooting masses of naked bodies across the world. Today's photo shoot started with The Sagamore's 15 balconies full of Naked bodies.
It followed by 140 naked women on 140 hot pink rafts that filled the Sagamore's pool and were later replaced by 140 naked men in 140 green rafts.
Lydia Martin of the Miami Herald said that the shot with the most "South Beach Flavor" is one where the participants shake and open bottles of champagne. Lydia also describes that after opening the champagne, the celebrating crowd jumped in the pool. Tunick implored volunteers to get them dressed again.
"We don't want this to become a nudist event. We want them to put something back on to hang out right now. "
I would really call this a Miamism, but in the world of art, its just another "Tunick Day". Images will be unveiled December during an Art Basel brunch at the hote.
UPDATE: I just found this VIDEO in Corriere TV – It's in Italian … the language of love.
To think that this single article gets so many daily hits is just amazing – please make sure to also take a look at the rest of our miami real estate blog
.
**photos courtesy of JOHN VANBEEKUM/MIAMI HERALD STAFF**