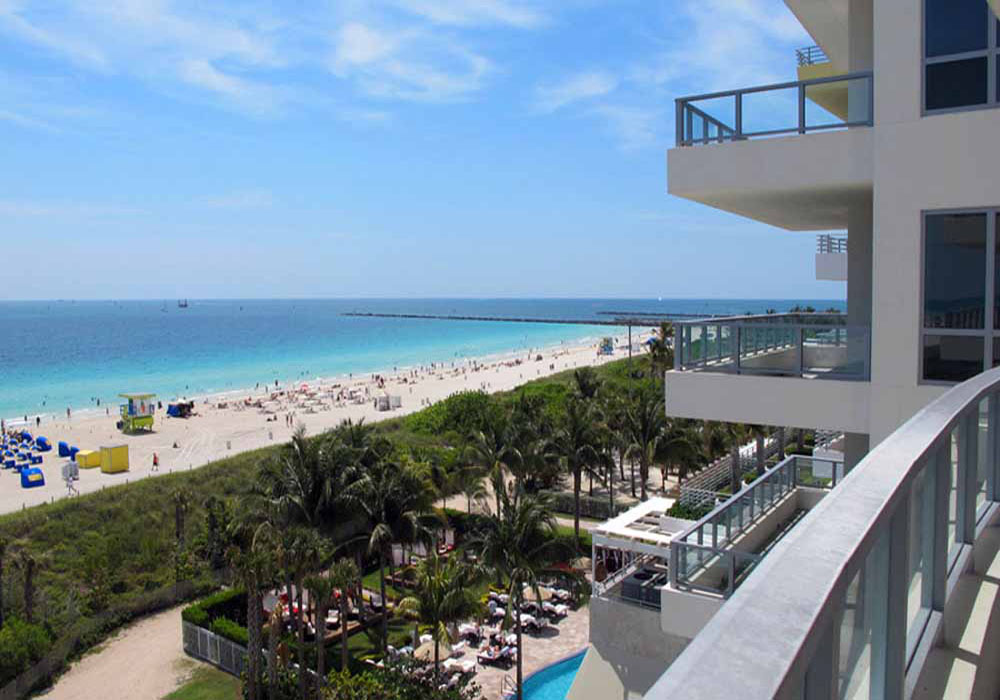 Ocean House South Beach is the newest ultra luxury condominium development in the sought-after South of Fifth area of South Beach. It's said to be the perfect hybrid between The Continuum and Apogee and remember it is directly on the ocean! What I personally like about it, is its scale. You would know by now that I am a friend of smaller buildings that are more personable and have more of a boutique feel for them. And boutique is the whole concept of these luxury residences – we're talking 5-star luxury hotel services with butler service, a la carte service with hairstylists in rooms, car detailing, airport transportation, restaurant reservations, room and maids service from The Hilton …you name the service, they will have it! And yes there is a sticker price to go with that, but I'll get into that in a moment. The selling lingo starts like this:
Open the door to your Ocean House and enter a space unlike anything else in South Beach. It's the newest residence South of Fifth…boasting grand residences, breathtaking views and uncompromising amenities. More than an address, Ocean House is a statement about what it means to live the exclusive South of Fifth lifestyle, with the very best of South Beach outside your door and the clear, sparkling Atlantic at your feet. A mere 18 Grand Residences guarantee that only a select few will ever call Ocean House Home.
The outside is an unpretentious, restored Art Deco facade, but the interiors are new, are fresh and really have a "feel good" quality to them. The place has a sort of Soho House feel to it and they told me their original concept was an "extension of home."
The completion date is said to be April 3rd of 2012. That will be all the common areas except the lobby. There will be 18 units on the ocean called "beach homes" with maintenance fees at $1.09 per square foot.
OCEAN HOUSE PRICING
So you have an idea, for a 6,000 sf beach home we visited, completely finished and furnished by Arterfacto, the sticker price is $7.13 Million (realistically selling between $6.5M-$6.7M). The same unfurnished and decorator ready unit would be priced at $5.9 Million (we're talking around $1000 per square foot). Here's the gorgeous residence:
Ocean House Amenities
YOUR HOME ENVIRONMENT
Private elevator access to each residence
Living Room with elegant fireplace
Private Screening Room with digital theater sound
Temperature controlled Wine Cellar with humidor
Billiards Room with bar
Private Art Gallery and Library
Wellness Retreat with state of the art fitness center
Vanity Room for manicure and pedicure treatments
BEYOND YOUR DOOR
Oceanfront beach club
Beachside pool deck with zero-entry pool, private cabanas and WiFi
Poolside and beachfront food, beverage and towel service
Beachfront jogging path
Outdoor game area
Potting station for gardeners
Outdoor gourmet kitchen
AT YOUR SERVICE
State-of-the-art security
On-staff butler and concierge
Valet parking
Luxury car detailing
Savor Room Service from top Miami Beach restaurants
Monthly event and entertainment guide
Pet spa services and more
OCEAN HOUSE FLOOR PLANS
Click on this image to download Ocean House floor plans
Here are photos during our visit to the project – unaltered and unfiltered … so you can see the real thing. Of course we need to find some negative aspects to this condo project, but they are not that bad. The first one is parking. Although there is parking, each unit comes with one parking space except for the penthouse beach houses that have 2. These are $4 Million plus residences in which owners will have to find alternatives for their automobiles – we'll have to see how that works out for them. The second one is pricing. Yes they are selling this as an uber luxurious condo with white glove butler service, but price may be a factor and I'm guessing a very negotiable one. *orig 3/8/12 One thing is for sure, there are no luxury projects like this one in The SoFi area, so we have a real winner for those seeking more privacy at a quaint scaled building. And there will be loft residences opening up in the near future as well….something to keep our eye on. Remember our team is ready to help you with your Ocean House Condo Purchase or sale and of course surrounding condos as well. Call us for details 305.758.2323 or oceanhouse@miamism.com Condo Name: Ocean House Condominiums Arquitecture: restored Art Deco facade and Nichols Brosch Sandoval & Associates Neighborhood: South of Fifth area of Miami Beach (SoFi) Location: 121-125 Ocean Drive – Miami Beach Contact: oceanhouse@miamism.com