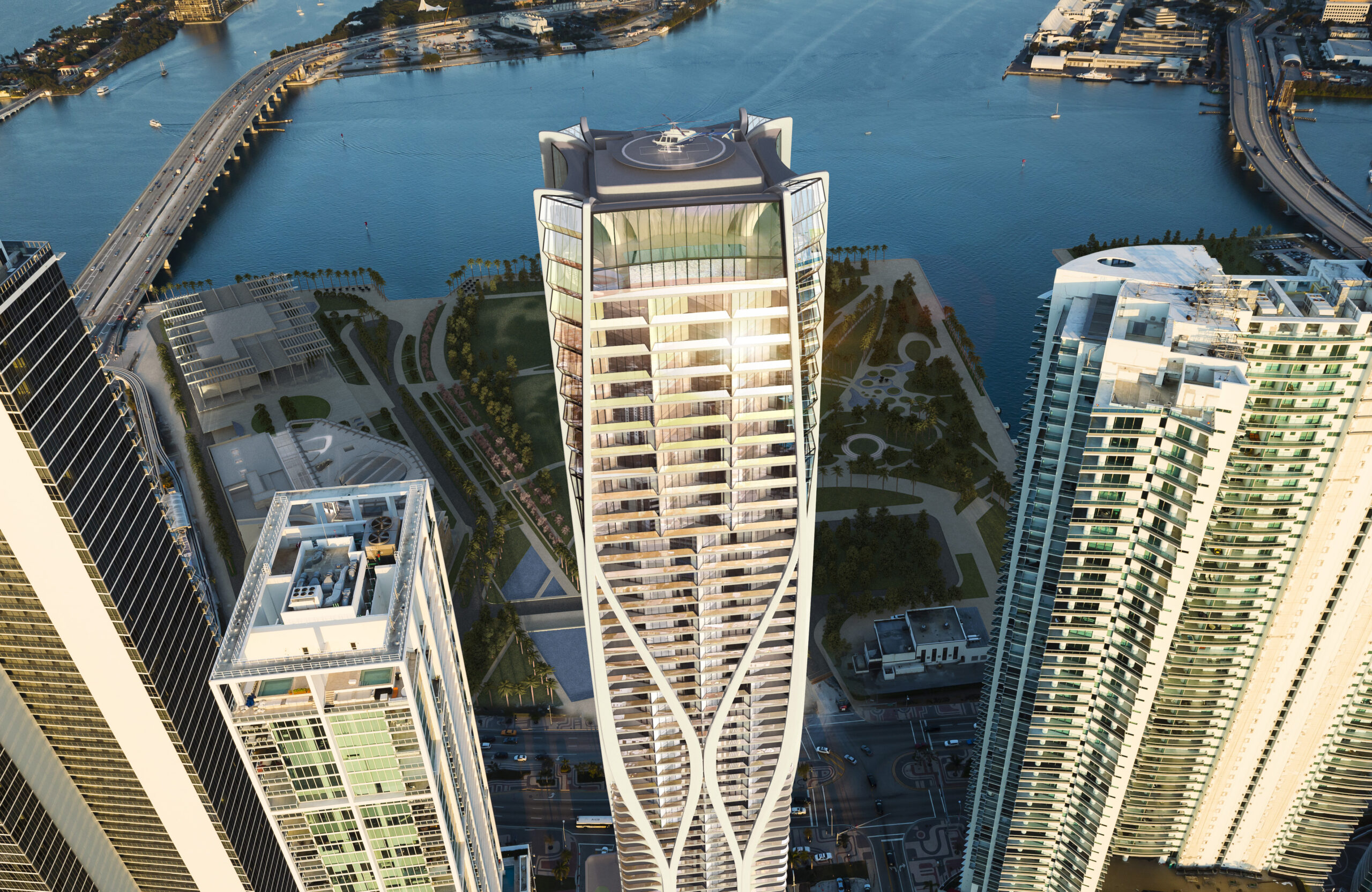 One Thousand Museum Condos
Let me start by saying that having a Zaha Hadid residential tower in Miami is a BIG deal. You may not even know that Zaha is one of the most prominent women architects in the world, and may not care that One Thousand Museum will be Zaha's first residential tower in the US. But at least you will know why the boo-ha-ha behind this new condo project. As a matter of fact, you don't have to be a fan of Zaha Hadid's architecture and encourage you to tear the project apart (what would architecture be without criticism and controversy?). Zaha Hadid Architects philosophy is:
We are in the business of culture production – We work at all scales and in all sectors. We create transformative cultural, corporate, residential and other spaces that work in synchronicity with their surroundings.
The tower's concept and marketing statement is:
A fusion of art, architecture and design. Over the past 30 years, Pritzker prize-winning architect Zaha Hadid has become internationally renowned for her designs of sensuous, soaring buildings that push the limits of innovation and blur the lines between art and architecture. One Thousand Museum by Zaha Hadid, Miami's most prestigious new residential tower, is her first residential skyscraper in the Western Hemisphere. Located on a coveted property overlooking Miami's Museum Park, and boasting utterly breathtaking Biscayne Bay and Atlantic Ocean views, One Thousand Museum brings Hadid's visionary architecture together with an unprecendented level of service and extraordinary amenities. The owners of this limited collection of museum-quality duplex town homes, half-floor residences, full-floor penthouses, and a single duplex penthouse will enjoy exceptional privacy within a truly secure state-of-the-art environment.
I personally love the location, anyone that reads Miamism.com knows that I call these the Miami Heat Condo Towers and think they are the best location in all of Miami AND Miami Beach. Why? The views are fantastic, you have public transportation that works right behind the towers (people mover), you are minutes from anywhere and can actually walk places!! < GASP! In addition to being right across the street from the Miami Airlines Arena as well as Herzog & De Meuron's Museum Park. Out of all the towers, Oppenheim's 10 Museum Park is still my favorite (because of scale and design of loft units) – but sadly, it will now be overshadowed by Zaha Hadid's massive exoskeleton which will devour it like a hungry scavenger. And I do confess that One Thousand Museum will be my second favorite of the 4 ….and can't wait to actually be in it during construction. When it comes to price, you will be paying a premium to live in this prestigious, one of a kind sculptural masterpiece. We're talking prices higher than South of Fifth (which is the most exclusive address in all of South Florida). This building will set a precedent that will help prices of surrounding buildings skyrocket, with pricing starting from $5 Million to over $15 Million.
One Thousand Museum – Location
Internationally acclaimed for its cutting-edge contemporary art scene, chic nightlife, tropical beaches, and year-round perfect weather, Miami has in recent years also become home to a number of the United State's most prestigious cultural institutions and most exciting entertainment venues, and not to mention architecture heaven. One Thousand Museum sits at the nexus of all of these desirable destinations just minutes from South Beach and the Brickell financial district. Adjacent to the newly designed Museum Park on Biscayne Bay and steps from the Adrienne Arsht Center for The Performing Arts, One Thousand Museum is a celebration of excellence and innovation at the center of the Miami skyline. Every residence features breathtaking views that unfold over the green landscape and contemporary architecture of Miami's Museum Park to the blue waters fo Biscayne Bay, South Beach and the Atlantic Ocean beyond. Overlooking Port of Miami, residents will also enjoy the parade of cruise ships embarking to sea.
One Thousand Museum – design specifics
Zaha Hadid has designed One Thousand Museum to appear as a continuous piece of contemporary sculpture from the podium to the crown. The sensuous curves of its structural exoskeleton reflect the internal organization of the tower as it rises 60 stories from the arrival podium to a dramatic double-height amenity space at its crown. Inside, the tower is composed of distinct residential zones: duplex town homes at levels 10 to 14, half-floor residences from level 15-49, full-floor penthouses from levels 50-57, and a duplex penthouse at levels 58 and 59. With a limited number of expansive residences, One Thousand Museum is uniquely positioned to offer a truly secure living environment. A world-leading security consulting firm has worked closely with the development team to design a comprehensive security program focused not just on residents, but also their guests and their personal property. ARRIVAL A dramatic porte chochere within the podium offers privacy from the street and a grand sense of arrival in tune with the prestige of the tower. The parking valet and doorman attend to residents' cars and packages, and the concierge is available to assist with any requests. Adding to the elegant contemporary ambience, all interior amenity spaces from the lobby to the crown are lightly perfumed with a signature scent designed by 12.29 olfactory consultants specifically for One Thousand Museum. Private residences are accessed from the lobby via secure, high-speed elevators that feature destination entry smart technology. COMMON AREAS Arriving to the Wellness & Spa level above the podium, residents walk through a double-height, light infused space that overlooks and opens onto the surrounding pool and recreation terraces. Outside, the roots of the building's exoskeleton plunge directly into the sun and swim terrace, surrounding residents with Zaha Hadid's visionary design and bringing contemporary art into the personal sphere. Terrace greenspace is designed by renowned Swiss landscape architect Enzo Enea. There are four levels of beautifully designed venues for swimming, sunning, socializing, fitness, and pampering. RESIDENCES Expansive living rooms and entertainment spaces that have been designed to capture mesmerizing views of Biscayne Bay. Oversized terraces extend living spaces outward into the fresh air and tropical sunlight. Museum-quality interiors have been crafted with the finest finishes and features by an elite team of designers, including lighting artists and residential technology specialists. AQUATIC CENTER AND SKY LOUNGE Within the crown, the double-height Aquatic Center and Sky Lounge offer spectacular panoramic views over Biscayne Bay, the Atlantic Ocean and the Miami skyline. Sculptural arched interior walls and double-height glass facade create a dramatic venue for private events and the innovative infitiny-edge indoor pool. HELIPAD Private rooftop helipad designed to enable residents to arrive and depart securely on their own schedule.
One Thousand Museum – highlights
TOWER FEATURES
architecture and amenity spaces designed by Zaha Hadid
landscape architecture by Enzo Enea
museum-quality interior and exterior illumination
amenity space scenting crafted by 12.29 Olfactory consultants
functionality integrated security and technology program
RESIDENTAL FEATURES
estate-size half-floor, full-floor, and duplex residences
multiple oversized balconies in every residence
ceiling heights from 10-20 feet
floor-to-ceiling window walls
customized Kreon illumination designed by Uli Petzold
integrated home automation by Crestron
custom kitchens by Gatto Cucine with Gaggenau and Sub-zero appliances
AMENITIES
outdoor pool and recreational terrace
fitness center
spa
indoor aquatic center
sky lounge
private rooftop helipad
secure on-site parking services
SERVICES
concierge
on-site security personnel
valet parking
One Thousand Museum opportunity
Let us know what you think of the project, from design to location and pricing. One Thousand Museum is a one of a kind opportunity in Miami's real estate scene. Remember that we are Miami REALTORS and out team is ready to help you with your condo purchase. Call us for details 305.758.2323 or 1000museum@miamism.com And lastly….watch this video about Zaha Hadid Architects Condo Name: 1000 Museum Architecture: Zaha Hadid Neighborhood: Miami Airlines Arena Area – Downtown Miami Location: 1000 Biscayne Blvd- Miami Contact: 1000museum@miamism.com