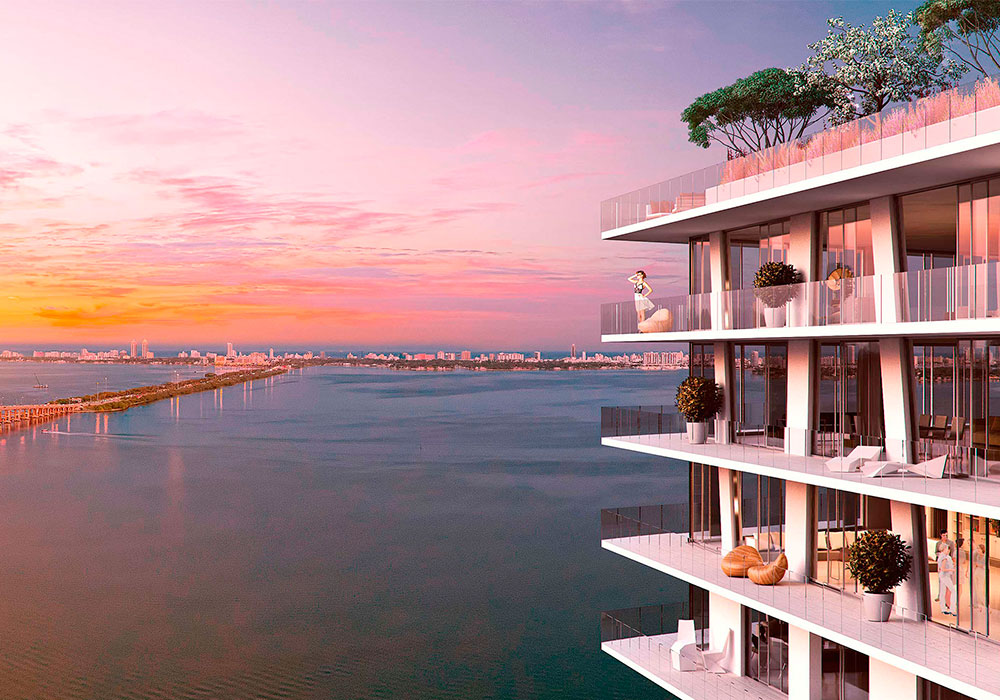 Paraiso Bayviews is the last of 4 condo towers in the Paraiso Master-Planned Community by the RELATED GROUP. The community consists of 10 acres with 1000 linear feet of water frontage along Biscayne Bay in the trendy neighborhood of East Edgewater. Paraiso Bayviews was designed by Arquitectonica with interior design by Karim Rashid. (who I had a private interview with about the project – see below)
Edgewater is a community rich in culture and littered with creativity which has marked a new gilded age for Miami Pre-Construction, making history and creating a legacy for the Related Group. Pulling from Global Design, courtesy of World-Renown Designer Karim Rashid, while keeping in mind the etiquette of smart investment, Paraiso is a true Urban Utopia and a gold mine for the savvy investor. Leaping "outside the box," Karim Rashid has lent his talents resulting in a fusion of art and future. The unique fusion of color, shapes and textiles, not only makes the interiors beautiful, but an iconic testament interior design in Miami.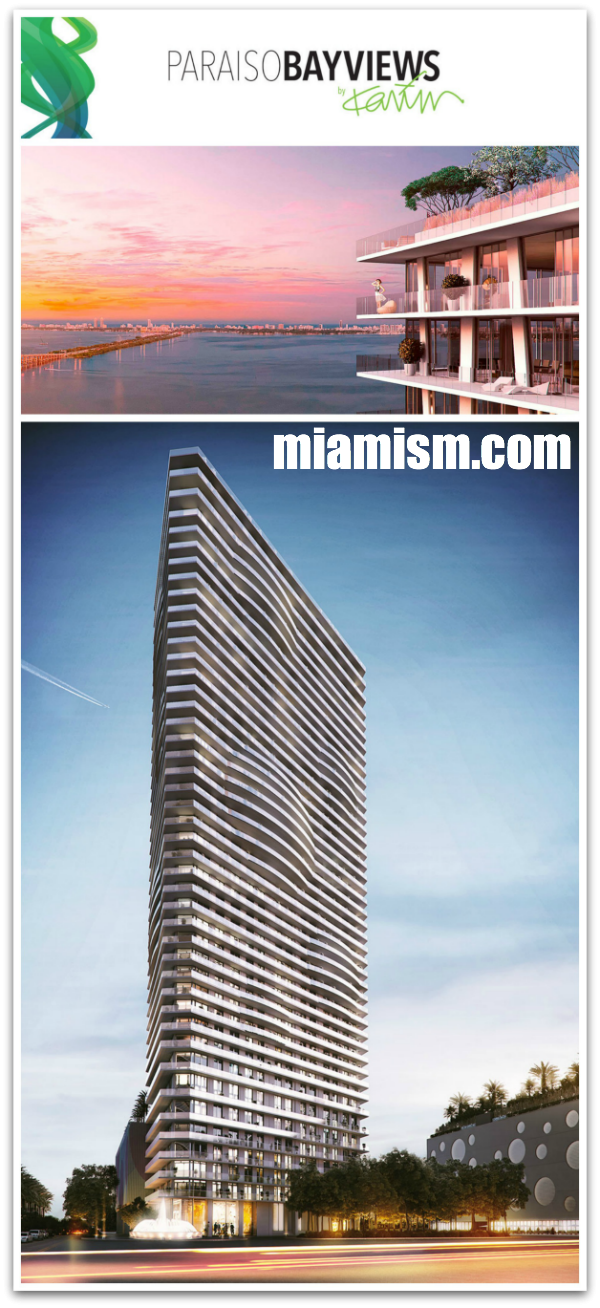 Paraiso Bayviews Building Amenities
43 stories with 398 residences
units from 1 bedroom + den and 1.5 bathrooms with 750 sq.ft. to 3 bedrooms and 2 bathrooms with 1200 sq.ft.
ample parking for all residences
access to Beach Club and Michael Schwartz Restaurant
9th Floor amenities
State-of-the-aft Gym and Spa
75 ft. long sunset pool
On the 43rd Floor Roof Club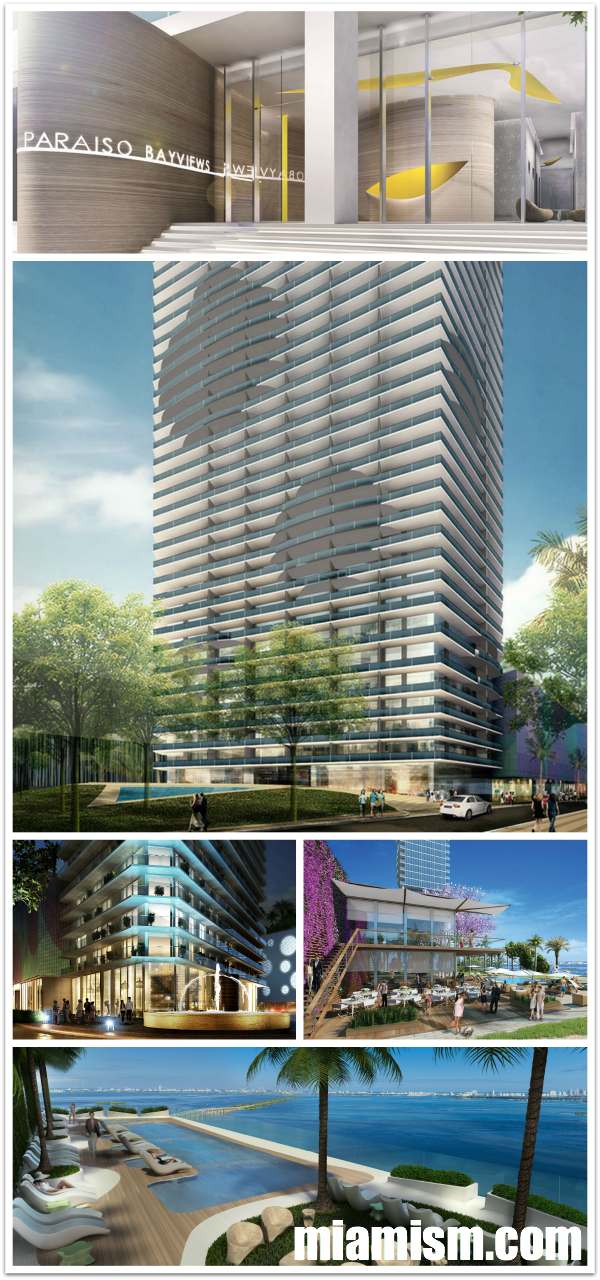 Paraiso Bayviews pricing
Pricing at Paraiso Bay starts at $350,000 for a 1 bedroom residence with a den, to $760,000 for a 3 bedroom / 2 bathroom plus den.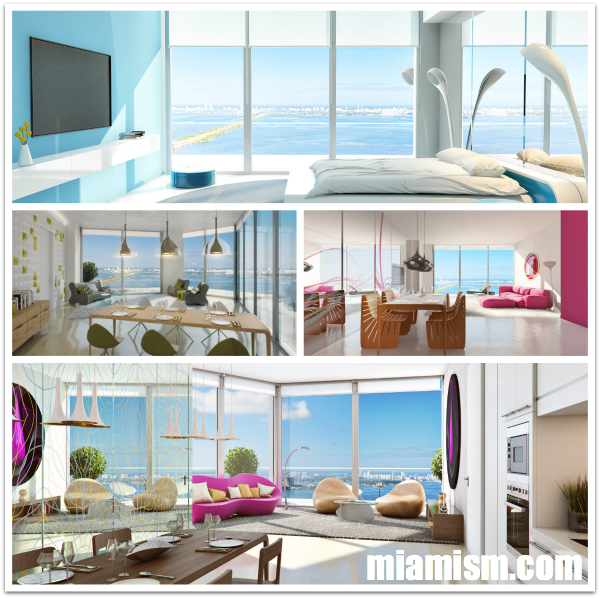 **We have floor plans available upon request **
Miamism Private Interview with Karim Rashid
What an honor to be able to have a one-on-one interview with the candid and so down to earth Karim Rashid. Thank you for the Paraiso Team for making it happen, especially to Liza Walton, social media expert extraordinaire! So here's the interview, which was more of a casual conversation: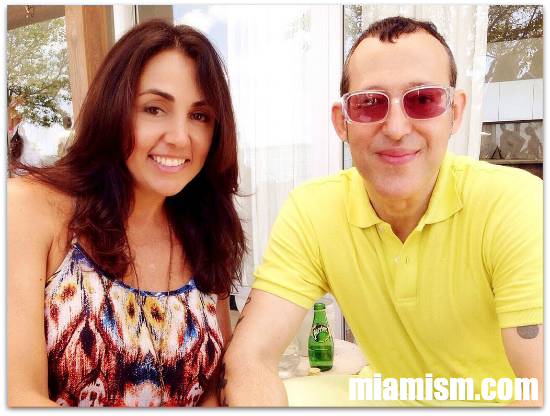 Ines: Karim, tell me about the main concept of Paraiso Bayviews. Karim: The main feeling of all the spaces and of the building will be this notion of what I call, techno-organic. It simply means this idea that we live in a new technological, digital age. This digital age is actually very young – it is only 10-15 years that we've had all these digital tools that give us heightened experiences. So I believe we need to elevate the physical world to be as beautiful, as seductive, as poetic and actually as human as the digital age is. With that said, I'm going to do something quite different than I did with My Brickell, which is to actually really embrace the nature of the 10 acre master plan and do things where nature feels a little more seamless with everyday life – do soft, organic, very natural but super contemporary. Ines: Are you're taking a sort of mid-century-modern approach? Karim: I guess the language of what I'm doing may, where I may be using a lot of natural materials, but I use them to speak about the technological age. At the same time it's quite different because rather than being too architectonic, my work tends to be more of a language and a feeling that is at the moment of which we live in. I'm not a regressive person, If I'm a designer contributing to this world, I need to do something original and new that is related to the social behaviors of the time. Don't want to sound too intellectual about it but it's how I see things. Ines: Personally, I think you are right on, social behaviors are currently about, "let me look at my phone, and this world is so much more interesting that my surroundings" Karim: That's why we need to make the world around us as interesting. if we don't, we will lose more and more contact with that world. In fact the only thing that is going to be interesting at that point will be nature itself. But if we're going to build an environment, I have to do things that are a bit unfamiliar, that let you question the world a little bit, that let you look at the world slightly differently and THEN you get inspired. Every day, I try to feel inspired. When you feel inspired, you're alive. Ines: Out of all the Paraiso towers, this is supposed to be the young and hip tower. Aren't you happy to get the "young, hip" project? Karim: You know what's funny? Around the world, I'm always brought in to do the young, hip projects. I'm supposed to be the "young, hip guy" – I'm turning 54 in a month – I may be hip, but not young. (we both laugh) Ines: Thank you so much for the opportunity and look forward to many good things from you. Karim: thank YOU and let me and my team know how we can be of additional help to you.
---
The Miamism Sales team is ready to help you with your PARAISO BAYVIEWS Condo Purchase and of course surrounding condos as well. Call us for details 305.758.2323 or paraisobayviews@miamism.com Condo Name: PARAISO BAYVIEWS Architecture: Arquitectonica Interior Design: Karim Rashid Developer: The Related Group Neighborhood: Edgewater Miami Location: 600 NE 31st St, Miami, FL 33137 Contact: paraisobayviews@miamism.com *sept/12/2014