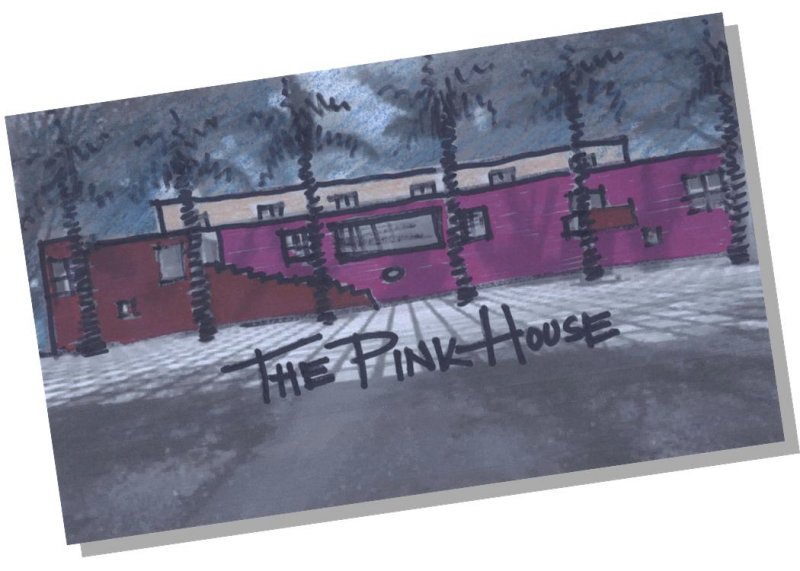 The Pink House – Miami Shores, Florida
The Pink House is one of the best known and most photographed residences in Miami. It is a symbol of modern design and architecture and is located in Miami Shores, on Biscayne Bay, and occupies a double lot with over 100′ of open bay water frontage.
Many factors make this house interesting, but its controversy has always intrigued me. Designed by Laurinda Spear and Bernardo Fort-Bescia of Arquitectonica for Spear's parents in 1976, it's a series of planes and framed views together with clever climate-minded design which maximizes East/West breezes.
Its color statement received plenty of attention in the late 1970's when it was built. Neighbors were disturbed by the 5 hues of pink (which were picked not only to reflect the tropical climate, but because those colors were rarely used at the time).
The house had to undergo scrutiny from The Village of Miami Shores' zoning review board to get colors approved. (how does that NOT surprise me!) The board finally demanded that a grove of trees be planted to shield the house from the street.
Its obvious horizontal lines and planes are broken up by Royal Palms mathematically aligned along the front facade. There's a pool porthole visible also from the front facade. It was designed to be an urban home with a suburban context – conceived as an object in the landscape.
The approach is calculated and you follow a sequence from the facade, to a courtyard to the rooms – each room frames the view beyond in a different way.
Follow these links for some interesting articles about The Pink House and Arquitectonica:
They've come a long way since flamingo-pink houses and 'Miami Vice' (another archived article)
The Pink House – (HGTV killed or archived the article)
photos courtesy of: http://www.arquitectonica.com• Copyright ©1997-2007 Arquitectonica International Corporation • All Rights Reserved
*article originally published on November 12th, 2007*