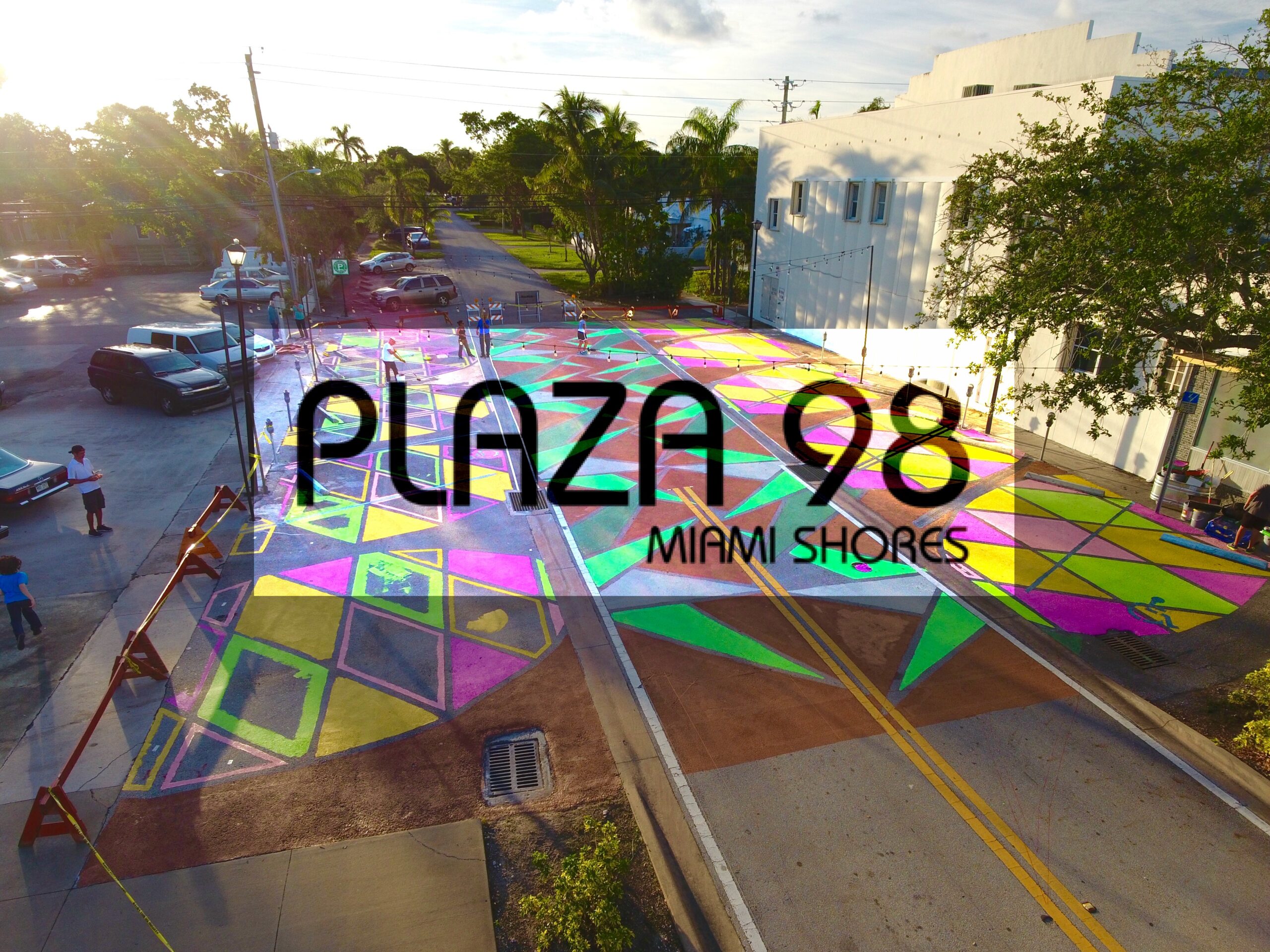 Plaza 98 – Miami Shores – update
Miami Shores is awesome, plain and simple!
We have received such overwhelming feedback for PLAZA 98 in Miami Shores and are so thankful to the community for volunteering and getting down and dirty when it counts. The bottom line is that so many of us have lived in this village for years and have a vision for what Downtown Miami Shores can be.
So what exactly is Plaza 98?
Plaza 98 was born from a group of passionate residents that share your vision for a lively and successful downtown Miami Shores. I mentioned it before in my first article – Barry University students, Downtown Advisory Committee Members, Greater Miami Shores Chamber of Commerce, village officials, residents, business owners, moms and dads, community activists. People from different industries, on a purely volunteer basis, getting together for a common goal: Miami Shores.
The best part was grant money received which made the project a reality – a huge chunk from Miami REALTORS, another lump from Miami-Dade Transportation Quick-Build Challenge with the help of Tony Garcia and his team at Street Plans Collaborative, and The Miami Shores Community Alliance.
Plaza 98 Launch Party
There was a lot of work in the background that included village, county and Federal approvals. And now the Launch Party will be tomorrow!! November 11th from 5-9 PM.
Plaza 98 is a temporary project, the street will not be closed permanently, only the first Saturday of the month for a few hours. The idea is to help activate our downtown, to create a pedestrian friendly gathering space for the community.
The programming and vendors will change every time with a different theme.
For the launch party you can expect the following businesses to be there:
Artsy Hive Pottery Painting
Lucio Coffee to Wine
Mima's Kitchen
Miami Realtors
Music by The Hoy Polloy
We want to thank Rich Robinson from Rise News from the great article and positive perspective on Plaza 98.
And lastly, if you want to volunteer, the last project will be tomorrow morning (Saturday, November 11th) from 8:00 AM to 10:00 AM, spearheaded by Bound by Beauty's founding director, Mary Benton. This will entail planting! In Mary's words:
Sign up Saturday morning for the planting, or you can just show up with your gloves and shovel, if you have one. You can make your village beautiful, and get ideas for your garden of plants that attract butterflies, birds and other beneficial wildlife. Some of the plants are endangered in the wild, and one is the host plant of two critically imperiled Florida butterflies. Check out some of the gorgeous flowers we will be planting. Who can say "no" to supporting both your village and nature?
See you tomorrow!!