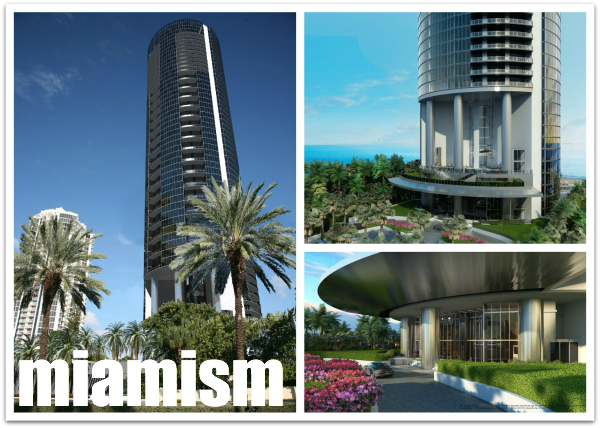 When you hear the word Porsche, especially when it is associated with a condo, curiosity gets the best of you.  Well….this one has a great reason to get your curiosity and I'm here to tell you the good, the bad and the ugly.  Keep in mind that the building has not broken ground yet and they are not even in the pre-construction sale process yet.  You can, however, reserve a unit with 10% down payment and although sales center is not yet open to the public,  they are open to REALTORS like us.  It's located in the northern part of Sunny Isles Beach, still uncluttered, but that will not last forever.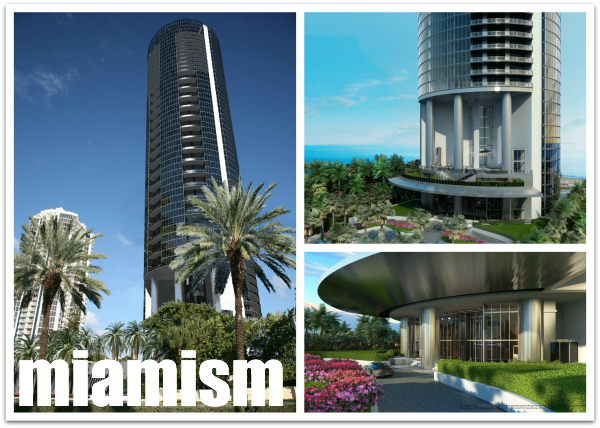 Porsche Tower Miami
What exactly makes this building unique or any more desirable than the other hundreds of Miami Beach luxury condos?  Car Elevators! The central core of the building is made up of 3 pivoting car elevators that take your vehicles to your unit!  That was not a misprint, you will actually park your cars in your unit and will have a choice of actually seeing your vehicle from your living room, or parking just below in a private garage.
So this 60 story condo will allow you to park your car in your residence whether you are on the 2nd floor or on the 50th.  One of the sales reps said that the elevator system is still waiting for the US patent and it travels at 600 feet per minute!!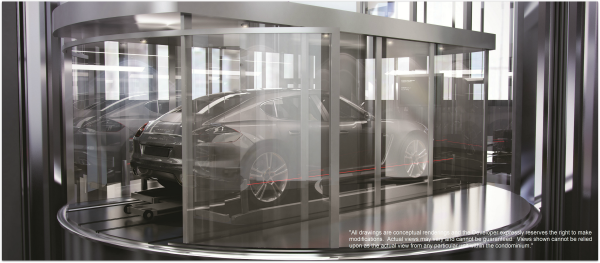 FYI – your car better look good!  And I did inquire about maintenance and there will be a car concierge in charge of cleaning, detailing and servicing your vehicles.
Porsche Tower privacy and flexibility
In addition to the central core of elevators, there will be a max of 3 residences per floor and total of 132 sky homes.  The floor plans are flexible and space distribution of each can be altered since they are not in pre-construction yet.  We were shown a few models in the showroom that show exactly how flexible these floor plans can be.  Some units have their private parking right off their living room.  Some others have 20′ ceilings with 2 stories and separate private garage.
Residences above the 40th floor will have double story ceiling heights.  Balconies are 15′ in width which is truly amazing and you can have the option of a private pool on the balcony. Personally, these pools look like oversized spa tubs, but they are nice either way.
Here's a photo of an architectural model that shows The Duplex unit.  There will be 16 of these and they only face the Intracostal.  They start on the 40th floor and have 20′ ceiling heights, 2-car private garage, no swimming pool, 4300 square feet of living space and are 3 bedrooms plus a den.  Pricing for these start at $4.6 Million.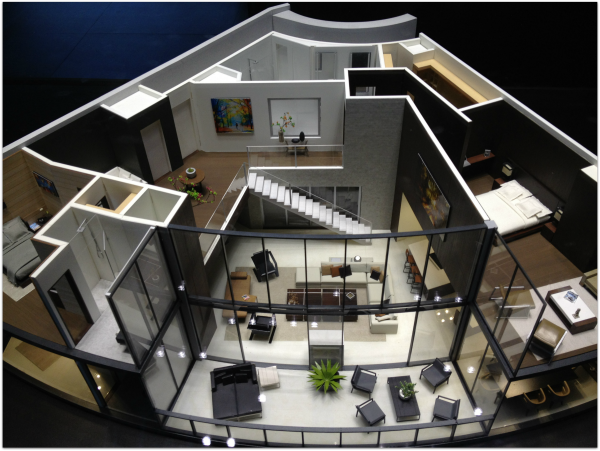 Porsche Tower Amenities
This condo building is defined by privacy, not like other Sunny Isles condos that have a hotel component and you end up sharing common areas and amenities with transient visitors. Amenities will include:
24-hour valet services
24-hour security services and in-house car concierge as well as on-site concierge.
private restaurant where owners will have a private enclosed wine locker
lobby level bar and lounge overlooking the ocean with fireplace and big screen TV's
oceanfront pool located on first floor with pool attendants, food and beverage service
2-oversized plunge spas
Outdoor seating/sunbathing deck for afternoon sun and watching sunsets
Game room and Ball room
Movie theater with stadium seating, popcorn bar and surround sound
Card table and billiard area
Oceanfront ballroom with bar and catering kitchen
Men and Women's spa equipped with snow room, sauna and steam rooms
Hair salon with manicure and pedicure stations
Fitness room equipped with state-of-the-art machines and yoga room
locker room area with bathroom and showers
Unisex treatment rooms:  massage, facials and Vichy shower
Tanning deck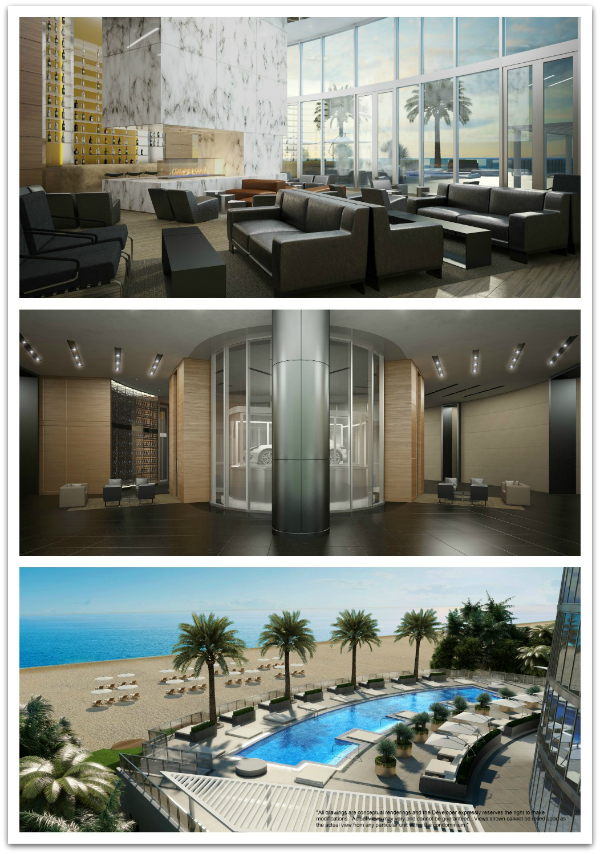 Porsche Tower Residence Features
I have to confess that I am not a fan of Sunny Isles, but because it is in the northern side, the location makes it more private and doesn't have the congested feel of the rest of the area.   The fact that the building doesn't have a hotel component also makes it more desirable than the rest of the Sunny Isles condos.  We have been told that a lot of local owners are reserving residences already and plan to relocate from South Beach luxury condos.  My thought is that the developer and Porsche design team had to be smart about the features and amenities to make people relocate here.  Here are the features:
private sky garage for each unit (yes, I need to repeat myself)
private swimming pool and summer kitchens on oversized terraces in most units.
Miele appliances including wine cooler, induction cooktop, microwave and warming drawers
Toto toilets in master bathrooms with integrated bidet functions (I **HEART** Toto toilets)
Poggenpohl designed kitchens with motorized doors and expansive islands
private elevators that open directly into each residence
panoramic ocean, intracoastal and city views
floor-to-ceiling windows with impact resistant glass
granite or marble countertops in kitchens and bathrooms
Dornbracht design kitchen and master bathroom fixtures
ventless gas fireplace in living room (what were those Germans thinking here…it's Miami people!)
private interior elevators in 2-story units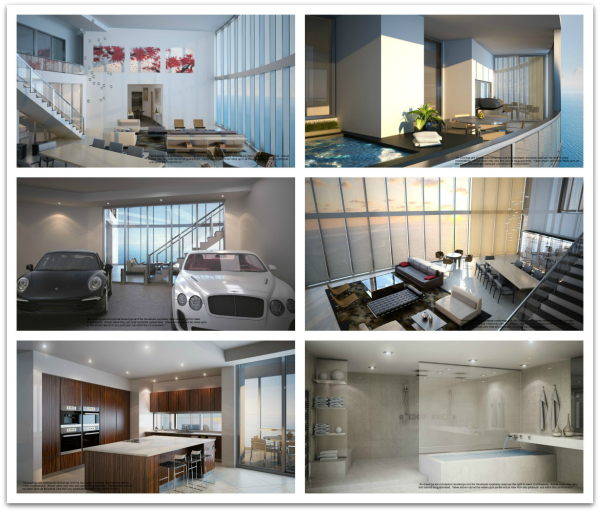 Porsche Tower Miami construction
The Porsche Design Tower Development is a partnership between developer Gil Dezer (Dezer Developments of The Trump Towers, Trump Grande and Trump International Hotel in Sunny Isles Beach), and The Porsche Design Group from Germany.  Ground breaking is scheduled at or around the second or third quarter of 2013 and building will be finished in 2016.  We of course plan to give you live photos of the residences once construction starts.
You can reserve a residence with a 10% deposit in a special escrow account and this reservation can be canceled anytime with a refunded deposit.  Building will begin going into contracts in October/November  of 2012 with an additional 10% deposit for a total of 20% down payment at contract.  The last 10% deposit is due at the commencement of construction and remaining 70% balance due at closing in 2016.
Price ranges are between $3.9 Million and $15 Million but Penthouses with triple height ceilings can be joined into single units still and sales are estimated between $20 and $25 Million.
When I inquired about maintenance fees, I was told that it would be between 70 and 80 cents per square foot which I believe is ridiculously low compared to other luxury buildings in Miami. Just with the car-elevator maintenance, private concierge, private restaurant and spa…… I'm thinking this number will be elevated in the very near future.
There will be a design center opened at a later date to offer flooring and design options for buyers that don't want to hire their own interior designers.  And as I mentioned before, one of the advantages of buying in pre-construction is the flexibility to change floor plan distributions.
Also, please note that architectural renderings tend to distort the space to benefit the project – it's what we architects do, make things extra pretty 😉
We hope to be updating you as project advances, so stay tuned to more fun news about The Porsche Tower, construction and sales.

Remember our team is ready to help you with your Porsche Tower Condo Purchase or sale and of course surrounding condos as well. Call us for details 305.758.2323 or porschetower@miamism.com
Condo Name:  Porsche Tower
Architecture:  Porsche Design Studio
Developer:  Dezer Properties
Location:  18555 Collins Av – Sunny Isles
Contact:  porschetower@miamism.com
This article also availble in Russian – Зднание Porsche Miami
*11/26/2012