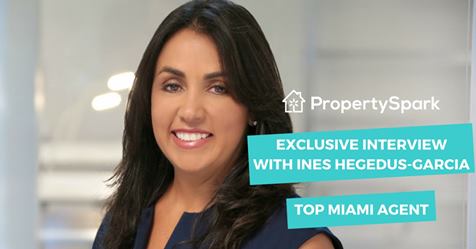 Property Spark – Lessons from a Top Real Estate Agent: Ines Hegedus-Garcia
Ines Hegedus-Garcia, Miami's architectural real estate professional, shares how she built a successful career from specializing in a unique niche market.
Ines Hegedus-Garcia successfully integrated her Bachelor of Architecture degree with residential real estate and now specializes in historic and architecturally significant real estate. Ines and her team offer a new era of real estate marketing technology where she manages an award winning real estate blog and uses creative marketing techniques in the business. She has also been involved in leadership with the Miami Association of Realtors and National Association of Realtors, where she was identified as an influencer in progressive ideas about real estate. Learn more about Ines' experience and success story by reading her exclusive interview with PropertySpark below.
When did you start your career in real estate?
My real estate career started 15 years ago.
---
Please also in 2 short lines brag about yourself, if you really had to impress someone about what you do, what would you say?
I'm a Miami real estate agent with a focus on historic and architecturally significant properties. My bachelor's degree in Architecture has helped me specialize in a unique niche that doesn't have competition. I'm also the founder of one of the first South Florida Real Estate teams to capitalize on new media and technology for marketing which has led to national and international recognition. I also decided to get involved in leadership at the local, state and national level and have been elected as 2019 president of the Miami Realtor's Association Residential Board of Governors.
---
What inspired you to start in real estate and how did you motivate yourself to keep going?
I started my career in real estate almost 20 years ago in commercial property management, but got licensed 15 years ago after losing out on a couple of commission opportunities. My architecture degree and property management experience integrated beautifully into what my residential real estate business is today. The evolution of a simple real estate career into a niche market that I have a passion for, is my main motivator.
---
Comparing your business from back then to now, what has been the main thing that allowed you to expand your business?
Recognizing my passion and niche is what has allowed me to expand my business. I know this will sound cliche but it's so true, realizing that business is not about me and how important it is to give back and help others, has been the number one instrument of my success.
What's the most profitable aspect of your business, why do you think this is and how can others apply this to what they are doing?
The most profitable aspect of my business is my blog, miamism.com. The main purpose is to provide transparent education to prospective clients and to put my personality out there in written and video form. I have found that the more authentic I am about our business, the industry and what's happening in each market place, the better our business performs. The blog empowers the consumer and helps them make a decision about future moves which many times includes using us as their real estate agents.
This is different from the typical "in-your-face" type marketing and I think it's why it works for me. This doesn't mean blogging is for everyone, it can translate into being real and having a platform where you provide helpful information without aggressive and annoying selling techniques.
---
How do you work? (Do you wake up early, work late, communicate, what jobs do you do yourself, who do you talk to, etc.)
I work out at 6:30 AM every morning, kickboxing being my favorite way to attack each day. I usually plan my day the day before and have set jobs and to-do lists for each day. I do my own blogging and social media posting and rarely automate anything. I have a posting schedule, a shared schedule with my team to help with showings and client appointments. I also have systems in place which help with day-to-day activities. I have children and daily routines also involve school pick-ups, homework, teacher meetings and the regular mom stuff. Achieving a personal/business balance is always a challenge, especially taking time off to relax and recharge.
---
When did you realize you were successful/made it and how did you feel/celebrate?
My first invitation to speak in a real estate conference is when I realized I was doing something right. We each define our own success and for me it was never about number of transactions or money I made. My success was about achieving a healthy family/work balance and being able to take care of clients' needs like they were my own. Being invited to teach colleagues at a local, national and international level is beyond rewarding.
Looking back, what could've you done sooner to get to that point quicker?
Specialize!!! When my husband and I first got licensed, we took all the business that came our way. That translated into repeat business that wasn't really my specialty. Niche marketing should have happened from day 1.
---
What should other real estate entrepreneurs reading this be focusing on to expand their own business?
Find a niche market and rethink your marketing strategy. It's important to have a strong on-line presence whether you blog or not. Buyers and sellers are Googling real estate agents, make sure there's some sort of reputation management within your marketing strategy. Be consistent in everything you do, one direct mail will not get you business, 1 post/week on Facebook will not get you business! Don't make so much noise, your strategy should be to provide useful information, not make the world tune you out.
---
What do you consider the main differences between those people who have been successful in your industry and those who have failed?
A lot of real estate agents don't have a real business plan and rely on day to day business activities without real organization, they live transaction to transaction. Those that are successful have identified an audience, have systems in place like a CRM, and have specific routines that help their business thrive.
---
How has social media and online marketing affected your real estate business? How much more success have you had now after implementing social media and online marketing efforts?
I'm an early adopter of social media and almost 80% of our business comes from it. Our blog will be 12 years old this year and although I still do some traditional marketing, I attribute most of our success to our social media efforts. Without social media, I could honestly say that I would not have a business.
---
We hope you've learnt a great deal about becoming a successful real estate agent. Make sure to reach out to Ines Hegedus-Garcia for a phenomenal and a one of a kind experience in buying or selling real estate in Miami!
Check out Ines Hegedus-Garcia's Instagram page here: https://www.instagram.com/miamism/
Check out Ines Hegedus-Garcia's Facebook page here: https://www.facebook.com/miamism