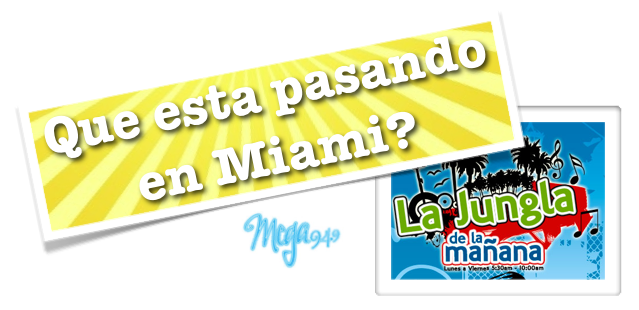 Que Esta Pasando En Miami? Abril 15-17 2011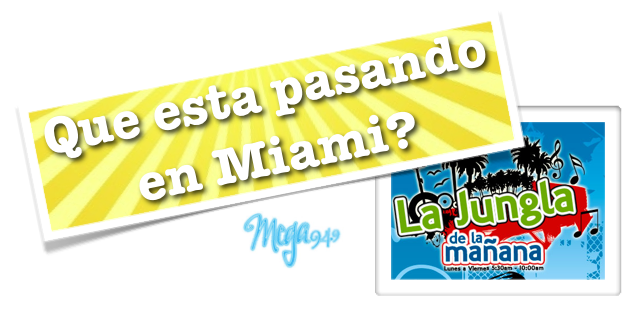 Que esta pasando en Miami?
Apreten aqui para oir el audio del segmento >>Segmento de MEGA 94.9 en La Jungla de La Mañana con El Gato y Patty
PELICULA GRATIS (Cine) en South Pointe Park en Miami Beach : "Little Fockers" a las 8:00 PM el Viernes 15 de Abril – direccion: 1 Washington Avenue – Miami Beach Parks and Recreation
DESFILE DE MIAMI BEACH GAY PRIDE – en Ocean Drive en Miami Beach. El Sabado, 16 de Abril de 12-8 PM. (La calle de Ocean Drive sera cerrada para el desfile) – Miami Beach Gay Pride
FIESTA PARA EL PLANETA – En el Miami Metrozoo: Sabado y Domingo Abril 16-17 de 10-4 PM. Entrada gratis con la entrega de un celular – direccion: 12400 SW 152 Street. Metrozoo Party for The Planet
A donde comer o tomar?
Mojito Bar en Bayside Marketplace – un sitio nuevo que acaban de abrir con la intencion de recuperar el sabor de Bayside de años pasados, y tendran comida pronto!
(let us know if anyone wants to see this in English as well) – translation requested by our royal readers 🙂
What's happening in Miami?
Radio segment done for MEGA 94.9 – a Latin radio station in the morning program "La Jungla de La Mañana" with El Gato and Patty
FREE MOVIE – South Pointe Park in Miami Beach: "Little Fockers" at 8:00 PM on Friday April 15th, 2011 – address: 1 Washington Avenue
MIAMI BEACH GAY PRIDE PARADE – in Ocean Drive in Miami Beach. Saturday, April 16th 2011 from 12-8 PM. (Ocean Drive will be closed for the parade).
PARTY FOR THE PLANET – Miami Metrozoo: Saturday and Sunday April 16017 from 10-4 PM. Free entrance when you give them an old cell phone – address: 12400 SW 152 Street.