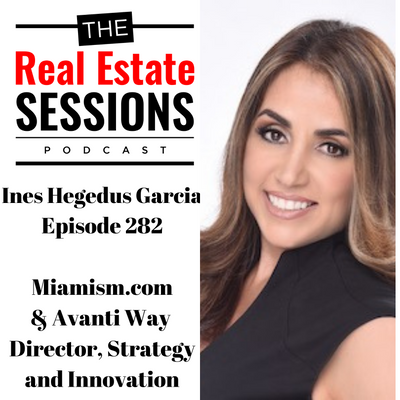 The Real Estate Sessions Podcast – Ines Hegedus-Garcia
What an honor to be interviewed by Bill Risser, 2019 Inman Innovator Award Winner for Podcasting, and someone I've admired for years. It's not often you get to have a down to earth conversation about the evolution of real estate. Bill makes you laugh, he is genuine and for an extra bonus, has a great voice!
The Real Estate Sessions Podcast gives backstrories of industry leaders with a personal an fun touch.
Episode Summary:
I am pleased to introduce today's guest Ines Hegedus Garcia, one of the original bloggers on Real Estate, based in Miami, originally from Venezuela.

In this episode, I sit with Ines, writer of the blog "Miamism," and we discuss her journey from Architecture to Real Estate, taking the reins of leadership to effect change one step at a time in the Real Estate Industry.
Episode Notes:
Ines shares that the title of her blog, "Miamism," means the Miami way of Life, which describes the inspiration for starting the blog. Addressing one of the major misconceptions that Miami is a dangerous place, Ines explains that Miami is generally a lovely and safe place to live. However, like any other big city in the world, crimes may occur from time to time.
The most outstanding features in Miami include the beach, the beautiful buildings, the Pérez Art Museum Miami (PAMM), Wynwood. Ines notes how important it is to pay attention to the universe and be open to opportunities in front of us. She has always been creative and started studying architecture in college, which she wanted right from when she was young, but when the opportunity came to join Real Estate, she seized it. Ines narrates how she started in Real Estate, sharing that she worked as an architect when a relative asked for her help in managing a commercial property in Miami. This was how she started in Commercial Property Management. She then got her license to get commissions but realized Real Estate was a good fit when combined with her passion for architecture.
Ines' business's online aspect is the source of over 80% of her clients; this was hugely beneficial in the pandemic, also because she had learned over time to be comfortable dealing with people online. A pivotal aspect that contributed to the growth of "Miamism" was the sense of community. I discovered through my Mojijo reviews that giving love to other businesses was the secret sauce. It was about helping and promoting other companies to do well.
It's not too late to start a real estate blog. The style of writing is conversational, and as such, not much writing skill is needed. Consistency is critical for success in Real Estate and blogging, and this is where many people are lacking. The advent of Instagram didn't seem like a big deal because she already had a photoblog, so she joined Instagram much later. Nowadays, she uses Flickr as a very well-organized extensive Library.
Explaining why she decided to join leadership in Real Estate, Ines discloses that the industry had always had a bad reputation. Her goal was to try to change the bad things one at a time, and after joining the NAR, she started to get more leadership opportunities to influence issues. Ines recommends people get involved by going to their association, no matter how small they could begin to make a difference.
There is a loss of data control, as many companies make a lot of money from data from agents. Ines shares that this problem is the next move for Real Estate agents.
What one piece of advice would you give a new agent just getting started? It's rare to find someone that comes into the Real Estate world who doesn't have a past from another industry. It is crucial to identify your strengths and weaknesses to develop a passion and have fun at it. Lastly, creating a community around your passion for Real Estate can give you the winning combination.
Find | Bill Risser
bill.risser@ratemyagent.com
On Twitter
On Facebook
On Youtube