UPDATE:  There have been some great updates to the REALTOR.com iPhone app since launched and in my opinion, it's the best and most comprehensive real estate application out there… and user friendly too.  You can actually do area searches because it is GPS enabled, and also save notes and photos of your favorite properties.  We tell our customers to use this when driving around to find key information they need on the spot.  Don't forget to first save your Realtor's info (see instructions below) to send them what you find!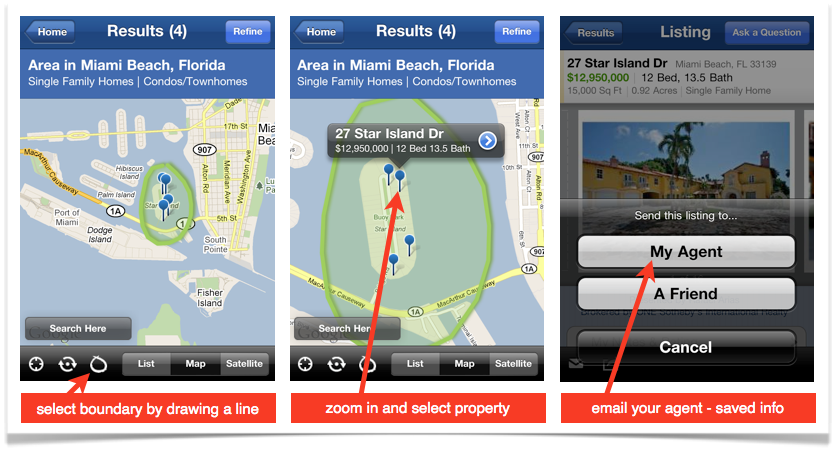 —
Everyone that knows me, KNOWS that I love my iPhone. The few times I leave without it, it feels like I'm about to have a coronary – I'm talking full blown tachycardia and drop in blood pressure…I'm not kidding. And now I'm happy to tell you about an app that will make it so awesome to communicate with you, our clients, when you are looking for properties.
REALTOR.com has come up with an amazing iPhone application with mapping and geo-location capabilities. You can search for nearby homes for sale, nearby open houses or perform a new search by location or MLS ID. You can even allow for the app to use your current location and it will actually give you nearby listings currently for sale. So all those times you drive around Miami and Miami Beach wondering what's for sale and how much properties are, is now at your fingertips without even having to make a phone call.
This is one of those WOW tools that will help empower you, the consumer and will make your home search experience so much easier. The best part is that you can customize it with your agent's information when you first upload the application and can email your preferred listings straight to them (while you are driving around). The kind of information you will get is very similar to what Realtor.com already provides.
NOTE:  Miamism does not condone texting and driving – please be safe 😉
So here's what you need to do – First, download the Realtor.com App

Then, follow the following steps: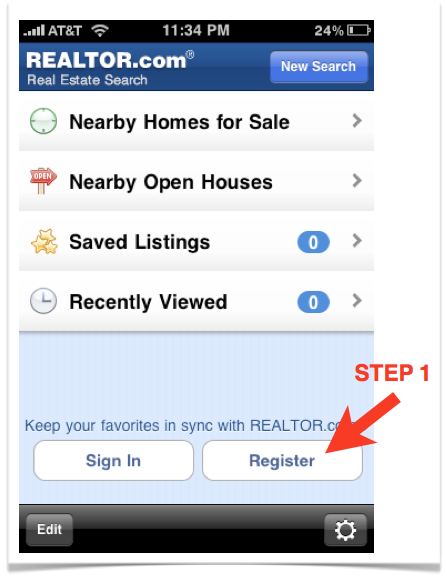 STEP 1 – register the application with email and password to be able to share, save and get updates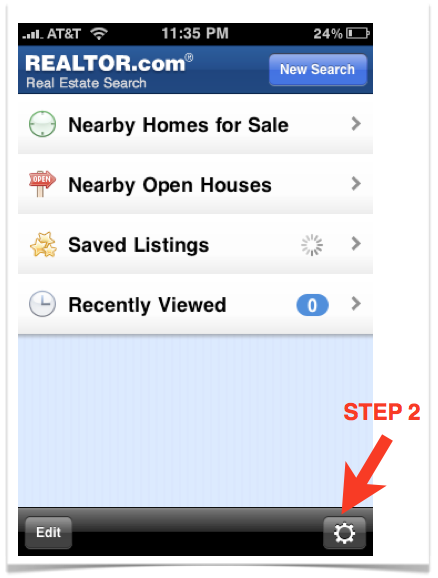 STEP 2 – change settings – this is where you will be able to customize your REALTOR's information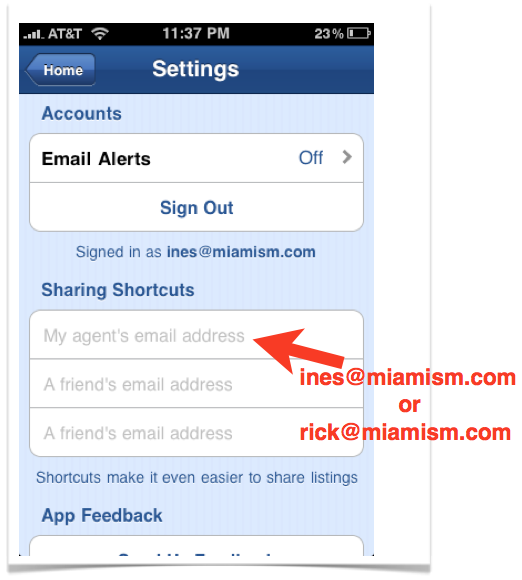 You will have the option to fill out your agent's email address to be able to send them properties you are interested in, on the spot.  This is also a good place to add your significant other's email (or your mom, dad, grandma', teacher……you get the point).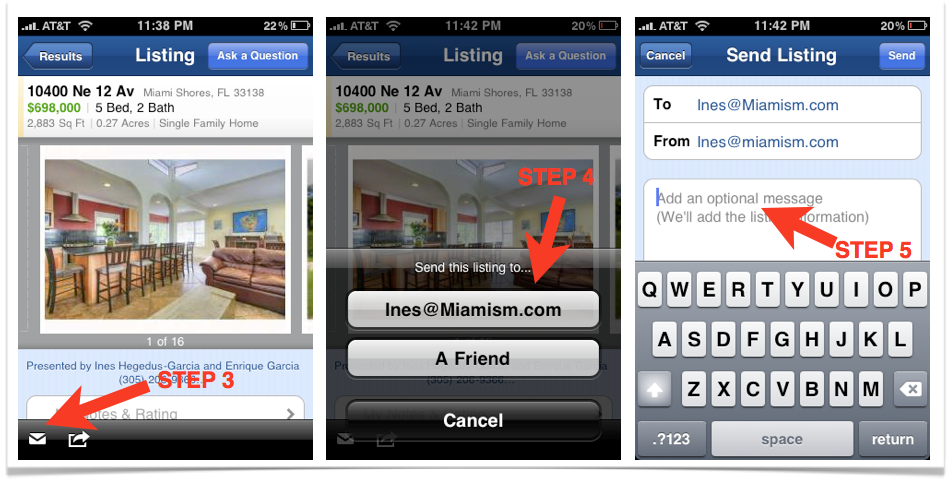 Once your settings are saved, you are ready to drive around and have fun with it.  When you find a property you like and would like to share with your real estate agent all you need to do is follow along:
STEP 3 – click on envelope icon on bottom left of the screen
STEP 4 – your agent's email will already be saved and it will be as easy on clicking on their address
STEP 5 – write any notes or message and the app will automatically add the listing information to the email
How easy is that???  Each listing will also have the customary broker and listing agent info when applicable.  But of course we recommend that you personalize the application to contact YOUR agent instead.  Realtor.com let us beta test the application before it was launched and we couldn't wait to share it with you.  We have asked that they also include rentals and we are told that our request has been included in the list of updates, together with having the app available on other types of smart phones like blackberries.
If you have any issues with the set-up, just give us a call and we'll be happy to help.  If you have any feedback for Realtor.com, we will gladly pass on the information to the higher powers.
**originally posted on February 15th, 2010**