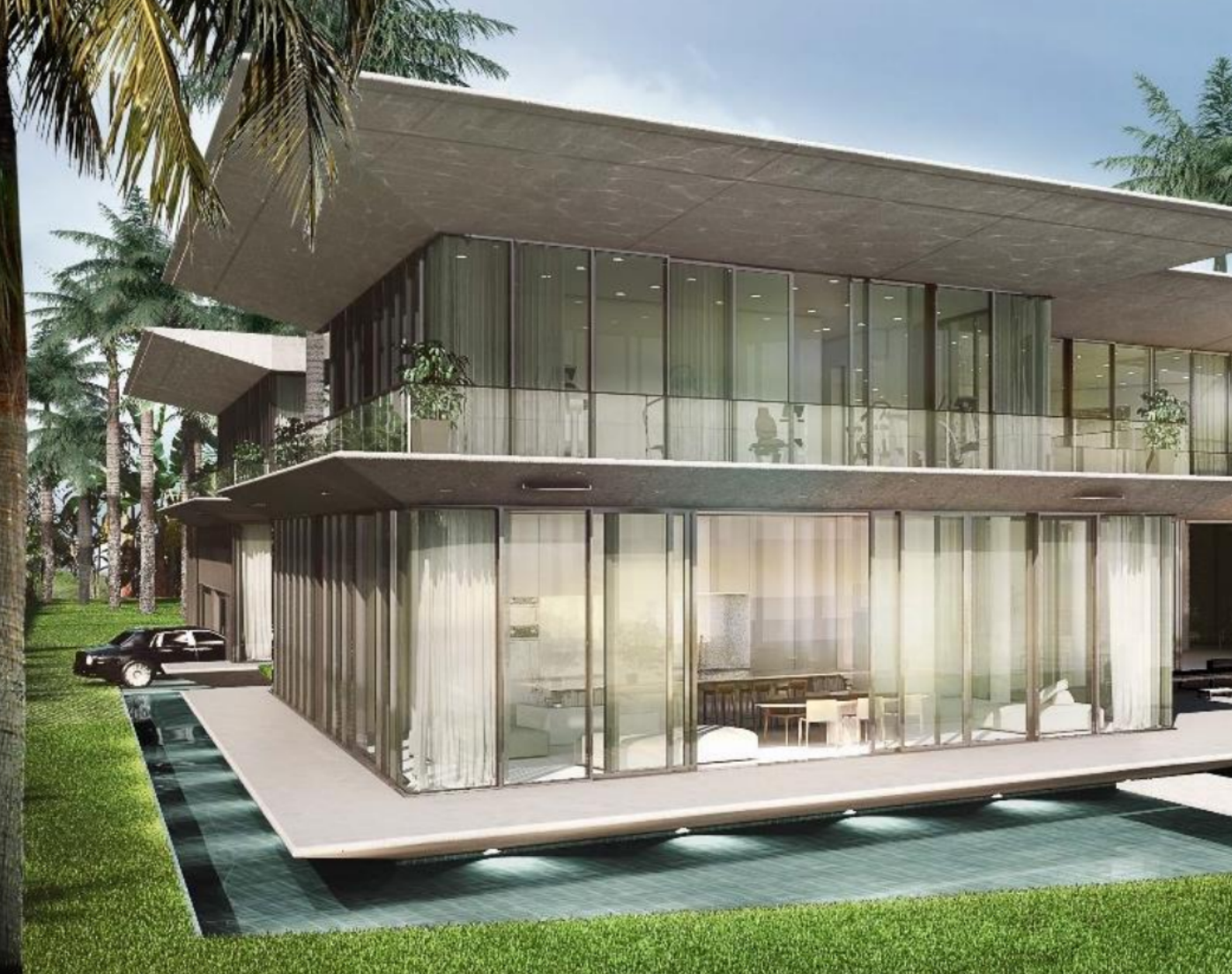 Ricardo Bofill in Star Island
UPDATE: This lot is now priced at $19,440,000 (that's over a $4.5 Million reduction from when it was originally listed in November of 2016) And obviously, if you're not into Bofill, you can build your own amazing home with 209′ of prime "Star Island" water frontage. Call us for additional information.

Bofill in Star Island – Miami Beach
There is currently a Ricardo Bofill designed project for sale in our own back yard, in none other than Star Island. Miami Beach investor, Shay Kostiner, has approved plans for a 27,000 square foot home with 9 bedrooms, 8-car garage, rooftop and bay front pools, private dock with new sea wall and 209 feet of water frontage.
44 Star Island Drive, is currently listed for $24,000,000 $19,440,000 and it includes a 48,266 square foot lot plus amazing and one-of-a-kind Bofill's approved project. Marketing description reads as follows:
Build a custom waterfront estate on Star Island, the most exclusive address in S. Florida. This +/- 50,000 sq ft property includes pre-approved plans from world-renowned architect Ricardo Bofill. With approved plans, you can quickly break ground on a home with the best of Miami living: Over 20,000 sq ft of modern space, beautiful water views, luxury finishes, 9 bedrooms & 11 baths, 8-car garage, both rooftop & bay front pools, private dock with 209 ft water frontage and new sea wall.
So here's what's important. In a Miami full of boring, nondescript new projects that all look the same, the lucky buyer of this property will have a priceless piece of art by starchitect Ricardo Bofill. If there's something that says "timeless appreciation" … Bofill-designed-home DOES!
Who is Ricardo Bofill
When you hear Ricardo Bofill, please don't just think "award-winning Spanish architect who heads Barcelona-based Taller de Arquitectura," as often described by publications. Think of, "internationally acclaimed architect responsible for extraordinary urban projects that incorporate tradition, classical forms and geometry within contemporary architecture; one of the founding European Post Modernists!"
One of Bofill's best known projects is his studio, Taller de Arquitectura, located in a cement factory in Sant Just Desvern, Spain. Bofill converted the abandoned cement factory from the late 19th centruy into RBTA's studios and his personal residence. It is a work in progress, we're talking an extremely controversial place with surreal forms and elements, abstract volumes, and disorganized space, where form and function never made sense, allocated into a use chosen by the skillful architect.
"Seduced by the contradictions and the ambiguity of the place, we quickly decided to retain the factory, and modifying its original brutality, sculp it like a work of art."
Here's a man that claims 2 things excite and make him vibrate: aesthetic feeling from beauty, and intelligence. He was originally inspired by organic nature of Frank Lloyd Wright and Alvar Aalto's architecture. RBTA is responsible for numerous international projects, like The W Barcelona Hotel, and its design team undertakes projects in collaboration with local architects and engineers from city planning to interior design.
How Ricardo Bofill Defines Architecture
In his interview with Vladimir Begogolovsky of Arch Daily, Bofill states:
Architecture is a professional discipline. Fundamentally and artistically, architecture is about space and the relationship between time and space. Architecture needs to have a relation to the genius loci of every place. In other words, to its spirit and DNA. Architecture cannot be translated from one place to another. Architecture should be specific to every place. So what I try to do with this multidisciplinary approach is always to invent new projects, new styles. I want to reinvent myself. I don't want to copy myself or repeat endlessly certain shapes, like some other architects… I want to adapt to local conditions and traditions. Architecture needs to be open to other disciplines. Architecture can't be isolated. And since all other disciplines evolve, architecture should maintain a close relation to them to evolve as well.
---
Timeless and Passionate, in a setting like no other – 44 Star Island Drive, once finished, will be one of Miami Beach's treasures and landmarks, one that will be coveted for years to come.
**originally published on 11/11/2016