Ricky Martin's Golden Beach Home For Sale
UPDATE: Ricky Martin's Golden Beach Home SOLD for $6,300,000 according to the multiple listing service (september 9, 2011). That's almost a 30% discount from its $8.8 million ticket price. Who said you can't get deals on Miami Luxury Real Estate? CONGRATULATIONS to the new lucky home owner as well as Ricky Martin for a great sale.


Ricky Martin's mugshot by lander2006 on Flickr
Deidre Woollard from Luxist gives us the scoop on Ricky Martin's home in Golden Beach.
Martin bought the home in April 2007 for $16.5 million and by December of that year it was on the market for $22.5 million. The home didn't sell and eventually appears to have come off the market. Earlier this year I learned that the home was back up for sale with a new lower price.

The main draw of this two-story Mediterranean home is its location in a private oceanfront community. The five-bedroom home has a a beautiful pool and spa that is just a short walk away from a secluded beach. The home's interior is Florida Spanish luxe with a double-height living room that has marble floors, monumental fireplaces and large French doors that open to the outside. The new gourmet kitchen has a brick barrel vaulted ceiling and tile. The master suite has walk-in closets, terrace and open views. It is now listed at $18.9 million, which still makes it the highest listed Golden Beach house currently.
My take is that 641 Ocean Blvd is one of Golden Beach's beauts with over 29,000 square feet of land and 100 feet of ocean frontage – yes, we said ocean.  The down side of living on the ocean is the inability to dock a boat, but imagine the sunrise in your private beach.  The MLS shows a $17.5 million listing price on November of 05, then $22.5 million on December of 07, $22.5 million November of 08 and $18.9 million October of 09.  Here's the description:
2 Story Mediterranean estate in one of Florida's most exclusive private oceanfront communities, 24 hour security patrol in community and beach!!! Making it a desirable location for celebrities and int'l homeowners. Your own private 108 FT beach modern comfort throughout. New gourmet kitchen with morning room, Top of the line finishes. Formal dining plus open living area. Master suite with his and her bath, walk-in closets, terrace and stunning open views.
Deidre is absolutely right about Ricky's home being the most expensive in Golden Beach – but you have to admit that buying Ricky Martin's home should carry a nice extra price tag with it.  The next highest priced Golden Beach home is just $400,000 under at $18.5 million – and that's for a modern 14,000 square foot ocean front built in 2007.
The least expensive Golden Beach home for sale on the ocean is 495 Ocean Blvd which is a tear down on a lot half the size.  I visited the home this past weekend and confirmed the $3.9 million price is lot value alone.  But here's the view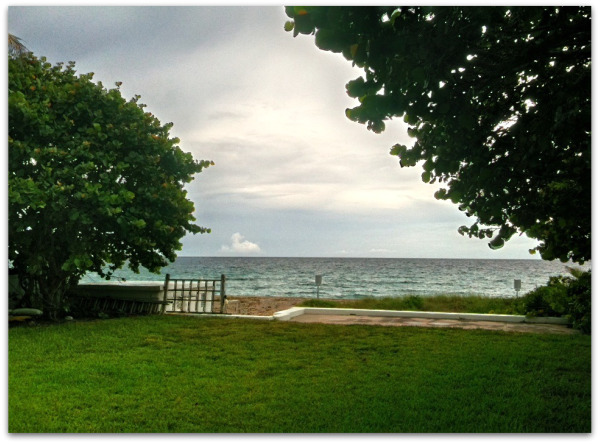 There are currently 14 oceanfront homes for sale in Golden Beach:
641 Ocean Blvd – $18.9 million – 5 bedrooms/7 bathrooms – 9,882 sq.ft. on 29,088 sq.ft. lot (100′ on ocean)
605 Ocean Blvd – $18.5 million – 5 bedrooms/6 bathrooms/3 half baths – 14,079 sq. ft on 27,500 sq.ft. lot (100′ on ocean)
145 Ocean Blvd – $13.9 million – 6 bedrooms/7 bathrooms/2 half baths – 10,569 sq. ft. on 18,750 sq. ft. lot (75′ on ocean)
135 Ocean Blvd – $13.9 million – 6 bedrooms/7 bathrooms/2 half baths – 10,000 sq. ft. on 19,000 sq. ft. lot (75′ on ocean)
401 Ocean Blvd – $12.9 million – 4 bedrooms/4.5 bathrooms – 6,323 sq. ft. on 35,000 sq. ft. lot (125′ on ocean)
229 Ocean Blvd – $11.9 million – 6 bedrooms/6 bathrooms/2 half baths – 6,311 sq. ft. on 29,200 sq. ft. lot (100′ on ocean)
599 Ocean Blvd – $11.5 million – 6 bedrooms/6.5 bathrooms – 7,102 sq. ft. on 20,475 sq. ft. lot (75′ on ocean)
421 Ocean Blvd – $10.9 million vacant lot – 70,500 sq. ft. lot (250′ on ocean) **1.7 acres can be split in 2 lots**
535 Ocean Blvd – $10.9 million – 4 bedrooms/4 bathrooms/2 half baths – 5,662 sq. ft. on 23,000 sq. ft. lot (100′ on ocean)
667 Ocean Blvd – $9.95 million – 7 bedrooms/8.5 bathrooms – 7,273 sq.ft. of 24,900 sq. ft. lot (75′ on ocean)
287 Ocean Blvd – $9.9 million – 5 bedrooms/5 bathrooms – 4,259 sq. ft. on 20,475 sq. ft. lot (75′ on ocean)
277 Ocean Blvd – $9.85 million – 6 bedrooms/6.5 bathrooms – 6,495 sq. ft. on 20,700 sq.ft. lot (75′ on ocean)
263 Ocean Blvd – $8.45 million – 6 bedrooms/8.5 bathrooms – 8,718 sq. ft. on 20,925 sq. ft. lot (75′ on ocean)
495 Ocean Blvd – $3.999 million – 3 bedrooms/4 bathrooms – 2,907 sq.ft. on 13,650 sq. ft. lot (50′ on ocean) *teardown