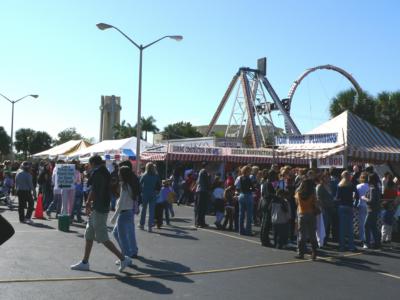 Saint Rose of Lima Carnival – Miami Shores
THIS IS A REAL ESTATE BLOG
If you are looking for real estate in and around The Saint Rose of Lima Carnival, you are in the right place.  We're talking Miami Shores homes, Biscayne Park homes or El Portal homes.  We are, in fact, the official St. Rose Carnival REALTORS!!
For the Featured Miami Shores Carnival Home for Sale – please click HERE
Otherwise, please contact St. Rose of Lima Parish directly, for Carnival information:
425 NE 105th St, Miami, FL 33138
(305) 751-4257
---
Saint Rose of Lima Church's annual carnival is happening right now in Miami Shores.  Starting Friday,  January 26, 2007, to Sunday, January 28.


This is a very special community event because parishioners and school families volunteer their weekend to put the carnival together.  People attend not only from Miami Shores, but also from other schools and other areas in Miami. The funds raised in the carnival go towards a school and parish fund used to maintain and refurbish the St. Rose of Lima facilities.    Community spirit is visible everywhere, booth sponsorship banners are placed all over the carnival, bazaar with all kinds of great stuff for sale, volunteers preparing food and manning booths with different games, 50/50 raffle, wine and beer tent, silent auction with items donated by families and local businesses, picnic area, and not to forget great carnival rides like The Ring of Fire, The Orbit and The Thunder Bolt.
I am happy to announce, or should I say…. confess, that I shared fried dough with my 2-year old today and it was delicious!  Ride-tickets and bracelets can be purchased in advance or at the carnival.  If you are in the area….don't miss the fun! St. Rose of Lima is located at  415 NE 105th Street in Miami Shores.
To the left you can see The principal and the vice-principal of St. Rose of Lima (Sister Nancy Kindelan and Mrs. Zigmont) with food court volunteers.  To the right, the RICK & INES sponsored ice-cream booth.
I love to watch the Merry-go-round and the funny faces some make.
For more information about this and other local events, please contact RICK & INES at
info@Miamism.com