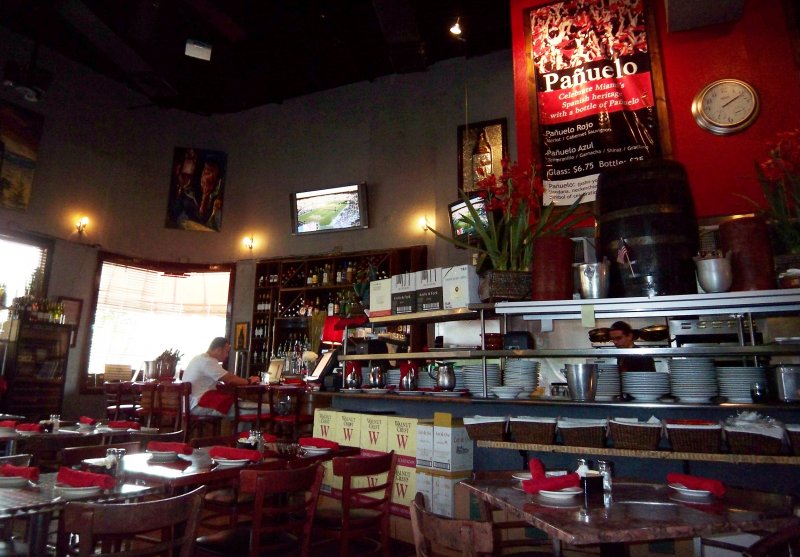 Scorch Grillhouse and Wine Bar – Fabulous restaurant in North Miami Beach
I've been meaning to tell you about Scorch, one of our favorite restaurants, for some time now because it is definitely worth the visit.  We actually come here on a regular basis not only because the food is superb, but because we love the atmosphere and the owners are awesome (and they are always there to greet you).
The story of Scorch is not an easy one because the place opened in 2004 in a location where several restaurants had gone belly up.  How do you break the curse of a place that is just bad for business??  Well……I guess it wasn't that hard for Tony Puche and Luis Vargas; by serving great food and providing a beautiful and friendly atmosphere, they have come up with an incredible restaurant that people love to come back to.  Here's a picture of Rick with Tony Puche.
How did Scorch make it past the curse?  They remodeled, they added landscaping and outside eating (with a lot of grief from the city, I may add),  a lot of love, great service, good food and BAM! AWESOME PLACE!  Let me share Tony's and Luis' vision with you, and that should say it all:
"The owners of Scorch Grillhouse|Wine Bar's vision is to create a casual environment that provides homestyle dishes from scratch using the highest quality and freshest ingredients. Their goal is to make everyone that comes to Scorch feel that they can have a great meal in a warm and relaxing environment without breaking their budget"
.
Our favorite dish is the Scorch Steak – which is exquisitely seasoned, always cooked perfectly, and served with your choice of side dish (we like their sweet potato fries).  They also bring fresh bread to the table and they have a sign inside the restaurant that reads "Conserve water, drink wine" which makes us smile every time we go.  The Pork Tenderloin and the Seafood Pasta are also delicious and the garlic mashed potatoes are …..hmmm…..I think I better stop because my mouth is watering and I am getting hungry.

Scorch is located in North Miami Beach at 13750 Biscayne Boulevard, next to Dairy Queen.  And their telephone number is (305) 949-5588
Go check it out and come back and tell us how you liked it!
**SCORCH HAS CLOSED ITS DOORS BUT THE MEMORIES WILL ALWAYS REMAIN**