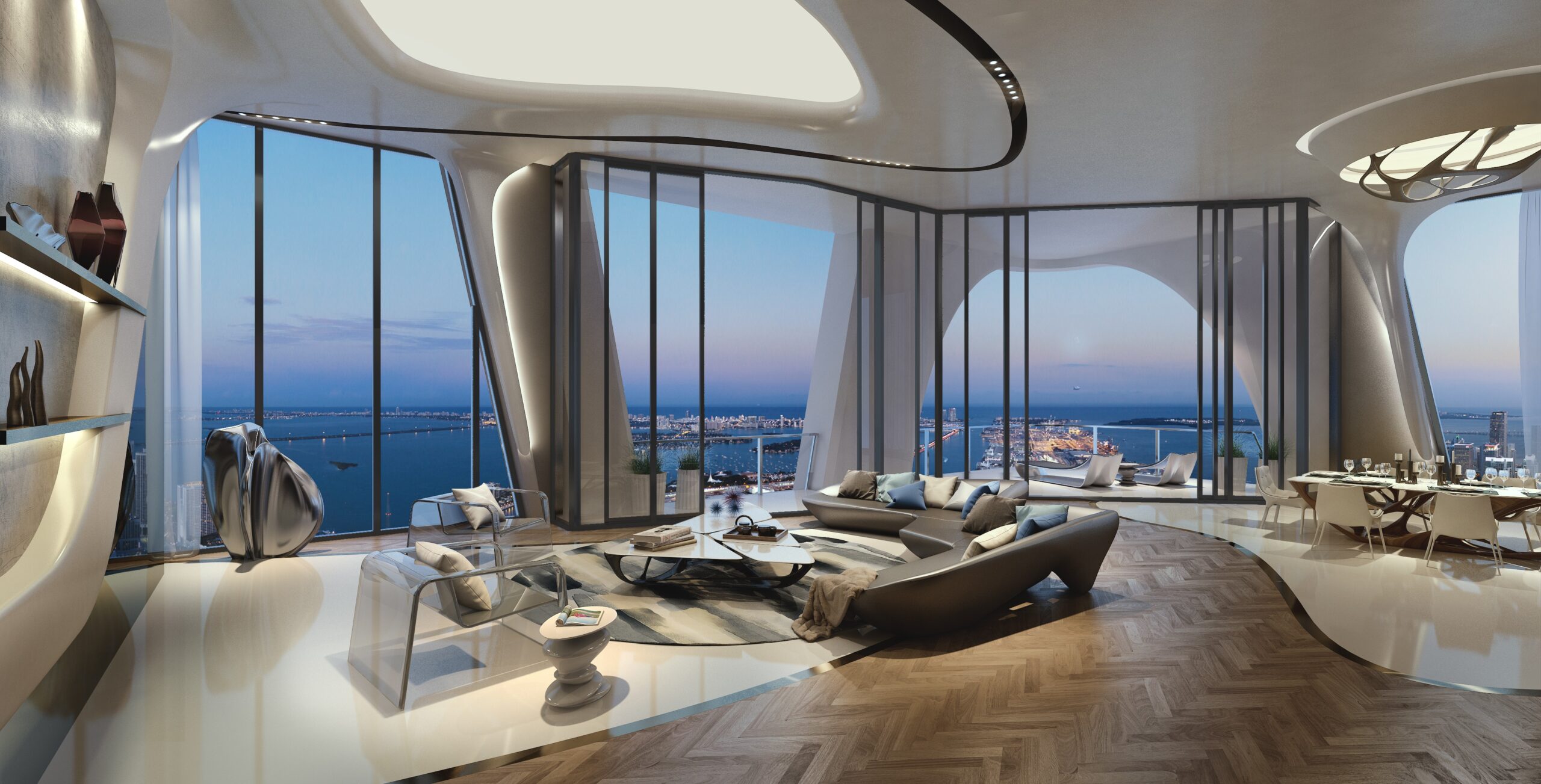 Seven of the Coolest New Residential Skyscrapers in Miami according to Billionaire.com
Billionaire.com claims that Miami has evolved from a sunny vacation spot into a global destination for billionaires from all over the world and we certainly agree and have cited numbers of reasons for this phenomenon.
The articles lists different reasons for Miami's new found global status, including: reinvention into a creative and tech hub, and Art Basel's arrival in 2002.
And with a shimmering skyline that is starting to look more like Hong Kong or Dubai, Miami's real-estate star is also on the rise. However, a piece of this skyline is a fraction of the cost of luxury properties found in comparable global cities.
Billionaire lists seven of the Magic City's coolest residential buildings (missing a few of our own favorites, but at least a good start). Please see below for particular building information and contact us for tours and additional information.
Price: US$5–49 million
Delivery: 2018
One Thousand Museum will be the first and only residential skyscraper in the Western Hemisphere by Pritzker Prize-winning architect Zaha Hadid. This tower rises as a contemporary sculpture, having a robust exoskeleton as its main exterior and architectural feature, which allows for interior spaces to be open and unobstructed. The exoskeleton is built from unique pieces of material that are shipped weekly from Dubai. The 62-story tower offers 83 residences, ranging from 4,600 square feet to more than 16,000 square feet — duplex town-homes; half-floor residences; full-floor penthouses; and one duplex penthouse.
Price: US$6.9–32.5 million
Launched last month, Porsche Design Tower has been designed to be daring, innovative and bold. This is the first global entry in real estate for the Porsche Design brand. The 60-story ultra-luxury tower features a patented automobile lift system that will allow owners to park their vehicles in 'sky garages' directly next to their units. This cylinder tower rising above the Atlantic Ocean boasts floor-to-ceiling windows, outdoor kitchens and semi-open balconies, and almost every residence comes with a private pool. At least 22 billionaires call Porsche Design Tower home. Only five units of 132 remain in the ultra-luxury tower, including a four-level, 19,403-square-foot penthouse that can accommodate up to 11 vehicles, soaring 56 stories high.
Price: US$3.6–55 million
Alan Faena is behind the very popular Faena Hotels and other residential projects in Buenos Aires. Now in Miami, he's opened a new district in the mid-beach area, featuring a luxurious hotel, a cultural arts center and concert hall in a span of four blocks. Faena House is a very selective development, featuring only 47 residences. Designed by Foster + Partners, the black-and-white 18-story condo features a very distinct modern design, with wraparound terraces and open spaces. Big names in the art scene and in global finance have already purchased units. Faena is in Miami Beach — which commands the highest prices in Miami.
Price: US$6–38 million
Palazzo del Sol is located in the exclusive Fisher Island, which is reported to have the highest per capita income in the US. The island is exclusively accessed by private ferry, about 5km off the coast of Miami Beach. Palazzo is a 10-story building featuring Mediterranean architecture. It offers 43 residences with only 14 remaining for sale. The island also offers a Beach Club, a tennis center, two marinas and several restaurants. Amenities include private massage rooms and beauty salon; six-star, white-glove services; an indoor/outdoor aperitivo bar; a terrace lounge; children's playroom; and a state-of-the-art private movie theater.
Residences by Armani Casa
Price: US$2–15 million
Delivery: 2019
There has recently been a wave of developer and designer collaborations in MIami. Residences by Armani Casa is one that stands out. It will be a 56-story oceanfront tower offering 308 luxury residences that will showcase Armani's refined and understated aesthetic (think rich textiles and custom furnishings). The glass tower will be designed by architect César Pelli. Expect chic amenities, including the Armani Privé Lounge on the lobby level, a fine-dining restaurant, cigar room and wine cellar, a two-story spa and exclusive beach amenities on a 300ft stretch of private shore. Residences will range from 1,350 to 4,160 square feet.
Price: US$5–22 million
Delivery: 2018
Muse is a boutique luxury oceanfront building; a svelte 49-story tower designed by architect Carlos Ott, sitting delicately on the Atlantic coast. A select number of residences will be designed in collaboration with wellness guru Dr Deepak Chopra and Delos. These residences have been designed to "awaken and restore the residents' physical and emotional wellbeing". The residences will offer hi-tech purification systems for air and water, customized circadian lighting, among other high-end finishes. Muse will offer 68 fully finished residences with outdoor kitchens and some of the largest balconies in town (only two or one residences per floor, with views of Miami and Fort Lauderdale).
Delivery: 2018
This 54-story contemporary all-glass masterpiece, designed by architects Carlos Zapata and Robert Swedroe, will feature 154 flow-through residences with direct ocean and bay views with private elevator access. Each residence will have an 11ft-deep oceanfront balcony, as well as a balcony overlooking the bay; plus a summer kitchen with barbeque grill on the oceanfront terrace. The project will boast over 70,000 square feet dedicated to amenities, including the signature three-story Sky Club with indoor and outdoor amenities, and concierge services.